Aging In Home
A prayer warrior, a seamstress, and always plenty of oil in her lamp
A personal account of how God worked through a neighbor to bring purpose and healing during struggles with addiction, advocacy for a father with Pick's disease, and the state of elder care in America.
By David Heitz
So many miracles have been worked in my life during struggles that should have killed me.
While I credit God for all of them, I mostly have written how He worked through my dad to bring me purpose.
God showed my way to find a purpose to become sober. So that I could properly advocate for him, at least as best I could. I found purpose in my writing, so I could help educate others. Not only about my dad's brain disease, Pick's (BvFTD), but also about the disgraceful state of elder care in America.
The other person who God worked miracles in my life through, no was my neighbor Monica Elizabeth.
Today we said goodbye to Monica. In a way that was perhaps the most beautiful and peaceful memorial mass I ever have attended.
Monica, the father said, was what they called a "prayer warrior."
Boy was she ever.
Even when I didn't want to… even when I was still drinking… we held hands in prayer in her front yard. We did this so many times and on many occasions. There were times I wasn't sure how I ever would see the light of the next day. And the light of the next day always came.
Monica too, the father said, had healing powers. He described an incident where she healed a woman with a crippled hand during a service at a church in Annawan, Ill.
Roll your eyes if you want, but the prayers she said for me are why I am here today. I have no doubt in my mind about that.
God planted next door the perfect neighbor
My dad purchased, for a second time, the home I was brought home to as a baby four years ago. I own the home now after buying out my brother's half when dad died.
When dad and I moved in together four years ago, what a blessing it was that Monica was next door. For the first six months, dad and Monica sat in the yard together, joked, talked about old times. Monica lived with her son, Paul,. It was the two of them.
Paul wasn't much older than me and made it pretty clear from day one that he didn't like my kind.
In truth, Paul and I had a lot in common. We both lived in our parents' basements and were doing the best we could caring for a parent with dementia. In the beginning, we both drank a lot of beer. We blared a lot of music too. I know we both thanked God at the time that our parents were amusing each other and keeping each other occupied.
For as long as it lasted.
My dad's disease progressed quickly. Soon Monica was telling my dad off and screaming at him to stay out of her yard. The next thing you knew dad was starting fires in the house by throwing burning cigarettes in the trash can. A year later, dad was in memory care.
The nightmare I endured serving as dad's advocate was difficult. After his memory care facility was sold to a new company the abuse he endured has been well documented. Lord knows there is no use in rehashing it again. I'm just glad to have come out of it all alive.
When I became sober and really began to see the dark side of people who didn't like seeing me sober, I retreated. and my neighbor Monica was all I had. We prayed all the time.
She watched over my house when I was away. I watched over hers every moment I was home and awake, especially when Paul wasn't home.
We had each other's backs. I think she worried about me more than I worried about her, if that's even possible.
Shortly before my dad died, Paul kept getting thinner, and thinner. As it turned out, Paul had colon cancer and it was caught very late.
It took several months for him to get an appointment with the VA to see a doctor, he explained to me.
Before he died, we had become friends.
I was mowing Monica's lawn on day. Paul was now a jaundiced bag of bones. A month before he was placed in a nursing home, Paul was offering me his beer. He could no longer drink, which I politely declined.
A dead cat, a confused woman filled with sorrow
While I was trying to watch out for dad,  in the memory care. I was fighting battle after battle related to the substandard care. Monica had her first bad bout with dementia while Paul was having surgery at the VA Hospital.
Monica's cat died, right there on her lap. A panicked Monica dialed 911.
When the police came, they just thought the cat was sick, and asked me if I could drive Monica and her cat to the vet. I said I would, and the cop left. But as it turned out, the cat was dead.
Monica held on to the dead cat all weekend long. Nobody could reach any sort of official elder services agency to help her. She wouldn't let anyone bury the cat.
Faith and Spirituality in the Family Caregiver
Finally, the following Monday, officials from the elder ombudsman's office. They buried the cat and had Monica placed in a facility for a couple of weeks until Paul came home. The entire incident was outrageous. To me, it was another black eye on my community's disgraceful elder care network.
My dad died in September, Paul died in November, Monica died last week.
Monica and I became very close. After dad died, I had more time to spend with her, which was important as she declined very fast after Paul's death. Eventually, she was made a ward of the state and taken from her home. She died in a nursing home a short time later.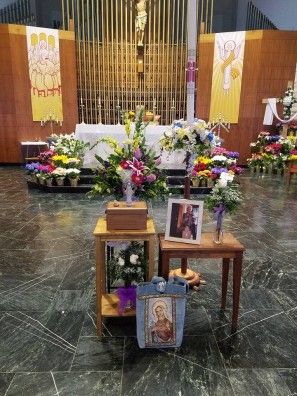 Praising God for the end of so much suffering
So today, on this beautiful spring today, saying goodbye to Monica wasn't a reason to cry. It was a reason to once again praise God for the end of this woman's suffering. She was a mother brokenhearted after losing her son, who only was in his 50s. A woman approaching 90 whose mind was ravaged by dementia, much like my dad's.
Monica's service was lovely. The father read a parable that Jesus told his disciples. "The Kingdom of heaven will be like 10 virgins who took their lamps and went out to meet the bridegroom. Five of them were foolish and five were wise," he said.
The parable described how the wise virgins bought enough oil for their lamps. The bridegroom ran late. When he arrived, only the wise virgins were able to greet him because their lamps were not out of oil.
The message, the father said, was "Stay awake, for you know neither the day nor the hour."
The parable was especially appropriate as Monica made wedding dresses for a living. At one time had a she owned regionally famous bridal boutique.
I have no doubt my neighbor had healing qualities. When I look at my life today, I am sober and fulfilled. Albeit a little damaged from the traumas I have endured. I have plenty of oil for my lamp.
I can thank my dad, and my dear friend Monica too, for bringing such light into my life. A life I hope soon to be able to live more fully, for I know that's what my dad and Monica both would want for me.
RIP my dear English neighbor, Monica Elizabeth.
💡
Have a story about your caregiving journey? Please share here?
Help others realize that they are not alone.
Submit Your Caregiver Story
💡
Do you need help caring for a loved one?
Our Resources section can help you find the information and tools that you need. We have courses, videos, checklists, guidebooks, cheat sheets, how-to guides and more.
You can get started by clicking on the link below. We know that taking care of a loved one is hard work, but with our help you can get the support that you need.
Click here to go to Resources Section now!
---
You might also like this article: