Caregiver Support
Caring For An Aging Parent – An 80 Year Old Stubborn Father
Caring for an aging parent can be a challenging and emotional experience, especially when they are stubborn and resistant to change.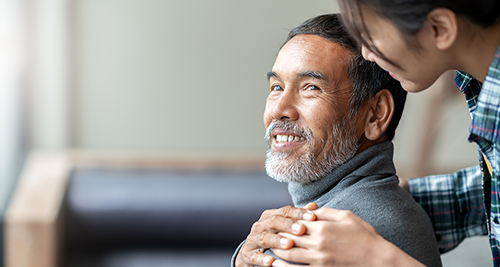 Caring for an aging parent , an 80 year old stubborn father Anonymous writes in: My father is in his late 80's. He's been fairly independent until the last year. He has lived alone since my mother died 10 years ago. Unfortunately my father hasn't done much over the last 20 years. Since his retirement he just watches television.
His daily routine consists of going out to the grocery store to buy TV dinners and soup, to eat. For years I have tried to get my father to go to the local senior center for social activities. I have tried to have him to utilize services such as Meals on Wheels to deliver him nutritious food. He has refused to use any of these services. My father's health began to deteriorate over the last year. He suffered a number of falls and began to have problems walking.
The falls are due to his lack of muscle tone and dizzy spells. As it became clear to us that my father's health was declining, he still refused any help.
It is frustrating caring for an aging parent. Especially one that is so stubborn. My father has insisted on living at home , despite his inability to care for himself. He has become more immobile and can barely walk.
Even with a number of stays at the rehabilitation center for injuries from falling… my father insists on aging in place.
I never realized until this past year how difficult it is caring for aging parents. My siblings and I have tried repeatedly to make sure my father is safe. He is very stubborn and uncooperative. He will frequently refuse services we set up. Services such as… home health care and meal delivery. He often yells at us or at service providers because he thinks he is capable of doing most things himself. At times, the caregiver stress is greater, than at other times.
All of us have been dealing with the guilt of feeling frustrated with our father. His stubbornness is overwhelming.
I live about one and a half hours away from my father, which makes providing care for him more difficult.
I often have to spend hours on the phone with providers… such as doctors and in home support services, to make sure my father's needs are being met.
My only relief at this point is that my father is no longer driving. He was driving way past the point he should have. But it took his most recent health issues for him to agree to stop driving.

Dear Anonymous,
What you are experiencing is not uncommon. Your father is still considered competent and in his right mind. As frustrating as that is, you can only do so much.
Your father is dealing with the loss of his independence. He wants to feel he still has control over something in his life. His world has become much smaller now.
He is dependent on others for things. He is socially isolated. He is medically fragile. And he is just not happy to be where he is and in the shape that he is in.
You may want to develop a Person Centered Profile for him.  The Health Care Notebook is a great tool to utilize.
You are doing the best you can do. I applaud you for your efforts. You are blessed to have the support of your siblings. That is a rarity. It is usually just one family member that steps forward to provide the care and the others stand on the sidelines.
I, too, was blessed. My siblings and I worked together as a team to provide care for my father. We were all at his bedside when he passed.
Thanks for sharing your experience with others.
Diane
---
You might also like this article: