Ask the Experts
Has Anyone Regretted Moving Elderly Parents Into Your Home?
One family caregiver shares her experience of feeling exhausted and guilty after moving her elderly parents into her home. Learn about the realities of caregiving and options for support and respite care to maintain your own health and well-being."
This is one caregiver's story of her struggles providing care for her elderly parents.
I feel so guilty. Has anyone else and second thoughts about helping elderly parents move into your home?   I made the decision to move my  elderly parent to another state, into my home, after my mother had a stroke. My father has a bad heart and severe arthritis and was unable to care for her alone as her primary caregiver. I decided to support my aging parents and become the primary caregiver for both of my aging parents.
When your parent moves in, we thought it would be easier if we brought them here to manage their care. It has been 6 years and I am exhausted. I am tired  of caring for elderly parent.  I have heard other family members from different support groups express these views.  I just did not think it would happen to me.  
My father has passed and I continue to provide care for my mother.
My mother has always been a needy individual. She has had mental health issues and experiences frequent bouts of anxiety and panic attacks.With her stroke, her physical and mental health issues have become more challenging.
I am so tired of my friends and family who don't understand that we can't just go out with them or go to a movie. I would love to see a movie in the theater, I really would, but we don't have respite care, or family, that will stay with the my mother.
We can't celebrate our anniversary or go to out to dinner. We can't go on vacation. We are home bound except when one of us (mostly me) goes to the store or has a doctor appointment.
I'm sorry that my friends don't feel comfortable coming here to spend time with us. They feel uncomfortable around my elderly parent,  because our attention is distracted by us having to care for my mother.
We are no longer a couple, we are no longer the people we used to be. We are providing care  with no life for the foreseeable future. Possibly, when my mother dies, sometime in the next 10-20 years, we may have a life again. But for now, we don't. Thank you for allowing my rant. I feel guilty and angry. Am I wrong to feel this way?
Thanks for listening,
Sheila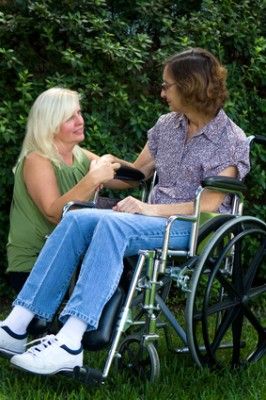 Dear Sheila,
More on Has Anyone Regretted Moving Elderly Parents Into Your Home?
Thank you so much for sharing your situation with us. I will tell you, that you are not alone. When your parent moves in, life changes. So many that move into the  elderly parents home or move the parents into their home, have regrets.
We go into our caregiving journey with good intentions. We have no clue what our promises and commitment to keep someone at home with entail. We are also, not prepared, for the time commitment our caregiving journey may take. Caregiving can last as long as 20 years, as people are living longer, but, not healthier.  The average person requires care for about 6 years.
I am an advocate for keeping a family member at home for as long as possible. I do not feel that a primary caregiver should continue to provide that care when they are negatively impacted financially or at the risk of neglecting their own family. I don't support the primary caregiver continue to provide care if is negatively impacting their own physical and mental health.
There will come a day when your caregiving journey will end. You want to have a life to return to. Every relationship in our life requires attention, just like, water is needed, to help a plant grow. When we neglect our outside relationships, we lose the support and life outside the home.
I promote a team approach to providing care to aging parents. We have a caregiver crisis in this country. Family caregivers are the single largest pillar of the long term care industry, They provide over $600 billion dollars of unpaid care, at the risk of their own physical and mental health. 63% of family caregivers, become seriously ill or die before the aging parent they are caring for dies.  Chronic stress and burden of providing ongoing care, is killing those that are trying to provide a quality of life for another.
I encourage you to take my New To Caregiving Course, then the advanced course, How to Be A Patient Care Advocate for Family Caregivers. I will teach you how to develop a team of family, friends, church members, or even co workers to support the family caregiver.  If you have not joined the CareGiver Relief on line care management platform, please consider it We will help you build your team.
Respite care funds are limited, We need to focus on helping the primary caregiver to take care of themselves, by supporting them with respite care. Even short breaks, to see their own doctor, have lunch with friends, can help the family caregiver continue to provide care. Remember, you cannot drink from an empty vessel.  Family caregivers are the backbone of the long term care industry. We as a society need to step and and support these individuals that give so musch.
There are community resources that may be available to help provide in home health care. There comes a time, when placement is necessary for you, as the caregiver to maintain your health and well being.
Remember, you are the most important part of the caregiving equation. Without you it all falls apart.
💡
Have a story about your caregiving journey? Please share here?
Help others realize that they are not alone.
Submit Your Caregiver Story
💡
Do you need help caring for a loved one?
Our Resources section can help you find the information and tools that you need. We have courses, videos, checklists, guidebooks, cheat sheets, how-to guides and more.
You can get started by clicking on the link below. We know that taking care of a loved one is hard work, but with our help you can get the support that you need.
Click here to go to Resources Section now!
Caregiver support- You Are Not Alone
Feeling Guilty about Long Term Care Placement
---
You might also like this article: