Unlock the Secrets to Caring for Elderly Parents with Ease
Discover key insights into elderly care with Unlock the Secrets to Caring for Elderly Parents with Ease. Learn practical tips to manage their health, understand emotional needs, and navigate the challenges of aging with compassion and patience.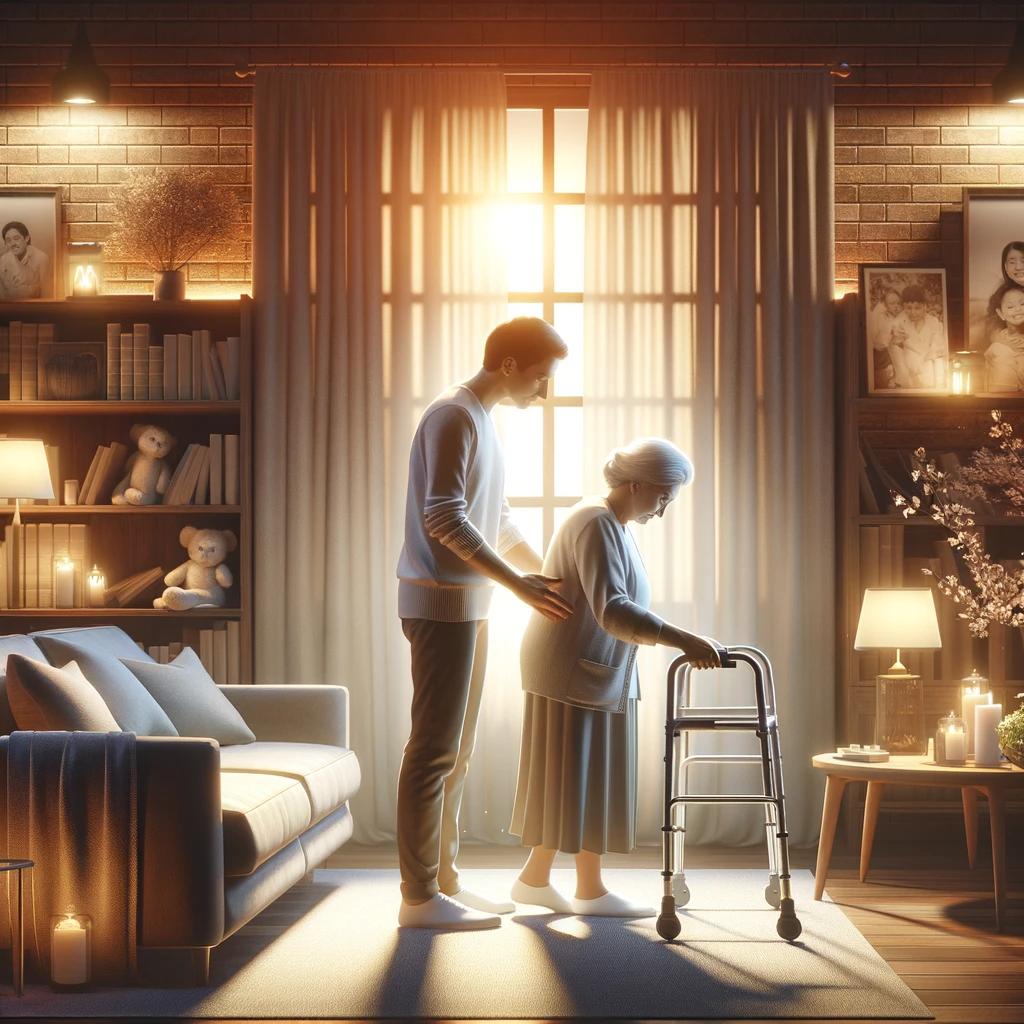 Caring for elderly parents can be a challenging and complex journey. Are you feeling overwhelmed by the responsibilities and decisions involved in providing the best possible care for your aging loved ones? Don't worry, you're not alone. Many family caregivers face similar situations, and there are resources and strategies available to help you navigate this emotional and often unpredictable path.
In this blog post, we'll walk you through a care plan that will unlock the secrets to caring for elderly parents with ease. From recognizing the signs of their needs to managing caregiver stress and burnout, we'll cover all aspects of this important journey. So, let's dive in and explore the world of caregiving together!
Key Takeaways
Recognize signs of aging parents' needs & prepare for emergency situations
Connect with elderly parents using user-friendly communication systems
Utilize caregiving resources, such as Family Caregiving Contracts and support groups, to manage stress levels
Recognizing the Signs of Aging Parents' Needs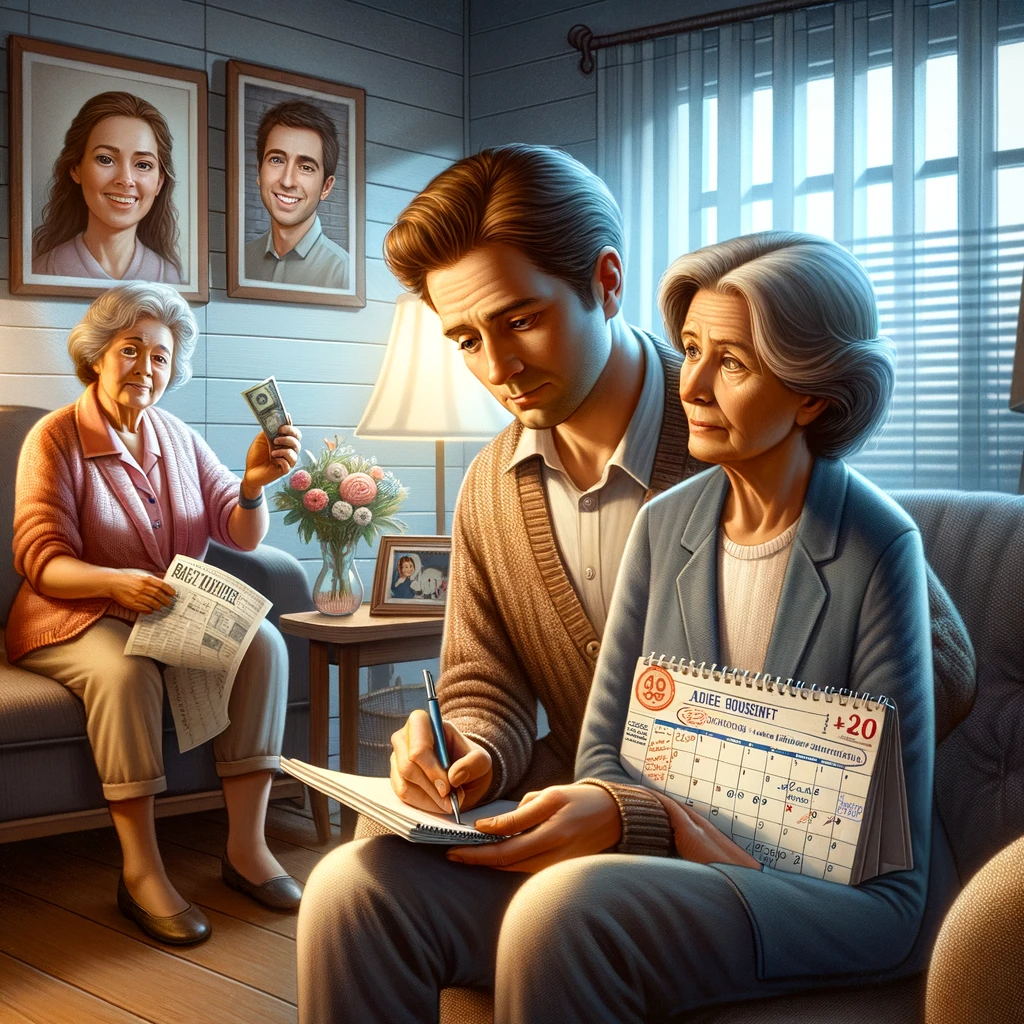 You need to spot the signs of your aging parents' needs to provide appropriate care and support, as they might refuse to admit their increased needs or be uncooperative. As adult children caregivers, you should watch for subtle behavioral changes like skipping social events, missing bill payments, or forgetting doctor's appointments. In the context of adult children caring, memory loss can also be a significant concern, with signs like forgetting recently learned information or constantly asking the same questions.
Sometimes, an aging parent's needs may affect their judgment, leading to changes in spending habits or a decline in personal hygiene. You must evaluate your own situation and capabilities, including your health, before deciding to handle all your parents' needs single-handedly. Planning for the future and caring for aging parents involves considering medical care, potential living situations, and daily expenses like food, caregiving supplies, and home safety changes.
Caregivers may want to get advice from an elder law attorney or financial planner to aid them in certain matters. Qualifying for Medicaid is just one of those matters.
Overcoming Communication Challenges with Elderly Parents
Quality caregiving requires effective communication with older adults, especially elderly parents. Unfortunately, communicating with an elderly parent, particularly aging parents who are uncooperative or suffer from memory loss, can be difficult.
Ensuring they have easy access to a user-friendly phone or wearable medical alert device can help them stay connected with family and friends, and call for help when needed.
Eldercare Communication Course
One valuable resource for overcoming communication challenges with elderly parents is the Eldercare Communication Course. This training program offers useful insights into the thought processes and life transitions of older people. It teaches effective communication techniques such as active listening, providing constructive feedback, and demonstrating empathy and compassion, which helps build meaningful relationships and gain the trust of elderly parents.
Completion of the Eldercare Communication Course enables caregivers to comprehend their parents' perspectives, communicate more efficiently, and foster open communication. This improved communication can lead to a more successful and fulfilling caregiving experience for both the caregiver and the aging parent.
Preparing for Emergency Situations
Emergencies can strike without warning, and many family caregivers are unprepared for unexpected visits to the emergency room. You must be prepared for emergency situations to respond promptly and confidently when necessary. Some common emergency situations caregivers may face include:
Medical emergencies
Falls
Behavioral incidents
Caregiver stress-related health issues
The New to Caregiving Course can help you prepare for emergency situations by providing a wealth of helpful resources, like videos, exercises, and more. The course covers important topics like safe and accessible floor plans, forming an emergency preparedness team, and teaching lifesaving skills, empowering you to handle emergencies with confidence.
Understanding the Importance of a Family Caregiving Contract
A Family Caregiving Contract is a written agreement between a caregiver and a care recipient that outlines what each party should expect from the other. This contract can help set clear expectations and responsibilities, ensuring a smoother caregiving experience.
When creating a Family Caregiving Contract, consider the following:
Start date for services
Detailed description of services to be provided
List of caregiving services
Payment terms and compensation
Work schedule and expected duties
Signatures of both parties involved
Life insurance policies can also be used to pay a family member or other family members for providing care.
Organizing Caregiving Tasks with the Home Health Care Notebook
Maintaining organization is key to timely and proper completion of all caregiving tasks. The Home Health Care Notebook is a valuable tool that helps caregivers stay organized by providing a centralized location for all important information and documents related to caregiving.
The Home Health Care Notebook allows you to consolidate:
Medical records
Medication schedules
Doctor's contact info
Appointment reminders
And more
in one handy location. This organization helps caregivers keep track of tasks, appointments, and daily routines, reducing the risk of missed or delayed tasks and minimizing stress.
Additionally, having all information organized in one place facilitates communication and coordination with other members of the caregiving team, like healthcare professionals and family members.
Building a Care Team Partner Support Group
Building a Care Team Partner Support Group can provide caregivers with additional support and resources, as well as help them advocate for their aging parents' needs. To build a care team partner support group, evaluate the situation together, discuss each person's strengths and abilities, and delegate specific responsibilities based on these strengths.
The care team for an elderly person could involve family members, professional geriatric care managers, doctors and nurse practitioners, pharmacists, social workers, therapists, elder law attorneys, financial advisors, and benefits counselors. Establishing a care team partner support group offers emotional support, information and resources, practical advice, reduced isolation, validation and empowerment, respite and self-care, and long-term relationships.
Managing Caregiver Stress and Burnout
Caregivers must manage stress and burnout to maintain their mental and physical health. Caregiver burnout is a mix of physical, mental, and emotional exhaustion resulting from the stress of taking care of someone else. Recognizing the signs of caregiver stress and burnout is crucial for addressing the issue. These signs may include:
Feeling burdened
Constantly worrying
Weight changes
Exhaustion
Constant feelings of guilt
Taking steps to address and manage caregiver stress and burnout is essential for the well-being of both the caregiver and the person being cared for.
The Stress Buster Course
The Stress Buster Course is designed to help caregivers by:
Identifying and managing their stress levels
Promoting overall well-being and resilience
Providing coping strategies for stress
This self directed program provides caregivers with the tools and strategies they need to take care of their own health.
The course includes stress management techniques such as:
walking
meditation
breathing exercises
mindfulness practices
Completion of the Stress Buster Course empowers caregivers to monitor and manage their stress effectively, leading to an enhanced quality of life and caregiving experience.
Exploring Caregiving Coaching and Care Management Services
Professional support and guidance from personal care services, caregiving coaching, or care management services can assist caregivers in dealing with the intricacies of caregiving. These services offer personalized relationships between a coach and a family caregiver, helping the caregiver recognize their needs, explore different options, and tackle challenges.
We offer an online care management platform as well as caregiver coaching and care management to support you throughout your caregiving journey.
Joining a Caregiver Support Group
Being a part of caregiver support groups provides emotional support, practical advice, and a sense of community throughout your caregiving journey. In these support groups, caregivers can discuss topics related to self-care, practical, social, and emotional challenges of caregiving, fears and misunderstandings, and tips for managing caregiving responsibilities.
To find and join a caregiver support group, search online using the federal government's Eldercare Locator or websites like CareGiver Relief. Alternatively, you can contact the Alzheimer's Association or check for local support groups on their websites. Regular attendance and engagement with the group can provide ongoing support and connection with other caregivers.
Summary
In conclusion, caring for elderly parents can be a challenging and complex journey, but with the right resources and strategies, it can be a rewarding and fulfilling experience. By recognizing the signs of aging parents' needs, overcoming communication challenges, preparing for emergency situations, understanding the importance of a Family Caregiving Contract, organizing caregiving tasks with the Home Health Care Notebook, building a care team partner support group, managing caregiver stress and burnout, exploring caregiving coaching and care management services, and joining a caregiver support group, you can unlock the secrets to caring for elderly parents with ease.
Remember, you're not alone in this journey. There are many resources available to help you navigate the world of caregiving and provide the best possible care for your aging loved ones. Stay informed, stay connected, and stay compassionate – for both your elderly parents and yourself.
Frequently Asked Questions
How do you survive caring for elderly parents?
Caring for aging parents can be demanding, but it's possible to survive with a few key steps: keep an eye on their well-being, enlist helpers, provide meals, take care of yourself, make the home safe and accessible, prepare for changes, and explore available options. Ask for help when needed and set clear boundaries. Taking care of yourself is key so that you can continue taking care of your parent.
What do you do with difficult elderly parents?
Choose your battles, be sensitive and stay calm when dealing with difficult elderly parents. Spend time with them, ask questions and seek help for yourself.
Is it my responsibility to take care of my parents?
It is generally considered your responsibility to take care of your parents according to the laws of most states, so it's important to be aware of any legal obligations you may have. Additionally, you may be asked to financially support their nursing home bills.
What are the signs that my aging parents may need more care and support?
It's important to watch for signs that your aging parents may need more care and support, such as changes in behavior, memory loss, changes in spending habits, or decline in personal hygiene. Paying attention to these indicators can help ensure your parents receive the best care possible.
What can I do to prepare for emergency situations?
Create an emergency preparedness team, review your floor plans for safety and accessibility, and take the New to Caregiving Course to learn caregiving skills - these are all important steps you can take to prepare for emergency situations.
---
You might also like this article: