Grief Recovery
Alternative Approach to Overcoming Grief and Depression
Everyone experiences these stages in entirely different ways. Truth is, there is more to grieving than most people realize.Let us help you overcome grief and depression with alternative approaches
Overcoming Grief and Depression is a dilemma for seniors and their care partners. As we age, we have many losses and forced changes in our lives. Care partners experience grief and depression. This occurs as they watch the physical and /or mental decline of their family member.
For most people it is difficult to tell the difference between grief and depression. Each of these feelings has certain qualities that are similar... yet these emotions can impact our lives negatively.
Feelings of sadness can range from... a fleeting moment of unhappiness to a feelings of grief or sorrow over a long period of time.
Depression is defined as a sense of gloominess or feelings of dejection. Either of which can be have a negative impact on everyday life. With a diagnosis of depression... there is a tendency for healthcare professionals to write prescription for anti-depressant medications. As a culture we address everything with a pill. The use of medication fails to address the true cause of your feelings. Not addressing the cause of these emotions and feelings only allows those feelings to continue... rather than alleviate the signs and symptoms of grief or depression.
More on Overcoming Grief and Depression…
There are many activities a person can choose to do to help alleviate their feelings of grief and depression. A walk in the morning or evening in the spring, summer or fall may lift the spirits. In the winter, many suffer from seasonal affective disorder. This contributes to feelings of depression. To address this, consider better lightning in the house or go to an indoor mall. The lighting can promote the production of the chemicals in the brain. This can ease the symptoms of depression. Taking Vitamin D supplements may also have the same affect on the brain.
Let's talk about the signs and symptoms of depression. This can help you to determine if you are suffering from depression. This is not a complete list. There are other factors that need to be considered. But if you have any of these extra symptoms, depression would be your primary diagnosis.
💡
Have a story about your struggles with grief. Please share here?
Help others realize that they are not alone.
Submit Your Caregiver Story
Symptoms of depression:
Change in appearance – uncombed hair, wearing dirty clothes, unusual quietness, withdrawn
Feelings of hopelessness- was there a recent loss of a friend, loved one, or a pet
Irritability, easy to anger, impatient
Ongoing criticism of friends or family members
Sleeping all the time or not sleeping well at all
More on Overcoming Grief and Depression…
When a person appears depressed ... it is important to be aware of what a person is saying and any unusual behaviors. Some words or phrases may indicate suicidal thoughts. This may be due to underlying depression. It is important to seek help before someone takes action. Before they reach a self-destructive stage. Phrases such as "I wish I was dead", "There is no joy in my life anymore", "Everyone will be better off when I am gone".
Dying to Know Straight Talk about Death and Dying
If you are a care partner and are observing these symptoms in our aging senior... you should encourage counseling or try some of the following alternative treatments. Please make sure that before you introduce any "natural" products... that you discuss all the medications your family member is taking. Adverse reactions to mixing prescribed medications and herbs often occur.
Here are a few alternative treatments that are recommended for depression:
St. Johns Wort is probably one of the most readily herbs available. It has been noted to promote nerve health. It has also been promoted as an alternative to an antidepressant. Remember... taking any traditional drug or herbal compound ...there can be unexpected side effects. In this case, St. Johns Wort can CAUSE anxiety.  It increases the levels of dopamine in the brain. If your family member has recurring anxiety, St Johns Wort should be avoided.
Licorice Root promotes to be calming and relaxing. Licorice Root should not be used by with hypertension or high blood pressure.
Passion Flower is another herb that is to calm the nerves. It is thought to reduce anxiety and lower blood pressure while encouraging sleep.
Valerian is an herb that assists with all types of mood disorders... as well as decreases anxiety, stress and insomnia.
Scullcap is another herb for the adrenal glands. It is also has been very effective... for calming nerves, lowering high blood pressure, decreasing worry and restlessness.
💡
Have more questions? Check out the
Frequently Asked Question
section of the website. You will find a lot of different questions answered directly.
More on Overcoming Grief and Depression
It is often recommended that these herbs be taken from liquid tinctures. Forty drops once a day, after the evening meal.
Because these herbs are generally considered calming... they tend to quiet the nerves and may increase serotonin levels. Serotonin  is a hormone that acts to eliminate feelings of depression in the brain.
Brain chemistry is an important factor... that plays a significant part in feelings of depression.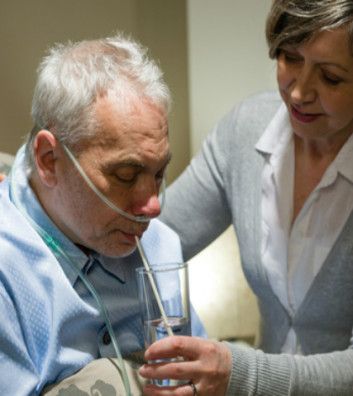 These symptoms can include:
Insomnia
Depression
Low confidence
Anger
Irritability
Lack of emotional control
Negativity
Low energy
And even a greater desire to control others.
There is testing available for evaluating brain chemistry.
Depending on the results... recommendations can be made to improve the levels of serotonin in the brain. Generally, a product called 5HTP can be helpful for low serotonin levels. It is often taken with Vitamin B6 for better absorption.
You may also want to consider SAMe, inositol, Folic Acid and a multi B complex at 100mg or higher, twice daily. It is recommended that a better diet can help achieve a healthful balance. It can be helpful to have an increased intake of complex carbohydrates, such as grains and pasta. It's best to maintain a balance between fats, carbohydrates and protein. Although with depression, protein excess may deplete serotonin rather than increase it.
There are many additional remedies that may be of value... based on the person and their combined symptoms. For more alternative treatments, click here
Premium Members Only:
All of our guides, downloads, worksheets, Premium courses
Click
Subscribe
To Get Started.
Dealing With Grief and Loss of a Loved One During the Holidays
Medication Training for the Family Caregiver
Caregiver Stress and Feelings of Guilt