Safety Articles and Checklists
Home Safety Tips for Alzheimer's Patients
Caring for an aging adult with Alzheimer's or dementia can be challenging. Learn how to adapt the home environment and make safety changes to ensure independence and peace of mind for both the patient and caregiver. From installing safety locks to using a GPS system for wanderers.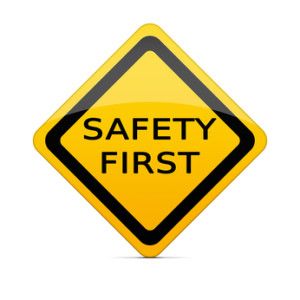 Home safety Tips for Alzheimer's Patients or those suffering from other dementias.
Home safety and Alzheimer's disease is being dealt with by many families today. Caring for the aging adult with Alzheimer's disease or dementia can be a major challenge. It requires solutions to ensure safety for the aging adult and peace of mind for the caregiver. Keep in mind that the aging adult with Alzheimer's/dementia requires the same care… as any aging adult with a progressive, debilitating illness. They will require assistance and the level of care provided… should match their needs as their condition deteriorates.
People with Alzheimer's gradually lose their cognitive mental functions. Dementia sets in, and eventually you will have to make changes to the home as if you were caring for a small child. Aging adults with Alzheimer's/dementia are very active individuals… and wander throughout the house just like a toddler. They develop behaviors such as… wandering, hoarding or hiding things, rummaging through things and have mood swings. It is possible to make the home a safe environment… while maintaining a level of independence for your loved one and the other occupants of the home.
Home safety and Alzheimer's disease some suggestions
Beside the recommendations made for basic home changes… the aging adult suffering from Alzheimer's or dementia… does not recognize obvious dangers.
In the bathroom… install safety locks on cabinets containing medicines… household cleaning agents, razors and other potentially dangerous items. You can also move these items to a padlocked toolbox or elsewhere.
In the kitchen… put safety locks on drawers or cabinets containing matches, liquor, knives, household cleaning agents, scissors… and any other potentially dangerous items.
Put safety knobs on your stove, or install a timer so the stove can only operate during certain hours.
Remove locks from bathroom and bedroom doors. A senior with Alzheimer's might lock a door and then not remember how to unlock it.
Decorate with solid colors whenever possible. Patterns can confuse someone with Alzheimer's.
Keep the home well-lighted at night. Waking up in total darkness can disorient an Alzheimer's patient.
Place additional locks on doors a senior might use to leave the house and wander off. Locate the locks high up on the door or somewhere else difficult for the senior to find.
Consider a GPS system for wandering patients. They keep track of a potential "wanderer" and gives an instant alert if they leave the area.
Put solid black mats on the floor in front of doors leading outside. These can appear as deep holes to an Alzheimer's patient and may keep them from passing through the door.
Check outside the house for potentially dangerous items such as… saws, lighter fluid, power tools and paint. Put such items in a locked garage or tool shed.
Home Adaptations For Dementia and Home Safety
Home safety and Alzheimer's disease more suggestions
In addition to home adaptations… keep in mind a few other safety considerations … when dealing with seniors suffering from Alzheimer's or dementia:
If you have a smoker, remove things such as ash trays, matches anything related to the activity of smoking. There will come a point, when they will not be able to smoke unattended. You may consider a non flammable apron to place over the aging adult when smoking to prevent burns.
Some dementia adults put things in their mouths… so remove poisonous plants and any small objects that could cause choking.
ID bracelets or necklaces containing medical information… and a phone number should be worn at all times, if you don't have a GPS system or a medical alert system in place. It is important to be able to identify the aging adult and locate the family should they wander from their home.
It is important for seniors to stay engaged.. and involved in activities of interest to them for as long as possible. Because the illness follows a different course in each individual… it is part of the caregiver's responsibility to continually reassess the situation… and determine when a senior can no longer safely perform a particular function.
Consider adult day care to keep the aging adult engaged in socialization for as long as possible. Balancing the senior's need for independence.. with legitimate concerns about their safety is.. one of the difficult aspects of caring for someone with Alzheimer's/dementia. The constant vigilance can be exhausting. Adult day care can give the caregiver a much-needed break … to do the things that are necessary to care for themselves. A caregiver, taking time for themselves… will decrease stress.. and rejuvenate the spirit to continue to do another day of caregiving.
💡
Have a home safety tip for dementia care at home? Please share here?
Help others realize that they are not alone.
Submit Your Caregiver Story
💡
Have more questions? Check out the
Frequently Asked Question
section of the website. You will find a lot of different questions answered directly.