Hip Replacement and Dementia Patients
Seniors with dementia are at increased risk for hip fractures and hip replacement surgery. Caregivers of dementia patients undergoing hip replacement surgery can help minimize complications and aid in recovery by paying attention to changes in behavior.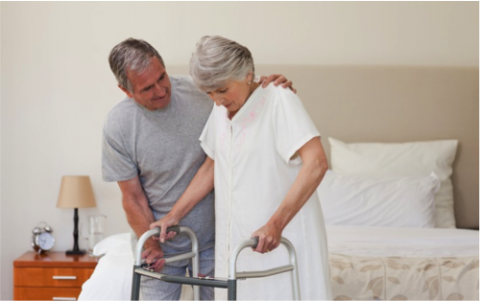 Hip replacement and dementia…
Older adults are at risk for a number of musculoskeletal problems, including osteoarthritis and fractures. Seniors with dementia in particular are at increased risk for fractures that can lead to hip replacement surgery. In one study of hip fracture patients aged 68 and older, 85 percent of those admitted to a hospital also had dementia. Homebound dementia patients are also more likely to present for hip replacement surgery resulting from fractures.
Patients with dementia who undergo hip replacement surgery have problems complying with postoperative instructions, taking medications and cooperating with therapists. This puts them at increased risk for complications during and after surgery, reoccurrence of the fracture and difficulties recovering.
While it can be challenging for caregivers of dementia patients, there are some complications to look out for as well as some strategies to help minimize additional injuries and help patients through the recovery process.
More on Hip replacement and dementia…
Hip Replacement Complications
Hip replacement surgery can have a number of complications. Because dementia patients might not be able to communicate properly about symptoms or pain, caregivers must be mindful of any changes in the patient's behavior and mood, especially signs of irritability or extra confusion. Caregivers should also pay attention to any swelling, bruising or other physical abnormalities.
Some possible complications are related to the surgery itself, such as:
Blood clots
Infection
Swelling
Reactions to anesthesia
Pneumonia
Complications usually happen soon after surgery. But sometimes, problems can occur a few years after the surgery. These later complications may result from a faulty implant. Additional surgeries, called revision surgeries might be necessary to replace the defective device.
For example… thousands of patients who received the DePuy ASR or Stryker Rejuvenate and ABG II implants … filed lawsuits after their hips failed prematurely.
The kinds of implants with the highest failure rates are called metal-on-metal implants. These implants are made with a metal cup (acetabular shell) and ball (femoral head). When these parts rub together… they release metal particles that may irritate surrounding tissue . and cause damage to organs.
Metal-on-metal implants can cause a number of complications, including:
Metallosis – metal poisoning that may cause the joint to fail
Dislocation
Severe pain
Non-malignant pockets of fluid called psuedotumors
Implant failure
Metal sensitivity
Organ damage
More on Hip replacement and dementia…
Tips for Avoiding Complications
The first thing caregivers should do to ensure the safety of the patient is to… clear the living area of all environmental hazards such as:
Rugs
Poor lighting
Power cords
Objects on the floor
Or unstable furniture that may cause a fall.
Also, patients should be assisted and supervised in daily activities. Patients with dementia cannot avoid hip complications on their own. In order to communicate with the patient… the caregiver can use a combination of… auditory, visual and manual cues … to help the patient use safe positions for lying down, sitting or transferring.
Use an encouraging and gentle voice when communicating with the patient, but be firm. Use simple, one- or two-word cues. The caregiver can show the desired action first and then have the patient follow. The same commands and gestures should be used each time. To help establish behavior patterns.
💡
Have a story about hip replacement surgery and your family member with dementia. Please share here?
Help others realize that they are not alone.
Submit Your Caregiver Story
💡
Have more questions? Check out the
Frequently Asked Question
section of the website. You will find a lot of different questions answered directly.
Michelle Y. Llamas is a writer and researcher for Drugwatch.com and the host of Drugwatch Radio. She has written for medical journals and been a guest on podcasts focused on health.
Sources:
Yiannopoulou KG, Anastasiou IP, Ganetsos TK, Efthimiopoulos P, & Papageorgiou SG. (2012). Prevalence of dementia in elderly patients with hip fracture. Hip International Retrieved from http://www.ncbi.nlm.nih.gov/pubmed/22547375
Atchinson, B. (2010). Safety after hip surgery: Tips for preventing complications. Retrieved from http://www.lcc.edu/mhap/CARING/Caring17.2010.pdf
Deirmengain, C., Austin, M. & Deirmengian, G. (2011). Hip replacement in the very elderly. Aging Health. Retrieved from http://www.medscape.com/viewarticle/756606_5