Professional Services
Do We Need a Dementia Care Facility or How to Cook a Frog
As a caregiver for a loved one with dementia, it can be easy to become overwhelmed. Learn how to avoid becoming a "cooked frog" and how to choose the right residential dementia care facility.
Do we need a Dementia Care Facility?
How to cook a frog or How NOT to become a cooked frog!
Adapted from a podcast by Donahue Vanderhider, gerontologist
In the early stages of Alzheimer's, families chose to provide care in the person's own home. After all the early manifestations of Alzheimer's is only memory loss.  The person's personality is still there. Most caregivers are confident that they can provide care without much difficulty. As you probably already know, it gets worse. Much worse.
There's an urban legend that says that you can't boil a frog by dropping him in boiling water because he will leap out before he can get burned. But take that same frog and put him in a pot of water at room temperature and slowly bring it to a boil, and he will never notice.
Most caregivers I've met are like the frog; they are in very hot water, struggling to cope.  The symptoms have escalated. They are managing their family member's paranoia, anxiety.
They are seeing problem behaviors:
Wandering
Repetitive questions
Hydrophobia (not wanting to shower or bathe),
If you ask them how they got there, they started out at "room temperature".
HOW TO AVOID BECOMING A COOKED FROG
If you have been giving care for a parent for a more than a year, then you are doing much more than anticipated. Even if you went in to this with your eyes wide open.. If you take an honest look.. You will realize that at the current pace of your loved ones decline, you will soon be overwhelmed.  If you are honest with yourself, you will realize that you alone are not able to provide the care they need.
The problem is this disease is so insidious.  The problems that come with Alzheimer's are not medical. They are care related.
Our healthcare system requires that to get help, it needs to be medical. We have few resources for families So, we spend over 600 billion dollars a year out of pocket.
Meaning we are using:
Our savings
Our paychecks
Our retirement accounts
And even funds from our children's college funds.
These symptoms creep up slowly, and there is not a lot of information out there.  Sure you can do a Google search. 9 times out of 10, it's the same old information.
There are 3 or 7 stages (depending on what you find)
There are only a handful of FDA approved medications
You may or may not see problems behaviors like Paranoia, or Wandering (Sun downing).
And if you consider the source, the information you get will be biased by their intention.
💡
Have more questions? Check out the
Frequently Asked Question
section of the website. You will find a lot of different questions answered directly.
What are they selling?
Is it:
A drug company?
A home health agency?
Do they sell durable equipment? (electric beds, wheelchairs and diapers?)
An assisted living community?
Or a non-profit agency that rely on two things: government grants and your donations?
Everybody has an angle to a piece of the 600 billion dollars.
As a new caregiver you are armed with some basic knowledge about the disease. You have very little information on how it's going to affect you and your parent.
WHAT TO DO IF YOU ARE ALREADY A COOKED FROG
or How to Pick a Residential Dementia Care Facility
Choosing a residential dementia care facility is a good option to consider. This is when the individual needs more care than you can provide yourself at home. Believe me, if you are a sole caregiver you will become a cooked frog.
There are two versions of this non-medical (custodial) care.
There are large communities generally referred to as Assisted Living. And small homes referred to as Board and Care.
Both are generally regulated the same way. State regulations leave lots of room for individuality of services. To be clear, these facilities provide unskilled medical care services. They are usually paid for by private pay funds.
They offer help with bathing, dressing, toileting, cooking, and medication management. If you are looking for a facility that provides care and services specific to dementia patients… you must be very specific in what you are looking for in a facility.
The main differences between larger communities and small ones are simple.  A large community's advantages are:
More socialization with other people. This provides for cognitive stimulation and anxiety reduction. Giving the patient opportunities to express themselves. Even helping to maintain their language skills.
More activities and physical stimulation. A proper activity program at a large assisted living community will provide dementia clients with activities that… help maintain fine motor skills as well as large muscle movement.
This can keep people:
Healthier
Able to walk longer with better balance
And reduces the incidence any number of other illnesses.
A smaller board and care's advantages are:
A much higher staffing ratio that benefits clients with more advanced dementia.
A more familiar environment resembling a home rather than a facility, and causing minimal disruption with their relocation.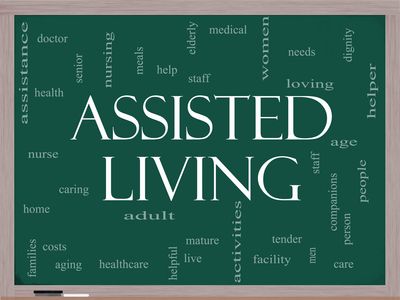 In small board and cares, the client generally lives with the family that is providing the care.
In larger facilities, the staff rotates in shifts. Someone is always around to oversee and provide safety around the clock.
The staff available may or may not have a professional nurse on duty at all times. They will be familiar with dementia care.
A professional nurse may be available by phone if needed. Other facilities have a professional nurse overseeing several buildings and supervising the aides.
When considering a residential care facility, it is important to consider… the present and potential future health care needs of the senior with dementia.
Will this facility be able to meet the changing and future health care needs?
Is the staff trained in dementia care strategies and approaches?
Are there activities for the residents?  Especially in the evenings, when sun downing can occur?
These are important things to address. As individuals with dementia require stimulation and interaction to decrease agitation and aggression.
It is important to investigate each potential facility thoroughly. Some states require licensing and are regulated by the state.
If your state regulates residential care facilities… they must be surveyed on a regular basis.
Contact your area agency on aging for a copy of the state survey. The facility should be able to provide you with this information, as well.
Here is a checklist of things to observe when visiting a potential facility:
Ask about the experience level of the staff and owner.
Ask about dementia training for the staff. Is it ongoing?
Ask for references from previous residents that have lived at the facility.
Ask for professional references, such as physicians, discharge planners, religious leaders and community leaders that have recommended the facility.
Discuss finances. Ask for a fee schedule. Are there any extra charges that will be added to the monthly fee? If so, what would they be?
If you have long term care insurance, will the facility bill the client or the insurance company?
Does the facility accept Medicaid as payment? Is there a specific amount of time that out of pocket expenses are to be paid before Medicaid is available?
Are there transportation services available for doctor appointments, going to church, or shopping? Is there a fee for those services?
Do the present individuals living at the home looked cared for and clean?
Is the building clean and well maintained?
Do any of the rooms have a bad odor?
Are the individuals providing care interacting with the present residents?
Are the residents being treated with dignity and respect?
Do you feel as if each resident's privacy is protected when receiving care?
Ask what is the staff to resident ratio? If there is a locked unit for wandering residents, does that staff ratio increase?
Is there an LVN or LPN on staff? Does that individual cover several buildings or just one? How often does the nurse see the residents?
If there is no nurse available to oversee the residents at all times, is there an nurse consultant that oversees the care on a regular basis? What are the specific days and times of coverage for the nurse?
Who supervises the care provided by the aides?
Is there regular staff assigned regular residents to provide continuity of care?
Does the facility make doctor appointments, order medication refills and provide case management services for the residents?
What is the process for the family to communicate with the staff regarding questions or concerns?
Are there food choices at meals, available to allow the residents to have options?
Are pets accepted, if the resident can provide the care for the pet?
How is spending money managed when the resident is not able to handle money? What system is in place to keep track of those finances?
What type of security system is in place in the facility? What type of monitoring system is in place to keep a wandering or confused resident safe?
Choosing the right residential dementia care facility can take time and research.
Once you have made a decision on several facilities, revisit the facilities unannounced. Do this at different times of the day and evening.
This is going to be your senior family member's home.
It is important that you feel that you have chosen the right place. You want to give your family member the ability to age in place in a safe home like environment.
Once you have narrowed the list, pick the one that "feels" the right. Which one do you feel the most rapport?
What's your "gut feeling".
Remember, you want to have a positive relationship with these people. You are not buying a car. You are enlisting their help. Believe me you will get much more cooperation and help with honey rather than vinegar.
Finally a personal word of advice. Once you have moved your family member in, give them 90 days to adjust.  In two decades of working with families, the biggest mistake I see families make is… over-reacting to adjustment issues. They pull their relative out too soon.
💡
Have a story about memory care or a dementia care facility? Would you like to share here?
Help others realize that they are not alone.
Submit Your Caregiver Story
💡
Do you need help caring for a loved one?
Our Resources section can help you find the information and tools that you need. We have courses, videos, checklists, guidebooks, cheat sheets, how-to guides and more.
You can get started by clicking on the link below. We know that taking care of a loved one is hard work, but with our help you can get the support that you need.
Click here to go to Resources Section now!