Ask the Experts
Do Family Caregiver Duties Include Going Into the Bathroom To Provide Intimate Personal Care?
As a family caregiver, duties often include providing intimate personal care for elderly parents. Learn how to handle privacy concerns, promote independence, and provide dignified care. Discover tips on how to assist with bathing, toileting, and other intimate care needs.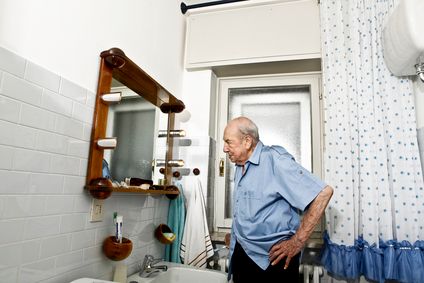 Caregiver duties often include responsibilities that make the care giver uncomfortable, such as providing intimate personal care. Many that care for elderly parents are unprepared for dealing with the issues of privacy and intimate care.
As an aging parent declines, they will become more and more dependent on someone to help with all aspects of their care.
As a nurse,I hear of situations everyday of caregivers helping elderly parents that deal with falls in the bathroom , issues of incontinence, difficulty with bathing and problems with toileting.
There comes a time when privacy and the issues of providing care become an issue. Aging issues, such as the seniors:
inability to clean themselves properly after a bowel movement,
deal with constipation and do not share that they have a problem
lose the ability to preform personal care without assistance
use so much toilet paper that stops up the toilet.
Being a caregiver means getting out of your comfort zone at times. It means being able to provide care with dignity and respect, encouraging independence, while invading a person' s privacy.
Not an easy thing to do for many that are providing care for the opposite sex parent.  Some  caring for aging parents, find it difficult to help either parent when it comes to being the the bathroom when they need to toilet them or bath the intimate areas of the body.
More on Caregiver Duties
When bathing or toileting a family member,  it is crucial to be discreet and show compassion. Providing intimate personal care helps our family member look and feel better. There are many levels of assistance you can provide. The most important thing that you need to do is to communicate that you are there to help them and make sure they are safe.
It is hard for many to accept help, even from a family member, but, you can provide privacy and encourage independence, as well as enhance your family members emotional well being.
When you are providing care , it is important that you explain you are there to offer assistance, and explain what you are doing.
Promote privacy as much as possible. This may include stepping out of the bathroom, but, still remain close by. A person may need assistance to get on and off the commode. Still others, may need cleaned after toileting.
This is a time to also assess a person's skin, observe the color of the urine or the bowel movement. While these are not topics you want to discuss, assessing these things can tell you many things.
Thank you for this great question on caregiver duties.  There is no topic that is too difficult to talk about. I hope you will feel you  can ask anything on this site.