Walk In Tubs for Elderly Reviews What to Look For
Explore the benefits and drawbacks of walk in tubs for seniors. Learn about the features, costs, and safety considerations when shopping for a walk in tub. Find the perfect model for your home and lifestyle with our comprehensive guide.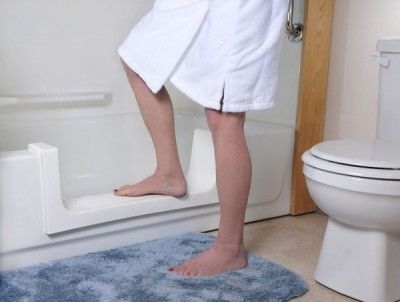 Walk in tubs models for elderly reviews what to look for before you purchase.
There is nothing like taking a hot bath to relax and feel good. As we age, it can get more difficult to enjoy that bath because of physical limitations.
Do you worry about slipping in the bathtub?   Do you have to have someone at home before you get in and out of the tub?
Then it may be time to consider a walk in tub for you. I think you all be surprised that it is not as difficult to do, and there is a tub for almost any price range.
This is a brief overview of the benefits and disadvantages of a walk in tub, the features,and the costs.
Benefits of a Walk in Bathtub Versus Traditional Tubs
Walk in tubs can be a great addition to any bathroom. Some walk in tub models take up less space that the traditional bathtub so your bathroom will seem larger with a walk in tub.
Many walk in tubs come with variety of features, models and colors.  The features include anything from adjustable bubble jets to heated seats. It can be the perfect makeover for an aging senior or person with a disability.  It can also add to the value of your home,  and may offer you important tax incentives and write offs.
The most important benefit of a walk in tub is that it offers increased safety for you or your family member. There will be no more climbing over slippery tub surfaces or having to reach for something stable to hold onto when you are getting out of the tub. The textures prevent slipping, and you are able to keep your head above water without worry.
The number one reason for seniors losing their independence are falls.  These falls  usually occur in the home environment in the bathroom and the kitchen. Improperly installed grab bars around the bathtub or shower enclosures can result in broken bones or head injuries. Having a walk in tub alleviates those worries.
More on Walk In Tubs for Elderly Reviews What to Look For…
Walk in Tub Disadvantages
If you have a small bathroom, you may have to order a tub door that opens inward versus one the swings out. Because there are so many different features that are offered, the installation should be done by a professional. If you cannot afford a professional, you may consider a portable model, as they connect to the existing faucet.
You must sit in the tub, while you are filling it up and adjusting the water to the right temperature. For some aging seniors, this may be a big negative, as the must sit and feel cold.
Again, you must wait until the water drains before you get out of the tub as well. Extra features, such as the faster filling and draining, may cost extra.
Today's walk in tubs offer comfortable settings for bathing. Some walk in bathtub models offer a fully functional spa and or Jacuzzi type features with adjustable bubble jets for an enjoyable bathing experience.
Walk in tub features :
sides that are around waist height
easier entry and exit of the tub area
something solid to hang on to when transferring
seat warmers
adjustable shower heads
adjustable bubble jet
are pre-formed with smooth and contoured seating benches
adjustable height benches for greater comfort
handicapped models offer easy entry for individuals transferring from a wheelchair
some models are also easily accessible utilizing patient lift devices
right or left hinged doors depending on your bathrooms design
doors that open outward or inward
Handles fitted into the doors make opening and closing simple
Mechanisms and levers  designed to work with minimal hand pressure and strength
quick fill and drain options
models for tall or over 300 pounds
Choosing a Walk in Bathtub
When considering a walk in tub consideration should be given to the current and future needs of the person who will be using it most.
The tubs location of the tubs doors, levers and faucets can be selected based on the current bathroom layout. Consider your hot water tank  when you are considering purchasing a walk in tub. Ask "What is the minimum size of home hot water heater tank to support the required amount of hot water to properly fill the tub?" and " What is the minimum required size of the plumbing lines for proper support? "
Walk in tubs are tubs are large.  You may have to purchase a new hot water heater in order to use the tub properly.
It is important that you add the expense of a new hot water heater and its installation into the costs of the walk-in bathtub. This is not cheap. You can expect to pay anywhere for a low end model- $2,500 up to a walk in tub with all the bells and whistles for  $10,000.
💡
have you put a walk in tub in your home to age in place? What do you like or dislike? Please share here?
Help others realize that they are not alone.
Submit Your Caregiver Story
💡
Do you need help caring for a loved one?
Our Resources section can help you find the information and tools that you need. We have courses, videos, checklists, guidebooks, cheat sheets, how-to guides and more.
You can get started by clicking on the link below. We know that taking care of a loved one is hard work, but with our help you can get the support that you need.
Click here to go to Resources Section now!
---
You might also like this article: