Aging In Home
Moving Aging Parents
Moving aging parents can be a difficult and emotional process. In this blog post, the author shares their personal experiences and insights on how to navigate the challenges of downsizing, purging, and relocating elderly loved ones.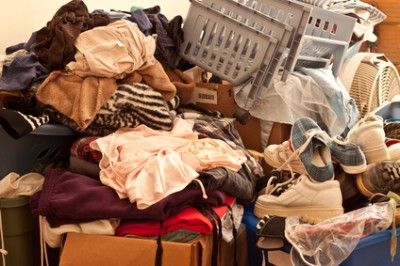 Decluttering for Assisted Living
Moving aging parents is never easy. I have done it several times with my own mother and now my in laws. There is a drastic difference between the two experiences. A couple of weeks ago, my in-laws mentioned that they were looking around their house, deciding what they need to weed out and discard. They asked us what items we'd like, urging us to take whatever knick-knacks we want. They mentioned living in "an apartment".
The house they are in now is smallish – under 1500 SF - and actually quite Spartan in furnishings and decoration. They have moved several times since FIL retired in 1973, and have done some serious purges with each move. When they moved into their current house, I think it took maybe half a day for the two of them to unpack everything.   In fact, they've relinquished so many things over the years that I'm actually fearful of them getting rid of too much now.
They should keep some items and mementos of days gone by. With FIL's Alzheimer's diagnosis, those things may be of increasing importance. Besides, they've had a long life, there's no reason for them to deny themselves some comfort and beauty now! But I think they are partly thinking of us. What it will be like to pack them up and move them into a retirement community, or even assisted living.
What to Do Moving Your Parents into Assisted Living or Nursing Home
They don't want to be a burden to us, or impose on our willingness to help.   Little do they know... when my mother's last brother died, it somehow fell to me to organize sorting and clearing his house. The big, 5000 sf, 2-story house my mother's family had lived in for 125 years. The house from which very little was ever discarded or thrown away. (I'm still not sure how I got maneuvered into that job!!)
A lot of family hand-me-downs: some actually valuable antiques, some only valuable to us because of the connections and memories. (I know that no one else will ever really care about my grandmother's salt and pepper shakers, shaped like an alarm clock and a tube of toothpaste, the way I do!)
More on Moving Aging Parents
When my mother moved from her 1800 sf house to a 900 sf apartment, we had to sort out so much... stuff. And when we got everything into the apartment, it was not exactly... under-furnished. Not at all.   A year later, we had to move my mother into assisted living. It took two of us working for 3 days to sort out what was going with her and pack it all up.
It took me a week of stopping by after working all day to get it unpacked and set up for her to move in. And while it was a larger room than most - I think about 300 sf - she had it filled. Pictures hung everywhere for her to look at. A double bookcase for books, a place for her TV, a roll-top desk for her computer, the bed, dresser, other dresser, nightstands, a couple of chairs, her recliner.... She made it as "homelike" as she could.  
When my in-laws get into such a place, there will be very little to move. Exactly as much furniture as they need for the two of them, and no more. Compared to my mom's side of the family, their house now looks bare and barren. No family photos on display, no tchotchkes anywhere, no books out.... If they discard much else, there will be very little to pack.
Which is their ultimate goal, I guess.  I just want them to keep enough to be comfortable, and happy. But their ideas of comfort and happiness are not the same as my mother's, or even mine, and I have to accept that.
Assisted Living versus Home Care
What to look for in Assisted Living
What to look for in Memory Care