Caring for the caregiver
The Lessons From A Little Bird and The Need for Family Caregiver Support
Discover valuable lessons on family caregiver support from the gregarious and resilient Monk Parrot. Learn how to support and offer help to the invisible patient, the family caregiver, who selflessly provides long-term care without acknowledgement or support.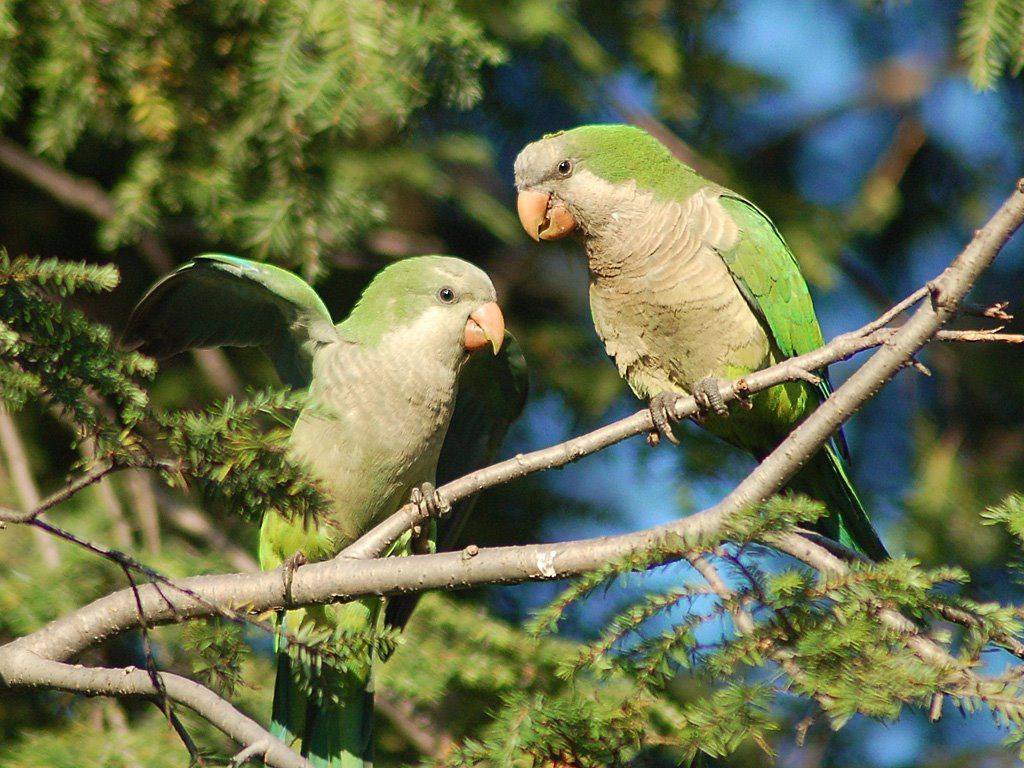 Family caregiver support, or the lack of it, is a major problem for the majority of caregivers. I hear the silent cries for help everyday, on my website and in forums.
As I was I was walking early one morning, to my surprise, I heard screeching as I approached several bright green colored birds. At first, I thought I was just my imagination running wild. It was a very cold morning, and I was all bundled up to face the elements. My mind often wanders to thoughts of walking on the beach in a warm tropical climate. As I continued on my walk, my thoughts drifted to South Florida, and the familiar signature screech I used to hear from the tiny parrots I used to see, when I visited my youngest son. Of course, these could not be the same type of bird.
I was wrong. There is a colony of Monk Parrots living in Edgewater, New Jersey. They have been here for over 35 years. These are usually birds that live in tropical climates.  I was amazed at their resilience and survivor skills.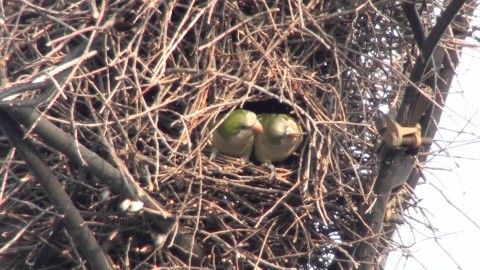 As I continued I on my walk, my thoughts turned to all the family caregivers I have worked with over the years. I realized, the family caregiver, like these Monk Parrots are survivors. After I got home and did some research on these bright and beautiful birds, I realized that there are some very valuable lessons these tiny, but resilient creatures could teach us all about family caregiver support.
The Monk Parrot builds a communal type nest, that can grow to the size of a small car. Each family lives in a different "apartment" inside the nest, with a separate circular entrance. This gregarious breed of bird, is very social and they work together, supporting and helping one another. They even get along with other species of birds, including birds of prey. To survive the winter, they build nests along power lines to keep warm. It is also known that as many as 40 or 50 will huddle together to maintain their body heat in extreme cold.
This breed of parrot has learned many concepts for survival, that we as humans, often lack. The family caregiver is the single largest group of long-term care providers. They are the pillar of the long-term care industry, unpaid, unacknowledged and ignored.
While the Monk Parrot community is social and supportive of one another, the family, friends, churches and local communities ignore the needs of the family caregiver. The medical community calls the family caregiver, the invisible patient.
I really think that there needs to be a course, in churches and in our local communities, on the value of the family caregiver and what can be done to support them. Most do not want much. Someone to listen to them and not judge or give recommendations on how to do things differently. Just be accepting and supportive.
Offer to provide time away from their caregiver duties, for self-care. Caregivers give selflessly to another, most without any time off. They may have other family members, but, as a rule, most are uninvolved and offer little to no assistance with care or financial support.  Some family members are even abusive to the family caregiver.
The Monk Parrot community has a lot to teach us about family caregiver support. We, as humans, need to step up our game and support the family caregiver. Take time to call someone who is providing care for another. Ask them how they are doing and what you may do for them. One day you may be in their shoes.
Family Caregivers Invisible No More
Another Sparrow Fell - Caregiver Statistics
How to deal with a narcissistic parent – Part 1
---
You might also like this article: