Empowering Dementia Patients Through Purposeful Housework: A Guide to Meaningful Activities of Daily Living
Housework can be a meaningful activity for those with dementia, but changes in attention to detail may also indicate disease progression. Learn how to offer guidance in small steps and engage your loved one in familiar, enjoyable tasks to alleviate boredom and improve cognitive decline.
Housework can be a meaningful and enjoyable activity for individuals with dementia. However, it can also serve as a way to assess the progression of the disease in your family member. Changes in attention to detail and cleanliness can be early signs of trouble.
Changes in Attention to Detail:
If your loved one used to keep a well-organized and clean house but now shows neglect in maintaining it, this could be a sign of dementia. The part of the brain responsible for orderliness and cleanliness may be affected by the disease, leading to a lack of interest in personal and environmental hygiene.
2. Offering Guidance in Small Steps:
Dementia can impair a person's ability to independently perform a series of tasks involved in housework. Breaking down tasks into smaller steps and offering one command at a time can be helpful. For example, instead of saying "fold the clothes," ask them to "fold this towel" and demonstrate the task if needed. Offering guidance in each step reduces frustration and increases compliance.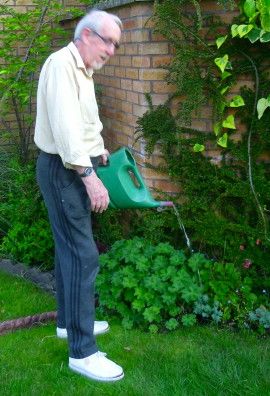 3.Engaging in Enjoyable and Familiar Tasks:
Take advantage of your family member's skills and previous abilities. Engaging them in tasks they enjoyed in the past can bring satisfaction and a sense of accomplishment. Whether it's preparing meals, sweeping the floor, or doing light household chores with tools, supervise and support them during these activities.
4.Rewards for Participation:
Rewarding your loved one after completing a task can be fun and rewarding for both of you. Remember that ADLs are not about the perfection of execution but rather about participation. Recognize and appreciate their efforts and involvement in the activity.
5.Activities to Alleviate Negative Behaviors:
Engaging in activities, like housework, can help alleviate boredom and prevent challenging behaviors. Keeping the person with dementia active and interacting may even slow cognitive decline.
Conclusion:
Housework can serve as a valuable activity for individuals with dementia, promoting a sense of purpose, accomplishment, and satisfaction. By offering guidance and focusing on participation rather than perfection, you can make housework an enjoyable and meaningful experience for your family member living with dementia.
💡
Have more questions? Check out the
Frequently Asked Question
section of the website. You will find a lot of different questions answered directly.
💡
Do you need help caring for a loved one?
Our Resources section can help you find the information and tools that you need. We have courses, videos, checklists, guidebooks, cheat sheets, how-to guides and more.
You can get started by clicking on the link below. We know that taking care of a loved one is hard work, but with our help you can get the support that you need.
Click here to go to Resources Section now!
---
You might also like this article: