Planning Ahead
Death and Dementia: The End Stages of Dementia
Learn about the end stages of dementia and how to prepare for death and dementia. Understand the different types of dementia and their symptoms, and explore options for advanced decisions and caregiving.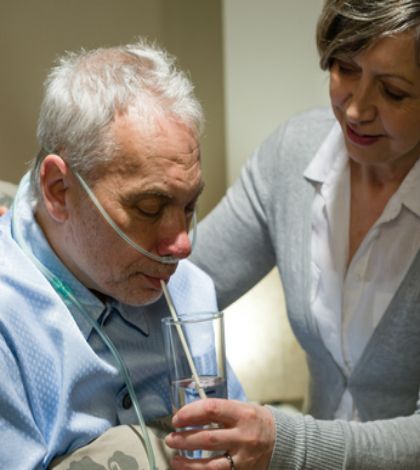 Death and dementia – The end stages of dementia
A person in the end stage of Alzheimer's disease will have to prepare for death and dementia. Dementia is a progressive disease caused by loss of nerve cells in the brain. Eventually the brain shrinks so a person is unable to care for him or herself. You can prepare yourself or a loved one before it is too late.
Types of Dementia
It is important to know the type of dementia you are dealing with. So you can be prepared for death and dementia and the symptoms that are likely to occur. Alzheimer's is the most common type of dementia.  This condition causes the chemistry and structure of the brain changes. Vascular dementia happens when oxygen to the brain is cut off suddenly. This is , from a stroke or gradually from a series of mini strokes.
Dementia with Lewy bodies causes degeneration of brain tissue. People experience many other types of dementia and live with the diseases for many years. As time passes the symptoms progress and contribute to death and dementia.
End Stages of Dementia
People experience dementia differently. However, certain symptoms will be similar in all dementias as end of life approaches. The later stages causing behavior and personality changes.
Memory loss– People and places will become unfamiliar. Sudden flashes of recognition might happen. You should use these moments to talk about the memories and reassure them.
Communication– A person will have a hard time understanding what is said to them. They may lose their speech altogether. Pay attention to body language to know how they are feeling and talk to them as you normally
Mobility– At first a person will shuffle their feet or seem unsteady. They eventually will lose the ability to walk and perform daily tasks. An occupational therapist can help with proper equipment. And address ways to help them get around safely. If a person is confined to a bed or chair a physiotherapist will help you learn how to move them without injury.
Eating– A person will need help and encouragement with eating a drinking. This is to prevent them from losing too much weight. Chewing and swallowing may be a problem. Get help from a doctor to prevent choking and chest infections or to get nutritional advice.
Incontinence– A person will lose control of their bladder or bowel movements. This is a challenge many caregivers are challenged It is unpleasant. Providing intimate care for many caregivers is difficult and uncomfortable. This is a time when alternative placement may be considered. There are many different products and approaches you will want to learn about. Join some online support groups. There you will find help on suggestions for product and behavioral approaches.
Puzzling behavior– A person with dementia may behave in ways that are confusing to you. Some examples of puzzling behavior are… agitation…aggression… rocking their body forward and backward… hallucinations… constantly moving their hands or touching themselves,… or just sitting still not focused on anything.
If you or a loved one is suffering from dementia it is important to know what to expect. This is in order to be prepared for death and dementia.
Advanced Decisions
People in the early stages of the disease can make choices about their life and death and dementia. It is a good idea to make plans while you are able to think and speak clearly. And, while you can still understand legal documents.
Power of attorney– A person with dementia can name another person to act as their agent. This goes into effect when they are no longer to able to make decisions for themselves. Power of attorney is usually given to a… trusted family member, partner or friend. They will be able to to make financial and/or health care decisions about your income and assets.
Power of attorney for health care– You can appoint a health care agent to make decisions. This should be a person that respects your wishes. They will help you navigate things such as… doctors… health care providers… types of treatment and care facilities, when you are no longer able to express them.
Living will– This document explains how a person with dementia wants to be treated… in certain medical situations. It will state your wishes concerning life sustain measures. This would be artificial nutrition, do not ventilate or do not resuscitate instructions.
Will– allows you to name the executor or manager of the estate once a person dies. A will also names the beneficiaries or people who will receive assets from the estate. This document gives a person with dementia the right to have his wishes fulfilled and gives a piece of mind.
Funeral arrangements– You can also plan what happens after death and dementia. Making these decisions before it happens will ensure that… any religious, ethnic, or cultural beliefs are met. You can talk with a funeral home in advance and decide on things like a brain autopsy or organ donation.
Legal planning in the early stages of dementia allows you to make your own decisions about your life.
It is important to plan right away, before the disease progresses. Before you become unable to make rational decisions. It is good to review your advanced directives regularly. Make any changes necessary. Make sure to always sign and date the documents and give copies to the appropriate people.
Alzheimer's Caregiver
If you are taking care of someone who suffers from dementia… you should focus on making the person as happy and comfortable as possible. Because the better they feel the more they can enjoy the last part of their life. Dress the person in their own clothes to help them keep their own style and identity. Be sensitive and respectful when washing and bathing them. Make food enjoyable and healthy.
Be prepared for your relationship to change. As time passes and be aware that you may experience feelings of grief before death and dementia.
Unusual behavior, from a person with dementia.. Can leave you feeling stressed and frustrated. Try to learn the meaning behind the actions in order to stay calm and deal with the situation.
Make sure to take care of yourself and get support to help you cope and be the best caregiver possible. A person in the end stage of Alzheimer's usually lives in a care home. Consider all of your options to find the best place for you or a loved one.
http://alzheimers.org.uk/site/scripts/documents_info.php?documentID=101
http://www.webmd.com/alzheimers/news/20091014/late-dementia-suffering-often-unnecessary
http://www.nia.nih.gov/health/publication/end-life-helping-comfort-and-care/dementia-end-life
http://www.alz.org/national/documents/brochure_legalplans.pdf
http://www.nia.nih.gov/health/publication/end-life-helping-comfort-and-care/things-do-after-someone-dies