Bathroom Safety Solution
Most senior falls occur in the bathroom. Avoid this dangerous situation by converting your bathtub to a walk-in shower with our low cost solution. Keep your independence and peace of mind. Contact us at Tub Transformations LLC for more information.
Most senior falls occur in the home and most of them are in the bathroom. I've worked with many Seniors tell me their children bought them a step stool. It was to make it easier to step into the tub, only to find out they can't get out. Don't make this mistake.
We offer a low cost bathtub to walk-in shower conversion. We do this by cutting a walk-thru step in the existing tub (we don't remove it), saving thousands over replacement.
Check us out on Facebook at "Tub Transformations LLC", or call us at 248 660 5174. Located in SE Michigan. Be safe out there…
Bath Tub Insert With or without an optional door. Opening is approximately 18 inches wide.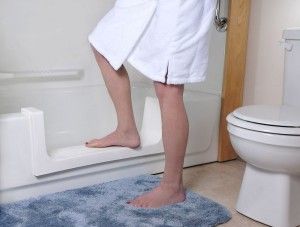 Converting your bathtub to a walk in shower you have a reduced chance for a fall.
The awkward and dangerous bathtub barrier is actually a 14 to 17-inch step. That form is one that many elderly clients seem like a mountain.
It is important to be safe in the bathroom.
An easy step of only a few inches is easier to deal with when remaining independent for as long as possible.
This is a cost effective approach that allows a person to remain in their home for as long as possible.
When you make home modifications such as this means... safety, accessibility and peace of mind.
All this and you still have the comfort and functionality of your bathtub. The changes to your bathroom will also look good and not at all like an institution like bathroom.
💡
Have a story about home modifications for your bathroom? Tell us what you loved or hated about the changes. Please share here?
Help others realize that they are not alone.
Submit Your Caregiver Story