Assisted Living Universal Bathroom Design
Improve the accessibility and safety of your bathroom without sacrificing style. Learn about simple and inexpensive home modifications like non-slip mats, safety grab bars, and adjustable height sink countertops. Discover award-winning bathroom designs and products for universal design bathrooms.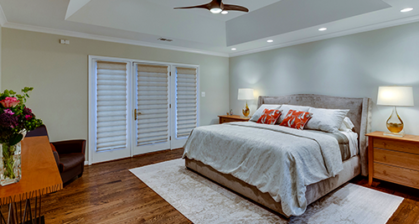 The bathroom environment can be a safeand comfortable room without sacrificing style.
Universal bathroom design, some simple and inexpensive home modifications you can make are: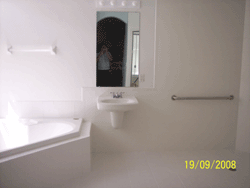 Always use non-slip mats in the bathtub or on the shower floors. You can also use tile that has a special high anti-slip rating.
Use door locks that can be opened from both sides.
Have safety grab bars installed next to the toilet and in the tub or shower.
A heat lamp is an inexpensive way to increase room temperature while bathing. There are heated towel racks. These would warm your towels on a cold morning.
Use a shower chair, bathtub chair or a bath lift. If you do not wish to use a hospital type chair of bench, there are benches and chairs suited to fit into your design available.
Single lever controlled faucet taps are recommended over… two individual knobs for people with limited mobility or strength.
Set your water heater to 120 degrees or less. There are also anti-scalding devices to prevent sensory impaired skin from burns.
Add a sliding or hand held showerhead. It allows the shower to remain accessible to everyone in the household.
Install a padded raised toilet seat. Or explore products that raise the toilet seat. They can assist in lowering and lifting off the toilet. These are available and will also save you money without having to replace the entire toilet.
Leave a light on in the bathroom at night.
Remove all small rugs.
Consider installing a phone in the bathroom so there is no hurry to run to answer the phone.
You can consider installing handicapped accessible showers and walk-in bathtubs if necessary.
Investigate a motorized and adjustable height sink countertop. This is for the vanity and can vary the height level for your vanity. It can be done in the kitchen, as well.
Find out about universal design products that are available.
Look into universal design bathrooms; the video below is a place to start.
Here are some award winning bathroom designs
Bathroom Design for Accessibility
💡
Have a story about the changes made to age in place? Please share here?
Help others realize that they are not alone.
Submit Your Caregiver Story
💡
Have more questions? Check out the
Frequently Asked Question
section of the website. You will find a lot of different questions answered directly.
Home Environment
Kitchen Environment
Bedroom Environment