45 Great Gift Ideas for Someone With Alzheimer's or Another Type of Dementia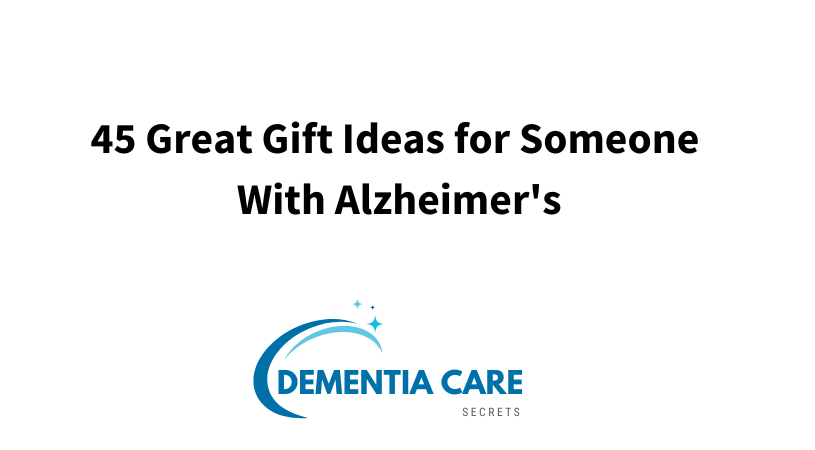 45 Great Gift Ideas for Someone With Alzheimers or Another Type of Dementia v1 DCS final v1
In this episode, we will explore meaningful gift ideas specially curated for individuals living with Alzheimer's or other forms of dementia. We understand the significance of selecting gifts that bring joy and comfort to those facing memory impairments. Additionally, we will briefly discuss the progression of dementia, from its early signs to the more advanced stages characterized by severe memory loss.
Understanding Dementia Stages: Dementia manifests in various stages, beginning with mild symptoms like depression and difficulties in task completion. As the condition progresses, memory loss becomes increasingly pronounced.
Gift Ideas for Early-Stage Dementia:
Memory-Stimulating Gifts:
Create Personalized Photo Albums: Compile cherished memories in a photo album, fostering reminiscence and emotional connection.
Digital Photo Frames with Audio Stories: Utilize digital frames to display photos accompanied by audio narratives, preserving their life stories.
StoryCorps Interviews: Conduct interviews using platforms like StoryCorps to document and cherish their personal history.
Memory Boxes: Assemble memory boxes filled with meaningful items and mementos to trigger fond recollections.
Person-Centered Profiles: Develop profiles that celebrate the individual's unique interests, hobbies, and experiences.
Practical Aids:
Talking Clocks: Provide talking clocks to assist with time management and enhance communication.
Photo Phones: Equip them with photo phones featuring visual cues for easier communication.
Online Shopping Assistance: Encourage elderly women to continue their gift-giving traditions by guiding them through online shopping experiences.
Cooking and Recipe Preservation: Preserve family recipes and create cooking videos together, promoting comfort and well-being.
Pre-Stamped Cards: Offer pre-stamped cards to simplify correspondence and stay connected.
Classic TV Shows and Music Playlists: Curate recordings of classic TV shows and personalized music playlists.
Gift Ideas for Later-Stage Dementia:
Stimulation and Comfort:
LED Lights: Install calming LED lights to create a soothing ambiance.
Sports Memorabilia: Display sports memorabilia or items related to their interests.
Brain Games: Engage them with stimulating brain games and puzzles.
2. Connection and Well-Being:
Personalized Video Messages: Create heartfelt video messages from loved ones, fostering a sense of connection.
Bird Watching Gifts: Set up bird watching stations to bring the outdoors inside.
Transportation Vouchers: Provide vouchers for transportation services to enable outings and social interaction.
Practical Service Gift Certificates: Gift certificates for services like house cleaning or handyman work to alleviate daily burdens.
Pampering Gifts: Offer relaxation through pampering gifts such as adult coloring books, bath products, and scented lotions.
In conclusion, these thoughtfully selected gift ideas cater to the various stages of dementia, focusing on stimulating memory, promoting overall well-being, and preserving a sense of connection with loved ones. Remember, the key is to celebrate their individuality and create moments of joy and comfort throughout their journey with dementia.
---
You might also like this article: