Wheelchair Exercises for Seniors
Wheelchair exercises for seniors is important to maintain physical and mental well being. Wheelchair Freedom provides an innovative solution with its range of easy-to-use products.
"Wheel Chair Freedom" Product Review
I am a seasoned RN with a rehabilitation background. Wheelchair exercises for seniors is important to maintain physical and mental well being.  I have worked with many patients over the years that are in wheel chairs and feel as if they will never get out of it.
Well, I am here to tell you , that it is possible to get out of that chair,  or just improve your fitness level. It takes time, commitment and great instructions. In the present health care environment ,with Medicare cuts, the amount of time the physical therapist spends with a patient is not enough.
There is a step by step process that you need to go through to prepare to stand up and walk again. It is not as easy as "just doing it". It is a great way to have you fall and hurt yourself, or even cause another injury. Here are some things that you need to think about before starting to walk again.
💡
Have more questions? Check out the
Frequently Asked Question
section of the website. You will find a lot of different questions answered directly.
These steps are things we take for granted and do without thinking:
You must be able to transfer your body weight from one foot to the other.
Balance on one foot.
Be able to transfer your weight from one part of your foot to another.
Be able to control your hip in a way the does not cause you to collapse and fall under the weigh of your body.
Coordinate all these different movements through many different joints (hips, knees, ankles etc).
Stabilize and control the movement from your upper body so it does not interfere with the moves from your lower body.
So how do you do this and be success?
You have to focus on the smaller joints, movements and muscles first.
There is a step by step process to assure your success. So many of my clients feel so discouraged once they are in a whee chair, they give up on doing many things. Wheelchair to car transfers become more and more difficult. I have found a solution that I believe will help many of my clients.
Wheel chair freedom is a resource written by a physical therapist. The information Marcia Oliver LPT shares in the wheelchair exercises for seniors can improve the quality of your life.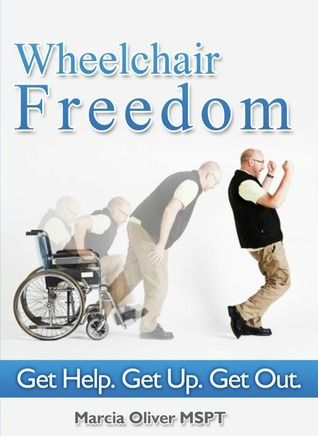 Seniors face aging in place challenges due to mobility issues. Fortunately, Wheelchair Freedom provides an innovative solution with its range of easy-to-use products. From wheelchair accessories that help seniors move around more comfortably and safely to wheelchair exercises that promote physical activity and improved overall health, the company makes aging in place a breeze for wheelchair users.
One of their most popular items is the Mobility Exercise Kit – designed specifically for seniors who are aging in place in their wheelchairs. Each kit contains two resistance bands, two ankle straps, two handles, and two leg straps. The resistance bands offer 8 levels of adjustable tension to help maximize strength training potential and comfort. The ankle straps can be used to perform seated calf raises or strengthen legs and hips with an easy, low-impact exercise. The handles and leg straps are perfect for upper body workouts and can help improve balance.
Overall, wheelchair users of all ages benefit from the products offered by Wheelchair Freedom. Their Mobility Exercise Kit is a great choice for aging in place seniors who want to stay active without leaving their home. With the kit's adjustable tension levels, it is suitable for people of various physical capabilities and enables them to get the most out of their wheelchair exercises safely and comfortably. In short, Wheelchair Freedom has made aging in place easier than ever before!
Wheelchair Freedom is a great resource that can teach you how to safely and effectively master the wheelchair exercises needed to gain strength for your legs, chest and back. These exercises will help you get back on your feet again.
I have recommend this resource manual to my clients and have had great results. Get your copy today.
Get more information on this great book click here
The Unexpected Benefits of Exercise for Seniors
Exercise for Seniors can Avoid Symptoms of Dementia
What to Look for in Medical Alert Systems : Our Review