Activities
Seniors and Voting : Miss Alma Says "Get Out to Vote"
Meet Miz Alma, a 79-year-old Meals on Wheels client with more spunk and fervor for life than most people half her age. Learn about her dedication to voting and how she inspires others to make their voices heard in this heartwarming story by Judy Morton.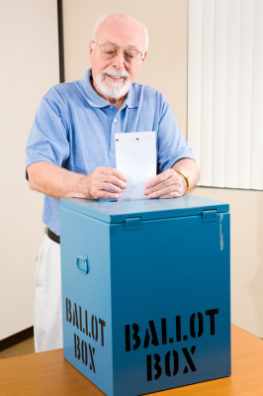 By Judy Morton
Seniors and Voting is more important than ever. Here is a sort that I want to share with you about a Meals On Wheels client.
Every Wednesday, we drive to a small church in a poor community about 15 minutes by freeway from our home. There we pick up prepackaged meals, desserts, and cold drinks, which we then deliver to the clients on a route set up by Meals on Wheels. We don't spend much time with any of the clients, as we don't want the rest of them to have to wait longer for their meals, but we do take a few extra minutes – more than just "here's your meal, 'bye."
Although we're not supposed to have "favorites"… we do. So we do save one delivery until last, so we can spend a bit more time with this wonderful lady. Miz. Alma is a very tiny Black woman, about 79, with more spunk and fervor for life than most people half her age. Every week we enjoy a "group hug" with her – and I told her once that every hug is actually a prayer, so she loves that.
We're fortunate here to have early voting for two weeks before election day. So we thought we were being really smart a couple of weeks ago, by planning to stop on our way home from MoW deliveries to cast our ballots.
When we got to Miz. Alma, our last delivery, we noticed that she had an "I voted" sticker on her dress. We asked her if she had been to vote that morning, and she told us that no, she had gone the preceding Monday – the first day of early voting – to cast her ballot. She said she checked out every option, and made her choices ahead of time, and went as soon as the polls opened to vote. She wanted to make sure her voice was heard!
This wonderful lady grew up in an era of Black suppression and segregation. She has known hardships I cannot imagine. She has suffered tragedies that would break most people. But she has never met a stranger, and accepts everyone with open heart… and she is very, very proud of her right to vote!
No wonder she's our "favorite" client!
If you have not yet voted, please do so as soon as you can today. If Miz. Alma can get to the polls, so can we all.
Elderly and Voting
💡
Have a story about your aging family member and voting? Please share here?
Help others realize that they are not alone.
Submit Your Caregiver Story
💡
Do you need help caring for a loved one?
Our Resources section can help you find the information and tools that you need. We have courses, videos, checklists, guidebooks, cheat sheets, how-to guides and more.
You can get started by clicking on the link below. We know that taking care of a loved one is hard work, but with our help you can get the support that you need.
Click here to go to Resources Section now!