How to Prevent Falls
Falls are the leading fear of aging adults and the #1 independence robber. Watch our video on preventing falls and discuss any concerns with your physician.
Falls are the #1 fear of aging adults and the #1 independence robber The fear of falling is not unfounded. Falls are not an inevitable part of aging. The best thing you can do is learn how to prevent falls.
More than one in three people age 65 years or older falls each year. The risk of falling increases with age and is greater for women than for men. Two-thirds of those who experience a fall will fall again within six months. A decrease in bone density contributes to falls and resulting injuries.
Failure to exercise regularly. results in poor muscle tone, decreased strength, and loss of bone mass and flexibility. At least one-third of all falls in the elderly involve environmental hazards in the home.
The most profound effect of falling is the loss of independent functioning. Twenty-five percent of those who fracture a hip need life-long nursing care. About 50 percent of the elderly who sustain a fall-related injury will be discharged to a nursing home … rather than return home. Most falls do not result in serious injury.
There is often a psychological impact. Approximately 25 percent of people 75 or over unnecessarily restrict their activities… because of fear of falling.
There are proven strategies that can reduce your risk for falls. And help you live a longer, healthier life.
Watch this video on "Preventing Falls"
There are many factors to consider on how to prevent falls at home.
ARE YOU TAKING MEDICATIONS THAT MAY BE MAKING YOU DIZZY?
ARE YOU TAKING SLEEPING MEDICATION?
ARE TAKING MEDICATIONS THAT MAKE YOU GET UP TO USE THE BATHROOM FREQUENTLY AND CAUSE YOU TO GET UP IN THE MIDDLE OF THE NIGHT?
DO YOU FEEL AS IF YOUR BALANCE IS OFF AT TIMES?
HAVE FALLEN OR ALMOST FALLEN?
DO YOU FIND YOUR SELF HOLDING ONTO THE FURNITURE OR WALLS WHEN YOU WALK?
Take time to discuss these issues with your physician. Request an evaluation be done by a physical therapist… to assess your risk for falling and make recommendations on changes you may need to make.
The physical therapist can also make a home assessment … to make recommendations to make your home safer and more fall proof. It is important to have both the inside and outside of the home assessed.
Ask about the use of a gait belt for safety
Some safety factors to address in minimizing falls are:
Improving lighting
Installing handrails and grab bars
Moving items so that they are easier to reach.
Slip-resistant floors. Use nonskid mats under rugs or attach rugs to the floor with double sided tape. Use no skid wax on waxed floors at home.
Using a low or leveled threshold in the door area where the elderly are likely to trip.
Using low-pile carpeting, so a walker doesn't get caught in low-piles which will prevent the person from falling.
Making sure carpeting and rugs are not worn and torn
Removing small loose rugs, even with non skid mats should not be in traffic areas of the home
Having no rugs or mats in the bathroom. The bathroom flooring is a matte finish and slip resistant when wet.
Ensuring there is sufficient lighting all long all stairways. Railings should be provided on either side of the stairs, as it makes climbing up and down easier. This way the stairs will be safe.
All rooms should be well lit as dark rooms can lead to accidental falls.
Especially having entrances should be very well lit. Night lights should be placed throughout the house.
Ensuring there is a place to keep keys, Shopping items, mail or anything else that the aging adult maybe carrying to the entrance of the house. Place a table or a basket near the door to place these things in and on.
Electrical cords are placed out of the flow of traffic and out from under rugs and furniture
Flooring should be non slippery and have a non glare surface or wall to wall low pile carpet
Chairs and sofas should be safe and secure – they should not be too low or too deep to be able to get out of easily
Having no clutter , a clear pathway and enough space to walk through the room
Having a lamp or flashlight are within easy reach from your bed.
Having plenty of room for you to walk around your bed.
Having a night stand bedside the bed so you can easily reach the telephone, place your glasses or other important items
Having a sturdy chair with arms in your bedroom so that you can dress.
Making sure steps and walkways outside are in good condition and have good lighting
Having phones in every room of the house and keep emergency numbers by all of them.
How to prevent falls actions you can take
Exercise: Older people who fall often reduce their activity, because they fear falling. However, it is especially important for them to keep up their physical activity. Regular aerobic exercise is associated with increased life expectancy, increased independence and reduced risk of heart disease, osteoporosis, hip fractures, and depression. "Mall Walking" where people exercise in shopping malls, is becoming increasingly popular among aging adults and is good exercise in a safe environment. Regular exercise will keep your muscles strong and joints flexible. Keeping as active as possible can make falls less likely. Regular physical activity, e.g. brisk walking, housework, dancing or keep fit classes, helps to improve your balance.
Take Calcium and Vitamin D: Women should take calcium (1,500 mg/day) and Vitamin D (750 U) to strengthen bone and reduce the risk of hip fractures (by as much as 40 percent).
Be selective about your footwear: Foot problems or inappropriate footwear can contribute to falls and injury. The best shoes are walking shoes with flat soles, such as sneakers. Discard poorly fitting shoes or slippers and don't wear high heels. Avoid trailing clothes which may trip you up.
Do your daily activities in a safe manner, such as reaching and bending properly, taking time to recover balance when rising from a chair or bed.
Learning the proper way to fall, and learning how to recover after a fall is something you can talk to your physical therapist.
Have your vision checked Use color and contrast to define balance-aiding objects in the home (e.g., grab bars and handrails). Add contrasting color strips to first and last steps to identify change of level. Clean eye glasses often to improve visibility.
Know your medications and side effects- people taking multiple medications are at greater risk of falling.
What to do if you fall
It is difficult to do, but try to remain calm. Take a deep breath and try to focus. Do not move until you are calm and can determine if you are injured. If you move too quickly you may make the injury worse. Roll over on your side and try to get to a seated position.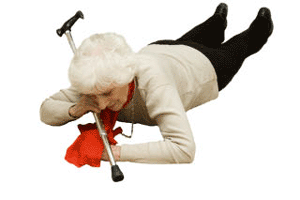 If this is not possible, or you think you are injured ask someone to call for help or call 911.
Technology that can help

Consider getting a personal medical emergency device. Consider this, once an aging adult has fallen and waited hours for help to find them, they lose a portion of their self-confidence, and they start to become afraid and start to limit their activity.
The best time to protect a loved one with a medical alert device is prior to any problem.
A loved one can remain living independently in their own home far longer by having a system in place that will get them help when they need it. Peace of mind for the aging adult and their families is priceless.
💡
Have a story about your caregiving journey? Have you put a fall prevention in place? Please share here?
Help others realize that they are not alone.
Submit Your Caregiver Story
💡
Do you need help caring for a loved one?
Our Resources section can help you find the information and tools that you need. We have courses, videos, checklists, guidebooks, cheat sheets, how-to guides and more.
You can get started by clicking on the link below. We know that taking care of a loved one is hard work, but with our help you can get the support that you need.
Click here to go to Resources Section now!