Caregiver Support
Oprah Happiness Guru Shawn Achor Talks to CaregiverRelief About Staying Positive
As caregivers, it's hard to stay positive. Learn from Oprah's happiness expert, Shawn Achor, how to channel your anger into a positive and productive outcome. Discover the importance of social connections and the upcoming launch of divvyDOSE, a medication delivery service for caregivers.
Oprah Happiness Guru Shawn Achor Talks to David Heitz for CareGiverRelief
As caregivers, we often experience life stuck between a rock and a hard place.
Our loved one with dementia cusses at us when we try to help them. Our siblings or our relatives accuse us of having "a free ride" when we move in with our parent. As we're making sure mom or dad doesn't tumble down the basement stairs, burn the house down, or otherwise harm themselves, somehow our relatives think it's just one big party.
We cook our loved ones' meals, pick them up off the floor, corral them back inside the house when they go out the back door at 3 a.m., and even mop up their waste. Frequently.
It's so damned hard to stay positive. We often end up financially drained when the caregiving process is over, on top of grieving for our loved one who may have passed or, heaven forbid, ended up in a facility. We have every reason to be pissed off.
On Wednesday I had the pleasure of interviewing Shawn Achor, Oprah Winfrey's happiness expert, on the telephone. Achor is a Harvard happiness researcher and author of the book "Happiness Advantage"
Achor and Buick Regal created a special motivational podcast for Buick's "24 Hours of Happiness Test Drive" content series. I spoke with him on the telephone as he was in Los Angeles for the project.
"I suffered two years of depression," Anchor said. "So many people think of those who are depressed as evil, dark, brooding. But the brain actually takes more thought to process anger and threat than to create happiness."
So go ahead. Be angry.
💡
Have more questions? Check out the
Frequently Asked Question
section of the website. You will find a lot of different questions answered directly.
How To Maintain Positivity in Dark Times
"Instead of squashing the anger, think about it as a useful tool," Anchor said. "If you're angry, your body is experiencing a feeling or emotion that easily can be translated into energy. Squashing anger actually can be counterproductive. If you feel upset, try to channel that toward a positive or productive outcome."
That means taking action to change whatever is upsetting you. For caregivers, that's often isolation.
"The opposite of happiness in our research is not unhappiness. If we're lonely, (anger) can actually cause us to extrovert."
A good predictor of long-term happiness are our social connections, Anchor said. "Researchers at Harvard demonstrated a .7 correlation between social connections and happiness, which may not sound like much but that's actually a higher correlation than what we see between smoking and cancer."
You may say, "Social connections? Hogwash!" We're stuck in the house with our elderly or impaired loved ones. We never even get out of the house.
But we don't even have to. Research shows that a meaningful social connection can be as simple as an email, a text, or a five-minute phone call.
"Caregivers always are trying so hard to give social support, what they always forget is there has to be give and take and they have to receive social support as well," Anchor said.
"Just two minutes composing a positive email can create a meaning social connection," Anchor said. "Some people go and see 100 people at a bar but it has no meaning. But deeply connecting to someone you have providing care for does."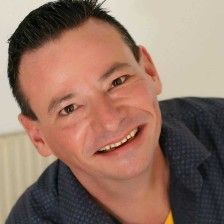 And despite the strife I personally have been through, I believe that to be true. Before caring for my dad, particularly in his own home, I'm not sure I believed I had the sort of true meaning in my life – indeed, happiness – to create the sorts of changes I needed to make. Those changes have included going back to work with the most meaningful writing gigs I ever have had in my entire career, and also getting sober.
I never expected either to happen.
💡
Have a story about what you do to stay positive? Please share here?
Help others realize that they are not alone.
Submit Your Caregiver Story
💡
Do you need help caring for a loved one?
Our Resources section can help you find the information and tools that you need. We have courses, videos, checklists, guidebooks, cheat sheets, how-to guides and more.
You can get started by clicking on the link below. We know that taking care of a loved one is hard work, but with our help you can get the support that you need.
Click here to go to Resources Section now!