Professional Services
Expanded Medicare and Dental Coverage: A Crisis Looming
Expanding dental coverage through Medicare and community outreach could improve public health and lower long-term expenses for aging seniors."
Expanded Medicare and Dental Coverage is needed … to address the health care crisis that is looming.
As policymakers think about proposals to slash successful and effective community programs including Medicare and Medicaid…. Older Americans continue to deal with obstacles to necessary health and wellness care. Including access to dental coverage  and services. A report from Oral Health America highlights this growing dental crisis… for older Americans.
According to the report:
Lack of affordable dental coverage options
Service providers
Shortages
Absence of preventive programs in communities throughout the country
Are developing significant hardship for older adults.
Present policy choices to improve gain access to :
Dental coverage
Combined with community outreach and education
Would enhance public health and wellness.
While mirroring overall wellness care reform efforts to improve: Care
Enhance health
Lower long-term expenses, by investing in preventive care.
💡
Have more questions? Check out the
Frequently Asked Question
section of the website. You will find a lot of different questions answered directly.
Growing Senior Population Lacks Dental Coverage
Despite enhancements in dental health care for the general population in the previous 50 years… older Americans still deal with a high risk of oral or dental disease.
The problem is most likely to grow as the baby-boomer generation enters retirement. Only 2 % of boomers who retire have access to dental insurance coverage benefits. These are through their former employers or private market dental plans.
Importance of Dental Health in Seniors
More on Expanded Medicare and Dental Coverage: A Crisis Looming …
Lack of dental insurance coverage… is a major barrier to seeking dental care for aging seniors. Nearly 70 % of older Americans currently have no form of dental insurance coverage. Older adults with dental insurance are 2.5 times more likely to go to see the dentist on a routine basis.
Private insurance coverage, continues to be costly. While coverage for low-income adults on Medicaid is optional for  most states . And dental services are restricted in those that do provide it.
Forty-two percent of  the states provide no dental benefits. Or only emergency coverage through adult Medicaid services. In states where dental coverage is offered through the adult Medicaid programs… getting dental care can still be a challenge for beneficiaries. This is due to the very low compensation rates. Service providers are not willing to take that level of compensation. So there is a shortage of providers. Lack of dental insurance coverage access is a major obstacle to dental care.
In addition, coverage for routine dental care under Medicare… the largest health insurance coverage service provider… for individuals over the age of 65 years old is virtually nonexistent. Less than 1 % of dental services are covered by Medicare.
Dental services are not covered under … Medicare, Medigap, insurance or the supplemental policy… does not cover dental services at all.
For aging senior citizens surviving on a fixed or low-income… the high cost of dental care discourages them. A recent study exposed that aging seniors who earn less than $35,000 a year consider the expense… as the primary factor to consider when deciding whether to seek care.
Premium Members Only:
All of our guides, downloads, worksheets, Premium courses
Click
Subscribe
To Get Started.
More on Expanded Medicare and Dental Coverage: A Crisis Looming …
In the same survey, more than half making less than $35,000 reported not going to  a dental practitioner. Because they do not have insurance coverage or cannot afford to the costs of dental care.
Two-thirds in the exact same income group stated that if they needed for common dental treatments… such as a crown, implant, or bridges…they would not be able to receive the treatment due to cost.
Aging senior citizens living at poverty level. They are more than 60 % more likely to have actually lost all of their teeth compared to those with higher incomes.
Differences in:
Race
Income
Disability status… impact aging seniors when it comes to dental health and dental care.
Poor dental health takes place among:
Racial and ethnic minorities
Aging seniors with physical and intellectual disabilities
Those who are homebound
or Institutionalized.
Aging African-American seniors are twice as likely to have periodontitis gum disease … than their white counterparts.
Health Implications of Poor Dental Care
Absence of accessible cost effective dental coverage can result in negative health outcomes. Data reveals, for instance, that certain dental conditions including periodontal gum disease … can increase the risk heart attacks, cardiovascular disease and strokes.
Many chronic health conditions can contribute to dental health issues. Leading to more complications like those above.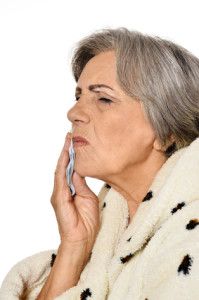 The lack of dental coverage in the largest public insurance coverage programs such as… Medicare and Medicaid leaves individuals with few options …for accessing needed dental care.
Emergency room visits for dental-related problems… among aging seniors over 65 years of age… rose from 1 million in 1999-2000 to 2.3 million in 2009-2010.
As overall healthcare system reform aim to emphasize primary and preventive care. And discourage costly emergency care. Dental care continues to be neglected by policymakers… at a time when the demand for attention is greater than ever.
More on Expanded Medicare and Dental Coverage: A Crisis Looming …
Policy Solutions
The report highlights a number of policy solutions … to address the present dental crisis facing aging seniors.  Chief among them are the need for expanded coverage in Medicare and Medicaid.
Aging senior dental coverage and services should want to be deemed as "essential to health benefits"… under the Affordable Care Act to expand access to services for those under 65.
The report argues that individual states need a legal mandate for providing dental healthcare … in Medicaid… to guarantee  coverage and even more equitable service provider payment. Legislation to enact these propositions has actually been introduced in Congress, and includes:
The Comprehensive Dental Reform Act of 2013
This landmark legislation is the most comprehensive dental care legislation in American history. It extends comprehensive dental coverage… to all aging seniors covered by Medicare, Medicaid, and the Veterans Administration. This legislation would include dental health as an essential benefit… as defined under the Affordable Care Act.
Special Care Dentistry Act of 2011:
Would have extended dental services to millions of individuals by requiring states to provide dental health services to :
Aging seniors
Blind
Or… disabled individuals under the Medicaid program.
The federal government would cover 100 % of the cost of this expanded program.
Conclusion.
Strengthening community education and outreach … and addressing dental service provider payments… and shortage issues… are crucial to addressing the dental crisis … faced by aging seniors and people with disabilities.
The lack of dental coverage in Medicare and Medicaid… and the expense of private insurance coverage options… continue to be barriers to needed care.
Solutions that address dental health and access to dental care should have to be a part of efforts… to improve and update Medicare and Medicaid.
The Center for Medicare Advocacy fought for expanded dental coverage for Medicare beneficiaries. And continues to advocate for policy changes that improve access to affordable care.. for aging seniors and individuals with disabilities. Instead of policy makers cutting Medicare, Medicaid benefits… as well as  other critical health care programs  that serve our nation's most vulnerable individuals… policymakers need to address ways to improve public health options. And update our largest insurance programs. This can be done by…  expanding coverage and benefits, including comprehensive dental care.
💡
Have a story about your caregiving journey? Please share here?
Help others realize that they are not alone.
Submit Your Caregiver Story
Resources
"Oral Health America, State of Decay: Are Older Americans Coming of Age without Oral Healthcare?" available at  http://www.toothwisdom.org/action.
CNN, "Dental crisis could create 'State of Decay'", Centers for Medicare and Medicaid Services,
Chronic Conditions Among Medicare Beneficiaries, 2012 Chartbook, available at http://www.cms.gov/Research-Statistics-Data-and-Systems/Statistics-Trends-and-Reports/Chronic-Conditions/Downloads/2012Chartbook.pdf.
Center for Medicare Advocacy, Fournier v. Leavitt, more athttp://www.medicareadvocacy.org/fournier-v-leavitt/