Free Prescription Drugs: What is a Flat Fee Pharmacy? How to Access Medications Without Breaking the Bank
Discover revolutionary, budget-friendly ways to access medications with flat fee pharmacies. Learn about MyFreePharmacy Card, DAC's Diabetes Program, and how to cut prescription costs. Free prescriptions for everyone with a flat monthly fee!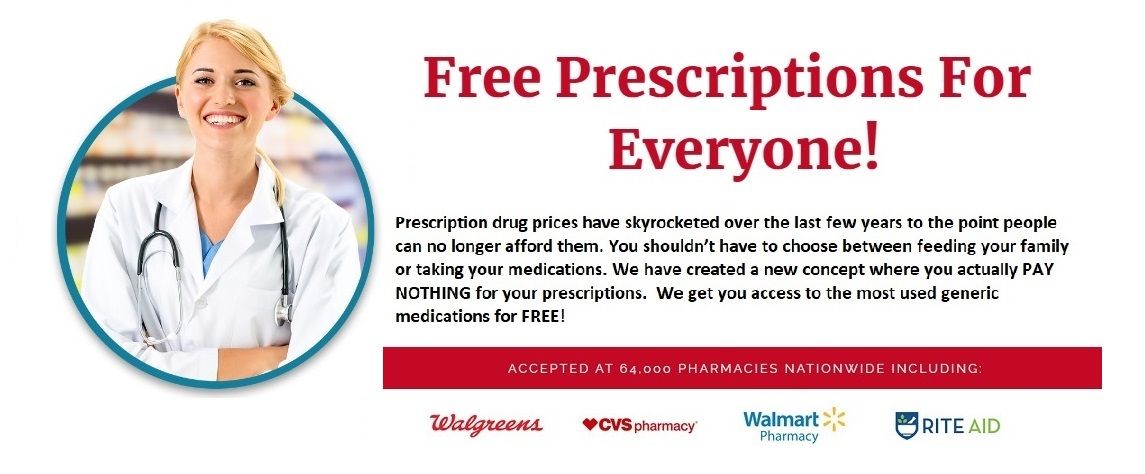 Are you tired of paying high prices for your medications? What if we told you there are revolutionary ways to access your medications without breaking the bank, such as free prescription drugs for everyone? Flat fee pharmacies are changing the game for both uninsured and underinsured individuals, making it easier than ever to afford essential medications. In this blog post, we'll explore how flat fee pharmacies work, the benefits of the MyFreePharmacy Card, and affordable diabetes care through DAC's Comprehensive Diabetes Program. We'll also discuss additional ways to lower prescription costs and health insurance options for low-income individuals. Get ready to save money and take control of your healthcare!
Key Takeaways
Flat fee pharmacies and other methods can help individuals access free prescription drugs.
MyFreePharmacy offers discounted prescriptions with potential savings of up to 80% for medications purchased through your local pharmacy.
Low income individuals have multiple health insurance options available, such as Medicaid, Medicare Part D & Affordable Care Act Marketplace.My Free Pharmacy is now another option
A Flat Monthly Membership Equals Free Prescriptions For Everyone!
Prescription drug prices have skyrocketed over the last few years to the point people can no longer afford them. You shouldn't have to choose between feeding your family or taking your medications. DAC's new FlatFee Pharmacy Program - partnered with MyFreePharmacyPLan.org has created a new concept where you actually pay a monthly flat fee and then PAY NOTHING for your prescriptions. Through strategic partnerships and our buying power, we can get you access to the most used generic medications for FREE!
Accessing Free Prescription Drugs with A Revolutionary Approach to Purchasing Medications and Over the Counter Medications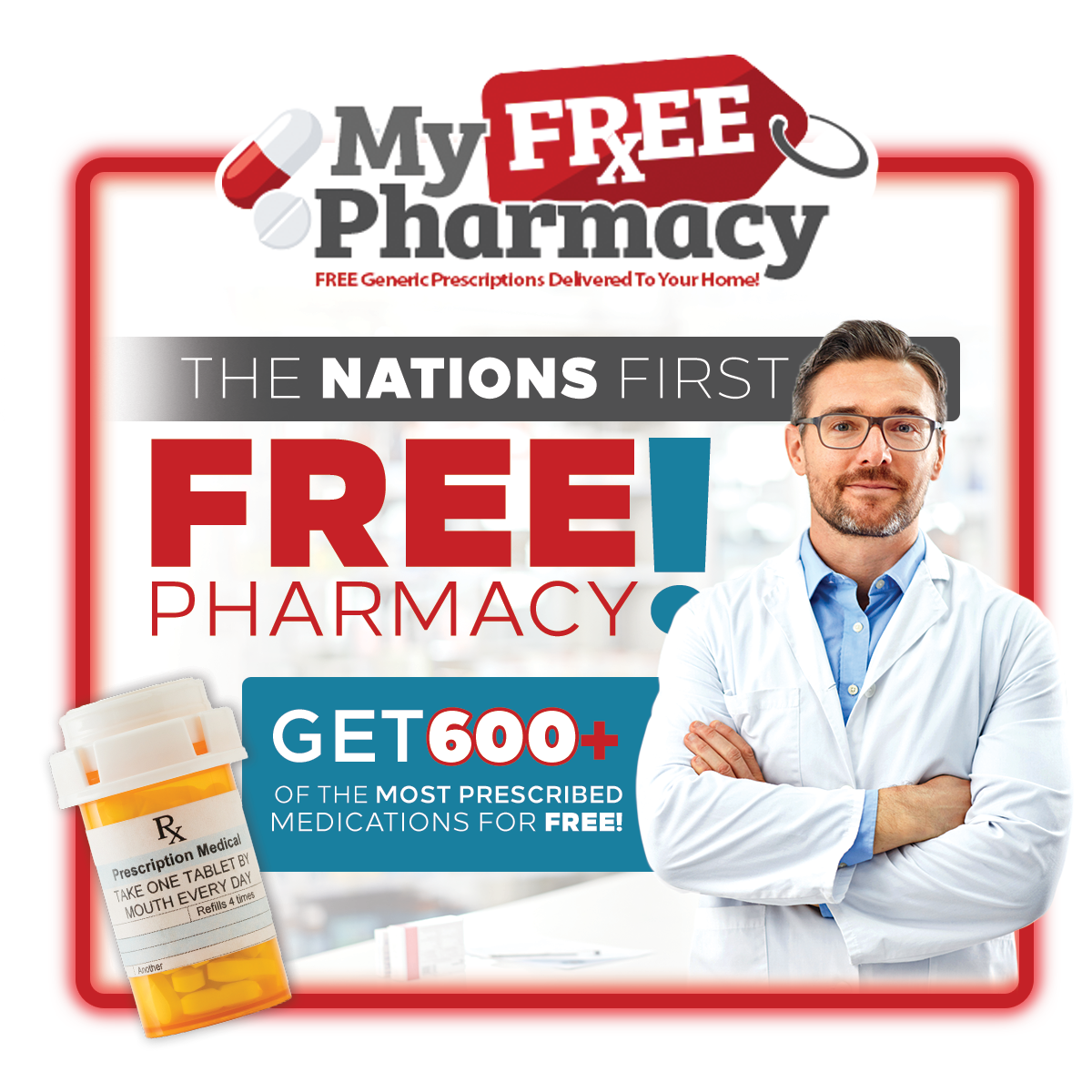 Prescription medications can impose a significant financial burden, particularly for those with limited or no insurance coverage. However, imagine if there was a method to obtain your medications without the stress of costs? Enter flat fee pharmacies, a game-changing approach that aims to revolutionize the way we buy medications by offering a simplified pricing structure.
Besides flat fee pharmacies, there exist alternative methods to economize on prescription medications. State pharmaceutical assistance programs, prescription assistance programs, retailer savings programs, and opting for generic versions of brand-name medications can all help reduce the financial burden on individuals in need of medication. Drug discount programs could prove particularly advantageous for individuals lacking health insurance or possessing inadequate prescription drug coverage, as they help lower prescription drug costs.
Get Access To Free Medication At Your Local Pharmacy Or Delivered Right To Your Home
Tired of overpaying for your prescriptions? We are too, so we created a revolutionary way for you to get your medicine for FREE. No coupons, no gimmicks and no fake prices.
Flat Fee Pharmacy Approach to Buying Medications
Regardless of a drug's price or a patient's insurance, a flat fee pharmacy imposes a fixed charge for dispensing medications. This fee covers the administrative costs, and in some cases, an additional fee (usually a percentage of the drug cost) is added to cover other expenses. The idea behind this approach is to provide a clear and straightforward pricing structure, making it easier to access medications at an affordable price.
The transparency in costs and potential savings stand as primary benefits of utilizing a flat fee pharmacy. This can be particularly helpful for those with limited prescription insurance coverage or no insurance at all. A flat fee pharmacy can be more cost-effective than traditional pharmacies, especially if you need multiple medications or expensive prescriptions.
How a Flat Fee Pharmacy is Changing How We Pay For Medications
Offering predictable costs, a variety of medications, and straightforward billing, the flat fee pharmacy model can greatly assist individuals navigating the intricate landscape of healthcare expenses. Flat fee pharmacies might have the ability to negotiate lower prices with pharmaceutical companies or utilize other cost-saving strategies, such as patient assistance programs, making medications even more affordable.
Yet, the flat fee pharmacy model does come with certain limitations. There may be higher costs for those who use less medication, limited pharmacy options, and no insurance coverage. Despite these drawbacks, the potential benefits of using a flat fee pharmacy for many patients outweigh the downsides, making it a viable option for those seeking more affordable medication options.
How a Flat Fee Pharmacy is Different for other Mail Order Pharmacies
Features of traditional mail order pharmacies include:
Centralized prescription information
Auto refills
Regular refill reminders
Easy reordering options
Direct delivery to patients
These features make the prescription process simpler. However, the pricing structure can be different from a flat fee pharmacy. In a flat fee pharmacy, you usually pay a fixed fee for an unlimited supply of certain medications. With a traditional mail order pharmacy, you pay for each individual medication that you order.
The pricing disparity between a flat fee pharmacy and a traditional mail order pharmacy can fluctuate. In some cases, traditional mail order pharmacies may offer lower prices due to bulk purchasing and lower overhead costs, while flat fee pharmacies may charge a fixed fee for medications, making them a good choice for those needing multiple prescriptions or expensive medications. In terms of delivery, both flat fee and traditional mail order pharmacies send medications straight to your doorstep for added convenience.
MyFreePharmacy: A Solution for Uninsured and Underinsured Patients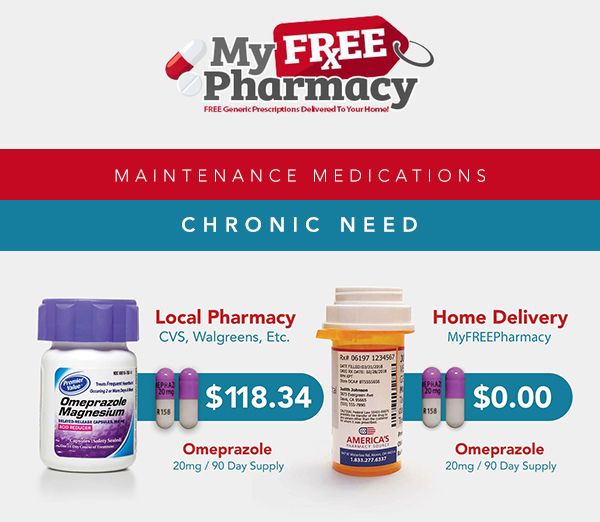 Offering a flat fee pharmacy program for uninsured and underinsured patients, MyFreePharmacy operates as a mail order pharmacy. With fees ranging from $6 to $15 per prescription, MyFreePharmacy provides an affordable solution for those struggling to cover the cost of their medications. The MyFreePharmacy Card can further help by providing free prescription drugs and potential savings of up to 80% on medications for those without health insurance or limited coverage.
For underinsured patients, the MyFreePharmacy Card provides access to discounted prescription medications, thereby reducing out-of-pocket expenses and easing the financial burden of acquiring medications. Overall, MyFreePharmacy serves as a valuable resource for individuals facing financial challenges in accessing essential medications.
Flat Fee Pharmacy Program
MyFreePharmacy offers a subscription-based flat fee pharmacy program, where a fixed monthly fee grants access to a list of prescribed medications. You can get all your prescribed medications filled as often as you need for the flat monthly fee, which is usually only a few bucks per month. Some programs even include the cost of delivery, adding an extra layer of convenience for patients.
The flat fee pharmacy program covers generic medications like amoxicillin and naproxen, which are antibiotics and anti-inflammatory drugs, respectively. This can be particularly helpful for patients in need of multiple prescriptions or expensive medications, as the fixed fee structure allows them to access their medications at a predictable and affordable price.
MyFreePharmacy Card Benefits
The MyFreePharmacy Card provides a host of benefits including:
Swift processing and delivery
Exclusive member services and discounts
Pharmacy benefits at local stores
Personalized patient care
Home delivery of prescriptions
Affordable prescription medication programs for eligible individuals
By offering speedy processing and delivery, MyFreePharmacy ensures that patients receive their medications as quickly as possible without the need to visit a pharmacy in person.
MyFreePharmacy Card users can also access discounted rates on both brand and generic prescription medications at participating pharmacies, making it even more convenient and affordable for patients to obtain their medications. Additionally, the MyFreePharmacy Card can be used for over-the-counter medication purchases, further expanding its value for patients in need of affordable healthcare solutions.
Here is a link to Frequently Asked Questions
DAC's Comprehensive Diabetes Program: Affordable Diabetes Care
Managing diabetes can be costly and burdensome, however, DAC's Comprehensive Diabetes Program offers patients affordable diabetes care resources. The program, provided by the Diabetes Advisory Council (DAC) in Florida, partners with MyFreePharmacy and Walmart to offer a range of benefits for individuals with diabetes.
This program provides:
A free premium bilingual glucometer
Zero out-of-pocket expenses on listed diabetes medications
The most affordable insulin in the nation through a partnership with Walmart
With these resources, DAC's Comprehensive Diabetes Program aims to improve the lives of individuals with diabetes and reduce the burden of the disease.
Premium Bilingual Glucometer
An advanced device for accurate and convenient blood glucose monitoring, a premium bilingual glucometer provides readings in multiple languages - English, Spanish, and Chinese, for example. It also includes advanced features like cellular connectivity, allowing patients to remotely monitor and share data with their healthcare providers.
The benefits of a premium bilingual glucometer can be significant for diabetes management, particularly for bilingual individuals or those with limited English proficiency. By offering accurate results and voice-guided instructions in multiple languages, a bilingual glucometer helps promote effective communication and personalized care for patients with diabetes.
$0 Out-of-Pocket Expenses on Listed Diabetes Medications
Through eliminating out-of-pocket expenses on listed diabetes medications, DAC's Comprehensive Diabetes Program makes managing the condition more affordable for patients. This is achieved through a combination of government programs, private insurance coverage, and affordability resources available to eligible patients.
To access $0 out-of-pocket expenses on listed diabetes medications through DAC's program, patients can explore options such as:
Government programs
Private insurance
Assistance programs offered by organizations like the American Diabetes Association (ADA) and the Juvenile Diabetes Research Foundation (JDRF)
These drug assistance programs may provide financial support or discounts on diabetes medications, allowing patients to manage their condition without added financial stress.
If you are using insulin, we offer vials of ReliOn™ Novolin 70/30, N and R for $19.88 per vial and pens per box for $37.88 through our exclusive partner Walmart, where your doctor can prescribe to and you can pick up at over 5200 locations.
Access to Insulin at Lowest Prices
Patients can access the most affordably priced insulin in the nation, thanks to DAC's partnership with Walmart. Walmart offers a private-brand analog insulin called ReliOn, which is significantly more affordable than other insulin options. A 10 mL vial of ReliOn Novolog costs just $73, whereas branded NovoLog can cost up to $289.
The partnership between DAC and Walmart makes accessing insulin more affordable for individuals with diabetes, ensuring that they can manage their condition without incurring excessive costs. With over 5,000 Walmart locations nationwide, patients can easily access the insulin they need to maintain their health.
Did you know 1 out of three American adults are Pre-Diabetic?
Diabetes is an epidemic in our nation with almost 20% of the population affected by it. Diabetic supplies and medications are typically costly and many patients not adherent with their prescribed medications. It's very important to control your sugar levels and understand the risks involved when not doing so.
Diabetes is a serious condition, so we have set out to help, educate and save you money.Our program includes the Save On Diabetes program and is designed to ease the financial burdens facing diabetes patients.
Save On Diabetes is a revolutionary program offering you the lowest priced testing supplies in the country. With your membership, you will get a FREE meter, testing strips, lancing device, lancets, control solution, medications and other diabetic products.
Additional Ways to Lower Prescription Costs
Aside from the flat fee pharmacy model and insurance options mentioned before, other methods exist to cut down prescription costs. These include opting for generic medications, using prescription savings cards like FamilyWize, Good Rx, Single Care and considering mail order pharmacies for bulk discounts and convenience.
By exploring these various methods, patients can find the most affordable and convenient option for their specific needs. With a little research and some resourcefulness, it's possible to significantly reduce the cost of prescription medications and make healthcare more accessible.
Generic Medications
FDA-approved generic medications possess the same active ingredients as their brand-name counterparts. They provide the same risks and benefits as their brand-name counterparts but are usually more affordable. The cost difference between generic drugs and brand-name medications can depend on factors like the medication, the pharmacy, and any insurance coverage, but in general, generic medications can help patients save money.
By opting for generic medications instead of brand-name drugs, patients can significantly reduce their prescription costs without compromising the quality or effectiveness of their treatment. Be sure to consult your healthcare provider or pharmacist for more information on generic medication options.
Prescription Savings Cards
Providing discounts on out-of-pocket expenses, prescription savings cards like FamilyWize can aid patients in saving money on their medications. FamilyWize, for example, is accepted at pharmacies across the country, including big chain pharmacies like CVS, Walmart, and Walgreens. Using a prescription savings card can provide significant cost savings for both insured and uninsured patients, making it easier to afford essential medications.
To use a prescription savings card, simply follow these steps:
Present the card to your pharmacist when filling a prescription.
The pharmacist will apply the discount from the card instead of your insurance information.
This can be particularly helpful for those without insurance or with limited coverage, as it offers an additional layer of financial assistance in accessing medications.
Mail Order Pharmacies
Delivering medications directly to patients' homes, mail order pharmacies present a convenient and economical alternative to traditional pharmacies. They can often provide bulk discounts for those who order a three or six-month supply of prescription medication at once, which can lead to significant savings over time.
Popular mail order pharmacies in the US include:
Sesame
Amazon Pharmacy
CVS
Pill Pack
Express Scripts Pharmacy
Birdi
Blink Health
Honeybee Health
Optum Store
DiRx
By considering mail order pharmacies as an alternative to traditional pharmacies, patients can save money and enjoy the added convenience of having their medications delivered directly to their doorstep.
Health Insurance Options for Low-Income Individuals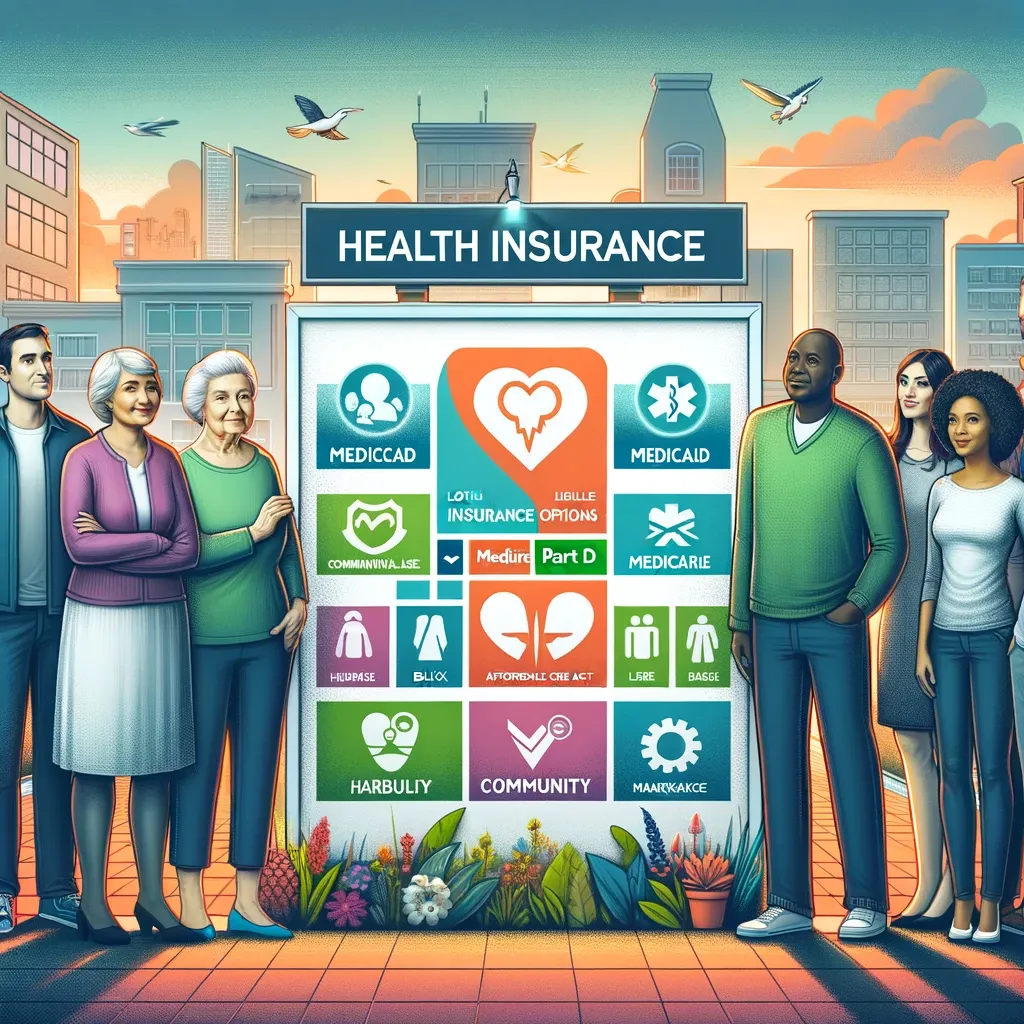 Low-income individuals in need of healthcare coverage have a variety of insurance options at their disposal, such as Medicaid, Medicare Part D, and the Affordable Care Act Marketplace. Each of these options provides different benefits and coverage levels, making it essential for patients to explore their options and determine which program best suits their needs and financial situation.
By researching and understanding the various health insurance options available, including supplemental security income, low-income individuals can find the necessary support to access affordable healthcare and medications at community health centers, allowing them to maintain their health without excessive financial burden.
Medicaid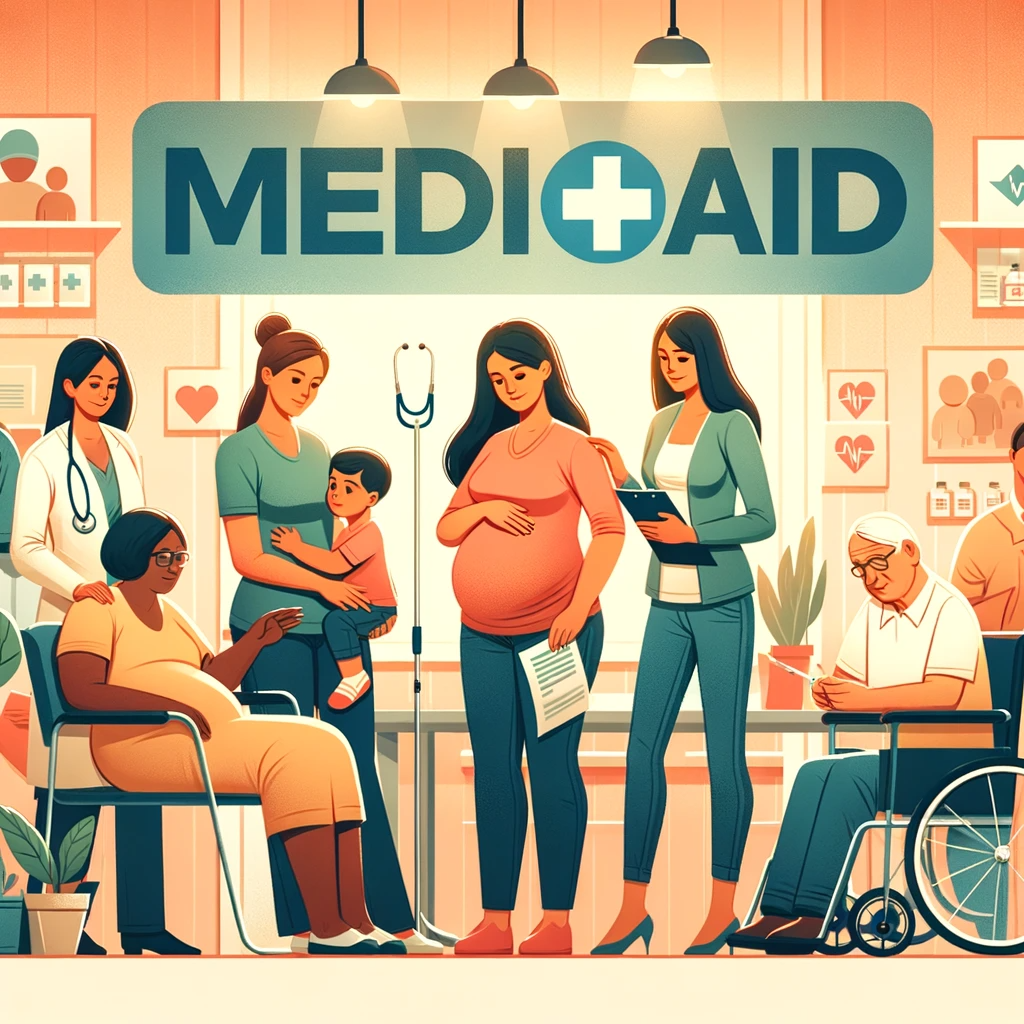 A joint federal and state initiative, Medicaid extends health coverage to eligible individuals like:
low-income children and their parents
pregnant women
individuals with disabilities
the elderly
Medicaid offers medical benefits, including premiums, cost-sharing, and services not covered by other insurance, making it an essential resource for low-income individuals in need of healthcare coverage.
To be eligible for Medicaid, individuals must meet certain criteria, such as income, household size, and specific life situations. For more information on Medicaid eligibility and benefits, it's best to contact your state's Medicaid office or visit their website.If you do not qualify for Medicaid, you may want to explore the benefits of My Free Pharmacy
Medicare Part D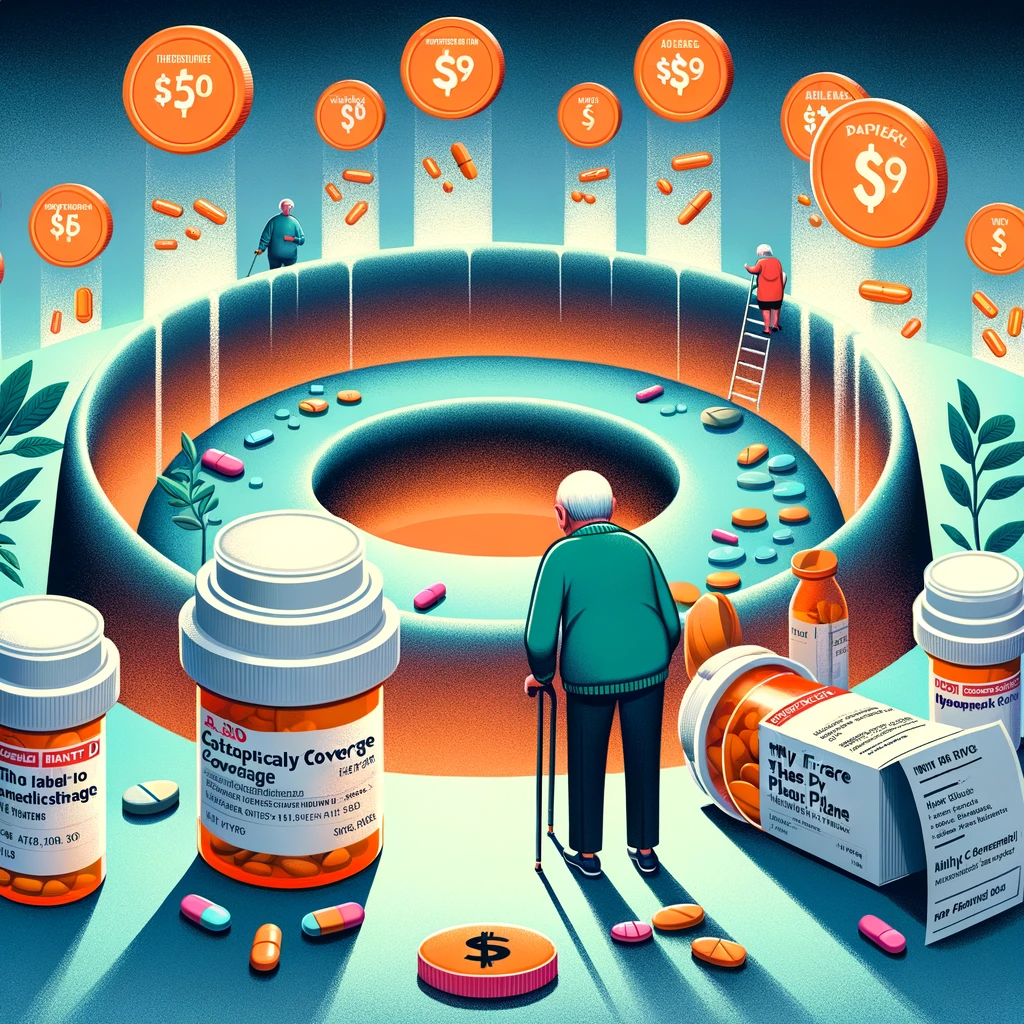 Regardless of income, resources, health status or existing prescription expenses, Medicare Part D provides a prescription drug benefit to individuals with Medicare. This federal program helps cover the cost of prescription drugs and can be accessed through private plans that contract with Medicare.
Medicare Part D, also known as medicare drug coverage, can help lower out-of-pocket costs for medications and protect against higher expenses, making it a valuable resource for seniors in need of prescription drug coverage. For more information on Medicare Part D and its benefits, visit the Medicare website or contact your local Social Security office.
Many Medicare Part D plans have large co pays. I have traditional Medicare with Part D coverage. I hit my donut hole in October every year. Let me explain the donut hole.
The Medicare "donut hole" is a term used to describe a coverage gap within Medicare Part D, the prescription drug program. It's a phase of coverage where beneficiaries may pay more out-of-pocket for their prescription drugs, after reaching a certain spending limit.
Here's a breakdown of how it works:
Initial Coverage Phase: When you first start using Medicare Part D, you pay a deductible (if your plan has one) and then co-pays or co-insurance for your prescriptions. Medicare pays its share, and you pay yours.
Entering the Donut Hole: The "donut hole" begins after you and your drug plan have spent a certain amount on covered drugs in a calendar year. This threshold amount can change annually. In 2023, for instance, the donut hole starts once you and your plan have spent $4,660 on covered drugs.
Within the Donut Hole: While in the donut hole, you're responsible for a higher percentage of the cost of your drugs. However, the Affordable Care Act (ACA) has reduced these costs significantly over the years. As of 2021, you pay 25% for both generic and brand-name drugs in the donut hole.
Exiting the Donut Hole: You exit the donut hole and enter the "catastrophic coverage" phase once your out-of-pocket costs reach a certain limit, known as the "out-of-pocket threshold." In 2023, this threshold is $7,400. It's important to note that not just your payments count towards this threshold, but also a portion of manufacturer discounts on brand-name drugs and what your plan covers.
Catastrophic Coverage Phase: Once you're out of the donut hole, you enter catastrophic coverage. In this phase, you only pay a small co-insurance or co-payment for covered drugs for the rest of the year.
It's important for Medicare beneficiaries to understand the donut hole because it can significantly impact their medication costs. Planning and budgeting for this phase, along with exploring potential assistance programs, can help manage these increased expenses.
I was taking Duloxetine for chronic pain. It was working and for the first time in many years, I had pain relief. Then I hit the donut hole. This medication was going to cost me $700 a month! Even with discount pharmacy cards, it was going to be $500 a month. I may a very difficult decision and decided I could not afford this medication. I went through terrible withdrawal. I decided I could not be held hostage to any medication.
Over the decades I have seen this played out with seniors. They chose between life saving medications, food or rent. The donut hole is the time of the year, when seniors are non compliant with their medications, simply because they cannot afford them.
I learned that through the My Free Pharmacy Plan I can get duloxetine for free! Thats a game changer for me. I purchase the cheapest Part D plan I can find. What they dont tell you is, you will get penalized by the government if you do not sign up for a pharmacy program. So, I pay my fee to be in compliance for my prescription plan. Then, I am obtaining my free meds through My Free Pharmacy. I'll never hit my donut hole again.
Affordable Care Act Marketplace
A federal service, the Affordable Care Act Marketplace assists individuals, families, and small businesses in finding and enrolling in affordable healthcare coverage. The Marketplace offers a range of health insurance plans, including:
Medical
Dental
Vision
and more
This allows users to compare options and choose the plan that best meets their needs and financial situation.
To be eligible for the Affordable Care Act Marketplace, individuals must be living in the United States and be a U.S. citizen or national (or be lawfully present). For more information on the Affordable Care Act Marketplace and its benefits, visit the Marketplace website or contact your state's Health Insurance Assistance Program.
Summary
In conclusion, flat fee pharmacies, MyFreePharmacy, and DAC's Comprehensive Diabetes Program offer innovative ways to access affordable medications and healthcare, particularly for uninsured and underinsured individuals. By exploring additional cost-saving strategies like generic medications, prescription savings cards, and mail order pharmacies, patients can further lower their prescription costs. It's crucial to research and understand the various health insurance options available for low-income individuals, such as Medicaid, Medicare Part D, and the Affordable Care Act Marketplace, to ensure access to necessary healthcare coverage without excessive financial burden. Take control of your healthcare costs and explore these valuable resources today!
Frequently Asked Questions
What if I need a prescription but can't afford it?
It's worth checking with your insurance provider to see if you qualify for any programs to help you get your prescription, and also seeing if you qualify for Medicaid. They can help you access needed, long-term prescriptions if you're unable to afford them. Explore My Free Pharmacy for the lowest costs for medications and over the counter medications.
Does the My Free Prescription all generics plan offer all generic drugs free to me?
Yes, all generic medications on our formulary are FREE. The ones not listed in our FREE formulary are available at deep discounts through your local pharmacy-simply by showing them your membership card.
Are my brand name drugs free?
Only your generic medications on the formulary are free with your monthly subscription.
Does this plan have over the counter medications and are they also free?
We do offer over the counter medications through mail order at 50% or more off retail prices - simply add them to your Rx Order.
How do you get free prescriptions?
You may qualify to get free or low-cost prescriptions through participating Free and Charitable Clinics, Community Health Centers, Rural Health Centers and Drug Assistance Programs. Check eligibility requirements for each program to see if you qualify. If you do not qualify for these programs, explore the benefits of My Free Pharmacy.
Are there any additional costs?
Standard shipping is free. Expedited shipping prices are as follows: Next Day $44.95, 2 Day $15.00. Over the counter medications only are $5.99 for shipping.
Can I cancel at any time?
Yes
Do you support 30-day prescriptions? How about 90-Days?
Yes, we support 30 day and 90- day prescriptions. The most economical will be a 90-day supply!
Is there a limit to how many prescriptions I can get filled?
There is no limit.
Are diabetic drugs covered for free?
Meters, Test stripsYou will receive a free meter, low- cost testing strips, and lancets.
How long will it take for me to receive my order?
It will depend on your shipping preference. If you use standard shipping time is 7-10 days.
What will the quantity be that I will receive as free?
The quantity will be as per the doctor's order on the prescription. However, there is a maximum qty limit allowed by the program. Charges may occur for maximum quantity limits exceeded.
What if my medication is not on the formulary online?
If the medication is not on the formulary, call customer service to see if we can special order the medication. Additionally, our pharmacists can help determine an equivalent drug to help meet your medication need.
What is the Affordable prescription drug Act?
The Affordable Prescription Drug Act helps lower drug prices for patients by preventing companies from blocking generic and biosimilar competition in the market. The My Free Pharmacy program may be an option should you not qialify for these programs.
What is a Flat Fee Pharmacy?
A flat fee pharmacy is a convenient and cost-effective way to get your medications, as it charges one fixed fee regardless of the drug's price or insurance status.
Understanding medication formularies and their tiered structure is crucial for healthcare consumers, especially when navigating Medicare Advantage programs and other insurance plans. These formularies classify drugs into different levels or tiers, impacting the cost-sharing responsibilities of consumers.
Formulary Tiers Explained:
Medication formularies typically list drugs in a tier system. Lower tiers like Tier 1 usually include generic drugs requiring no pre-authorization and minimal co-pays. Higher tiers contain brand-name or specialty drugs, often requiring pre-authorization and higher co-pays. For example:
Tier 1: Generic or low-cost branded drugs with the lowest co-pays.
Tier 2: Brand-name drugs or pricier generics, possibly needing pre-authorization.
Tier 3: Expensive, non-preferred brand-name drugs, typically requiring pre-authorization.
Tier 4: Specialty drugs, often newly approved and expensive, almost always needing pre-authorization.
Why Drugs are Listed in Tiers?
The tier a drug is placed in depends on its cost, the payer's negotiated cost, and availability of cheaper alternatives. Higher cost to the payer generally means a higher tier. Drug classes also influence tier placement, grouping medications treating the same condition differently based on cost.
Generic vs. Brand-Name Drugs:
Insurers often use research comparing generics and brand-name drugs in effectiveness and tolerance to justify placing higher-cost drugs in higher tiers. Healthcare providers may use this data to request pre-authorization for brand-name drugs when generics are deemed less effective.
Medicare Advantage Plans and Formularies:
Medicare Advantage (MA) programs typically have limited formularies with higher co-pays and potential coverage denials. This scenario can leave consumers facing out-of-pocket expenses for medications, straining their finances. The government's role in healthcare has increased consumer responsibility for these expenses, especially for those requiring high-cost medications. This situation often leads to difficult choices, like between medications and basic needs, due to hitting the "donut hole" in coverage.
Finding Your Health Insurer's Formulary:
Health insurers make their formularies accessible to encourage usage and minimize costs. These can be found on their websites or requested via customer service. It's important to note that formulary listings can change, affecting drug tier placements and consequent out-of-pocket costs.
The Flat Fee Pharmacy concept aims to make medications more affordable, especially for those on regular medication regimens. This approach, along with understanding your health plan's formulary, can significantly affect your healthcare expenses and access to necessary medications.
If you want to become a representative and make money from home click here
Please note that some of the links on our site are affiliate links. This means that if you click on the link and make a purchase, we may receive a commission at no extra cost to you. We recommend these products because of their quality and not because of the commission we receive from your purchases. The decision is yours, and whether or not you decide to buy something is completely up to you.