Aging In Home
Finding the Right Assisted Living Facility, Part 2
Finding the right assisted living facility for your parents can be stressful, confusing, and awkward. Learn from my experience as I share tips and questions to ask to ensure your loved one's comfort and happiness in their new home.
By Judy Morton
Finding the right assisted living facility for your parents is:
Stressful, confusing, and awkward. Here is my experience.
It feels intrusive to share things such as your family members:
Likes and dislikes
Habits
Personalities
Hobbies
And you are going to have to share that information with total strangers.
It's not enough to just walk through, look at the rooms, and grab a brochure and price list.
You have to get a "feel" for the place, to see if the tone of the facility will match your parents' personalities.
There are so many questions to ask. And it's easy to forget one that may later become important.
So many "what ifs" and possible scenarios to consider. And no one can predict the future, so is this place good for long term, no matter what, or is it going to be a stop-gap?
We spent this afternoon talking to the marketing person... for an assisted living facility.
We chose this one to check out for several reasons:
A company that has many locations owns it. And has a good reputation. In fact, my mother spent a year in one of their independent apartment communities. She was sorry to have to leave it when she had to transition to assisted living.
It is close.
Our current 90-mile round trip to check on my husband's parents has gotten very old. This place is about 10 minutes away. And I can think off-hand of at least 3 different ways to get there that do NOT involve getting on the freeway.
It has a dementia/memory care facility in a separate building. Located behind the assisted living building. That would be very handy and convenient if/when the day comes that FIL will need that level of care.
All of these places are happy to talk to you.
They would love for you to call and make an appointment to come in and let them give you their sales pitch.
Their marketing people have shiny brochures. And beautifully illustrated booklets and folders with all the services they offer. Pretty pictures , of well-appointed rooms and smiling residents.
They have all of their selling points carefully memorized. And ready to recite to convince you that THIS is the BEST place for your loved one!
I am probably their worst nightmare. We show up unannounced and unexpected. We won't be put off, but politely ask if there is anyone available to show us around. We do not give them time to prepare anything in advance.
We bring a camera. We have a page-long checklist– and a page-long list of questions. And I ask every single one of them and check them off the list.
I already know the types of licensing required for such facilities in this state (Type A and Type B).
I want to know:
How many rooms/residents,
Staff to resident ratio
The turnover rates for residents AND staff.
Okay, the activities calendar looks full… but what about the care facilities?
Where can a resident go to be alone? Is there a security system? How about an emergency call system? Do they have doctors/nurses on staff?
What kind of pre-admittance assessment to they require?
What pharmacy do they use? What hospital? How is the mail handled, do the residents have individual boxes? Is the mail secure? Is there a locking cabinet in the resident's room?
How big is the shower?  So many questions. Whatever place we choose will hopefully be where my in-laws live out their lives.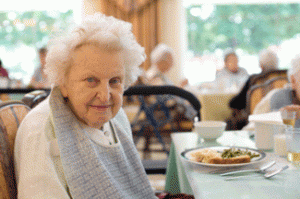 We want to do whatever we can to ensure that they will be comfortable and happy wherever they end up.
I've had to do this before for my own mother. So I'm not a novice… but what worked for my mom would not necessarily be a good fit for either of my husband's parents.
The place we just checked out this afternoon actually looks like a very good possibility. We have several others to look at, too, plus other options for home care as well. But at least we have a start.
By the way... the Texas State Attorney General's website has some excellent tips... for choosing a nursing home or long-term care facility.. with a list of things to look for and ask about.
While the licensing regulations may not carry over to other states... the information is well worth checking out, no matter where you live.
This is a good link –Texas Attorney General
Now the next step - Having Diane Carbo RN come and check them out to give us a different perspective.
Steps to Take for Moving into Assisted Living of Nursing Home
💡
Have more questions? Check out the
Frequently Asked Question
section of the website. You will find a lot of different questions answered directly.
💡
Have a story about your caregiving journey? Have you placed or are you looking for an assisted living? Please share here?
Help others realize that they are not alone.
Submit Your Caregiver Story
Meet Judy Morton
Convincing Parents they need Assisted Living Part 1
Moving Aging Parents : Decluttering for Assisted Living
Nursing Home Compare Alert