Ask the Experts
I Am Caring for Aging Parents at Home. How Do I Get Them To Accept Outside Help
Caring for aging parents at home can be challenging, especially if they are resistant to accepting outside help. Learn how to listen to and acknowledge your parents' fears, involve them in decision-making, and gradually introduce new forms of care.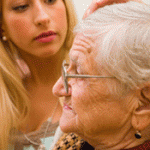 I am caring for aging parents at home , that just refuse to even hear any options that may help them. They feel that I should be able to provide all the help that they need.
There are many different community and private services available to offer assistance to help  aging seniors and adults with disabilities.  These services are often perceived by the very  person who needs help,  as an invasion of their privacy. Many struggle with the loss of independence or see paying for help as a waste of money. Many aging adults will resist having strangers come into their home. The thought of attending an adult day program or considering  moving into an assisted living community, is met with denial and resistance. I recently had one family member, recently placed in assisted living, tell her daughter, she now "lives in the land of the dead. I hate being around all those OLD people."  She is 86 years old.
Here are a few suggestions that I have found helpful to my clients in making these transitions.
The first step is to listen and be sensitive to the needs of your family member. It is important to  acknowledge your family member's fears and reasons for not accepting assistance. Express to your family member that you understand those feelings.
If possible, encourage your family member to be involved in choosing the in-home aide, adult day program or residential facility. Having a 'say' will help your aging family member  feel as if they still have control and may be more comfortable with the decisions.
Next, introduce the new support or service into your family member's life gradually. For example, begin by having the in home health care aide come for hours each week. Then increase the hours as your family member begins to develop a relationship with the aide.
When introducing adult day care or senior center, you can plan to have your family member visit the program once or twice before starting full time. Try a short-term or "trial stay" in a assisted living or nursing home facility. Use this time as respite care for you,the family caregiver to get a break, as well as, an opportunity to introduce a different level of care for your family member.
Involving your family member's primary care physician may be useful. Physicians are often seen by many seniors as authority figures.  Your senior family member may be more willing to accept help that they view as required or "prescribed" by their doctor.
To support your family member to maintain a sense of dignity, consider expressing the changes are for your peace of mind. Explain that having someone else spend time with him/her when you are not there, allows you to not worry. Reinforce to them that you are not abandoning him or her.
The hardest thing for any family caregiver to accept is,  as long as your family member does not have dementia or other memory problems, he or she has the right to make 'bad' decisions. Exercising this right makes your role as a caregiver harder. Accept that you cannot bully  your aging family member into doing things he or she is not ready or willing to do.
---
You might also like this article: