Caregiver Daily Journal Entry : Stop Thinking About It
Veronica Badowski shares her daily journal entry on the benefits of reflecting on Philippians 4:8 as a caregiver. Learn how to shift your thoughts to something more pleasant and improve your mood. Get her book 'Treading Water with God' and read more of her articles on caregiving.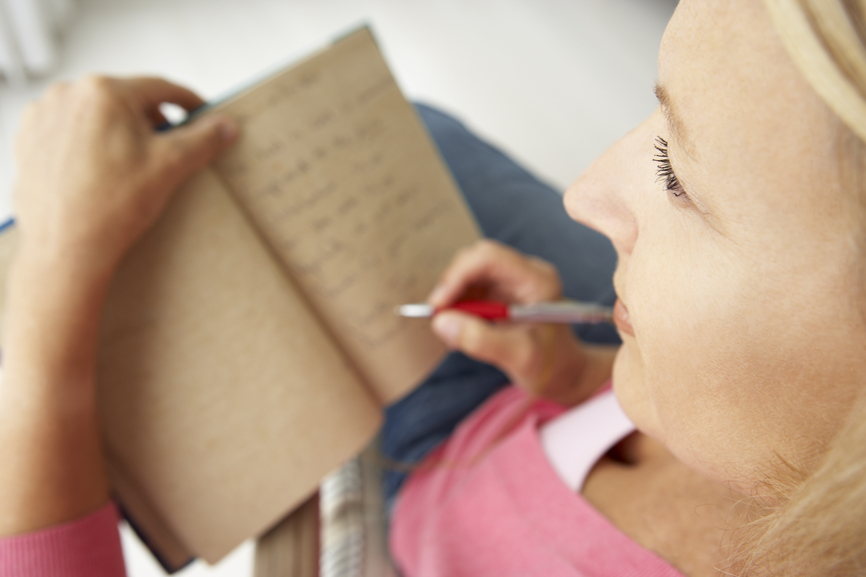 This is part of our Faith In Caregiving Series
A caregiver daily journal entry is being shared with you by, Veronica Badowski.
BIBLE REFLECTION
Philippians 4:8
"Finally, brothers and sisters, whatever is true, whatever is noble, whatever is right, whatever is pure, whatever is lovely, whatever is admirable—if anything is excellent or praiseworthy—think about such things."
If we take Paul's advice, what benefits will we enjoy?

TODAY'S MEDITATION
One day I felt trapped, tired, and overwhelmed by the job of caring for my elderly parents. After visiting George, my stepfather, in the hospital, I had to go home and take care of my mother who had dementia. I was thinking, I don't want to do this anymore. God spoke to my heart, saying stop thinking about it. I listened, switched my thoughts to something more pleasant and immediately felt better.
Close your eyes and image yourself someplace beautiful on God's earth. Open up your bible, and read your favorite book. Talk to your most optimistic friend. Peruse a cookbook for recipes, and plan a dinner for a few friends. These are just a few suggestions of ways you can shift your thoughts to something more pleasant. You'll discover your blue mood vanishes, and you'll feel happier.
YOUR JOURNAL
Write about something you look forward to each day.
Learn the Benefits of Journaling
TODAY'S PRAYER
Lord Jesus, please remind me to keep my thoughts light and right as I work as a home caregiver. Thank you for Your love and the many blessings You provide each day. Amen.
Get Veronica's book Treading Water with God, Lessons in Love While Care Giving here.
💡
Have a story about how your faith has helped you through your caregiving journey? Please share here?
Help others realize that they are not alone. Share a Prayer or
Submit Your Caregiver Story
To learn more about Veronica Badowski visit her page.
All e books & printer-ready: http://www.smashwords.com/books/view/376781
Read another article by Veronica Badowski- The Importance of "me time".
Journaling for Caregivers
---
You might also like this article: