Professional Services
Adult Day Care- A Professional Home Health Care Option
Learn about the different types of adult day care, funding options, and how to choose the right center for your loved one. Discover the services offered, licensing requirements, and payment options for social, medical, and dementia day care programs.
Statistically speaking, 80 percent of adult day care providers are non-profit organizations. 10 percent are for profit and 10 percent use only public funding. Many centers provide transportation, some free of charge. Others charge by the trip and others by the number of miles. Full time nursing services are in place at most sites.
Fees can vary. Many facilities offer services with a sliding scale. This means the family members pay a fee based on their income.
Funding for these programs vary from state to state.
Medicaid may pay all costs if the senior qualifies financially.
Some day care centers offer need-based
Private medical insurance may cover a portion of day care. The requirements may be licensed medical professionals are involved in the care. The facility must be licensed.
Long-term care policies may pay for services depending on the policy.
Dependent tax credits may be available to the caregiver as well.
Types of Adult Day Care
There are three types of care. This depends on the state in which you live, and which may or may not require licensure.
Social day care is a program for the aging adult that does not have any medical healthcare needs. This type of program allows interaction with others. It offers activities that are age appropriate. Such as discussing currents events, singing and exercise programs. Nutritional meals and snack are provided. Assistance with personal care, such as toileting, may or may not be available at some sites.
Social day care provides companionship and allows new friendships to be made. It also gives the aging adult an opportunity to get out of the house. They receive both mental and social stimulation. Social day care is not covered by health insurance, Medicare or Medicaid. Long term care insurance policies vary. They would need to be reviewed to see if payment for these services is covered.
An Adult Day Health Care program assists aging adults with
This setting often requires a referral by a physician.
There are a variety of services provided including:
monitoring medications, incontinence care and rehabilitation services, such as physical therapy.
An individualized plan of care is developed. There are goals to restore or maintain the aging adult at their prior level of functioning. It is important to get encourage a level of independence.
Dementia Day Care specializes in caring for those with decreasing cognitive function. This can range from someone suffering from:
Alzheimer's
Parkinson's
Stroke
or other dementia related conditions.
Dementia day care provides an individualized program. It offers a safe environment and appropriate activities with memory loss or confusion. The staff should have experience and training in dementia care. They should also be trained in behavioral management strategies and communication techniques. The staff to aging adult ratio is higher in this setting. It assures adequate supervision to allow mobility in a structured environment. This builds upon the aging adult's abilities and strengths.
The payment for the services provided may be for by Medicaid. Contact your local Aging and Adult Services as this can vary from state to state.
How to choose an Adult Day Care Center
Family members must do research. It is necessary to determine which adult day care center is right for their loved one.
A quality adult day care program should:
Conduct an individual needs assessment before admission. This evaluates the aging adults abilities and needs
Provide a comprehensive program. This should address the daily social, recreational, and rehabilitation needs of each individual
Develop an individualized treatment plan that includes family participation. This plan of care should be monitored regularly. Making adjustments to meet the changing needs of the aging adult. They should provide referrals to other community services if the need arises.
Provide a full range of services specific to the type of day care program that you choose for your loved one. This includes personal care, health monitoring, transportation, counseling and meals.
Provide a safe and secure environment. Adheres to existing State and national Adult Day Care standards and guidelines
Evaluate the hours of services provided and days of availability. Hours that a person may attend can vary from a few hours to a full day. Daily attendance can vary to 1 day a week to 5 days a week. Some programs offer half days on Saturdays. Some programs offer night time services, as well. This great if you have a family member that is up wandering all night.
Uses clear criteria for service. Has guidelines for termination of those on the functional status of the person in their care.
It is challenging to finally admit to needing help. It is especially difficult to have your loved one go to a strange place and be cared for by someone else.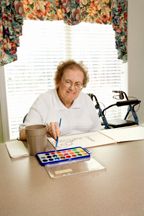 This really can be a winning situation for all involved. Adult day care allows the caregiver a much-needed break. A break from the physical and emotional demands of round the clock care. It could even delay premature placement into an institutionalized setting. The aging adult benefits by getting out of the house in a safe secure setting. This will promote improvement in their mental and physical well-being. There is no place like home. surrounded by familiar things and your loved ones.
Adult day care offers a safe alternative for your loved one. It is a setting in a caring environment and allows them to return to their home after a day out. Be sure you are getting the most up to date information on aging in place.
Click here to get How to Find the Right Adult Day Care.
💡
Have a story about adult day care? Have a story about your caregiving experience? Please share here?
Help others realize that they are not alone.
Submit Your Caregiver Story
💡
Have more questions? Check out the
Frequently Asked Question
section of the website. You will find a lot of different questions answered directly.