The Power of Puppy Love : Seniors Dealing with Depression
Discover the amazing impact a dog can have on a senior dealing with depression. See how one little puppy brought joy and happiness to an elderly woman and learn about the benefits of pet therapy.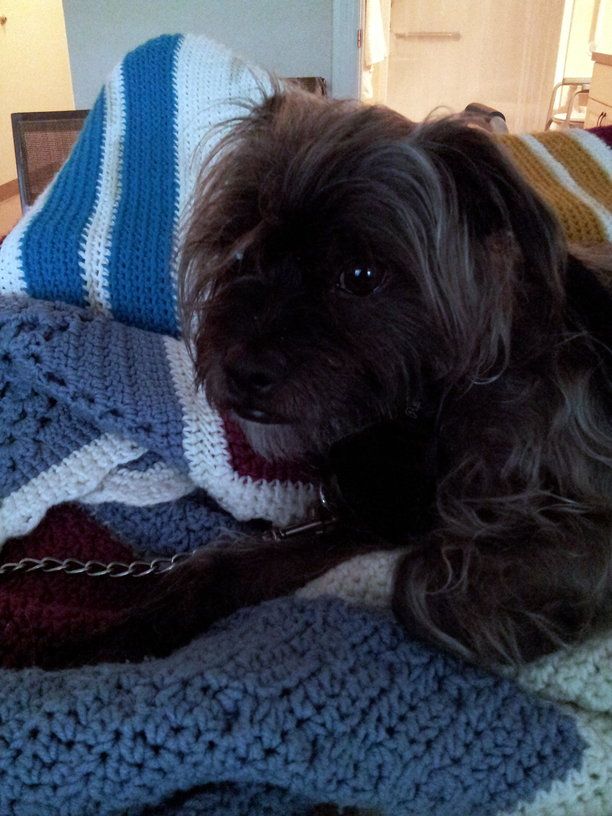 My mother in law (MIL)  is one of many seniors dealing with depression.
She has never liked dogs very much, or been comfortable around them. Especially large dogs. So what does her son do, but marry a girl who was raised with Afghan hounds, and fall in love with the breed, too. Over the years, we've had several Affies, sometimes more than one at a time, so MIL got sort of used to them, but she was quite pleased that we did not get another dog after the last Affie died in '05.
Then a couple of years ago, some cretin put an approximately 5-week-old terrier mix puppy into a crate, along with a bed that covered most of the air vents, and dumped this little baby at the end of our driveway. We know he was out there for at least 30 minutes, and it may very well have been longer, before we heard his cries and found him. One look at that adorable, cute little face, and we were hopelessly in love with The World's Cutest Puppy (TWCP)!
The first time we took TWCP with us when we visited my in-laws, their reactions really said a lot. FIL took one look at the little guy and just lit up. He thought that was the cutest puppy he'd ever seen (of course!), wanted to pet it, really got a kick out of the wagging tail. MIL was sitting across the room; when asked if she wanted to see the puppy, the icicles in her voice as she said, "I can see it quite well from here, thank you!" would have frozen a glacier! (We were astounded when her neighbor called the next day and told us MIL had been bragging about how much "personality" the puppy has.) In any event, FIL's enchantment with the puppy was very evident, as was our affection for him, so she accepted that from now on, if she wanted to see us, she'd have to put up with the puppy. And she got used to him after a while and didn't seem to mind him; I think it helped that everyone else who saw him always exclaimed over how cute he was.
More on The Power of Puppy Love : Seniors Dealing with Depression…
We have taken our little guy to the Assisted Living Facility where they now live, and he has made a huge hit there. Several of the residents as well as many of the staff just think he's the cutest dog they've ever seen. And he just loves meeting people and making friends. When TWCP sees someone he knows, he stands on his hind legs and walks to them, waving his front paws in the air. We've talked about getting him trained and certified as a visiting therapy dog, to take to hospitals and nursing homes, but haven't really pursued it.
The World's Cutest Puppy is almost 2 now, and just in the last few months, he has mellowed out. When he goes out anywhere, he still gets excited and happy, especially seeing people he likes, but he's not so rambunctious any more. He sits to be petted (although there is still a lot of wiggling going on, even during a sit), and doesn't try so hard to lick everyone. And his interaction with my in-laws is incredibly sweet and gentle. FIL absolutely lights up when he sees TWCP, and for his part, our little guy is calm and loving with FIL.
But the most incredible change has been with MIL. Not only does she brag on him to everyone, and reach out to pet him when he comes near, today she actually asked that we put him on her bed, within petting reach!
If you had told us even a month ago that my MIL would ever want a dog – any dog – on her bed, we would have laughed at you and told you that you're delusional. But today, this sweet, cute, adorable dog has won over a lonely, depressed old woman and made her smile. And that's one of the most precious gifts anyone can have.
Have a story about how your pet has made a difference in your life or the life of the person you are caring for?
We would love to hear from you!
Share you stories and pictures here!