Praise God, Finally Reunited with My Dad
A personal account of the struggles and triumphs of caring for a loved one with frontotemporal dementia. Follow my journey as I navigate the difficult world of memory care and find hope in the end.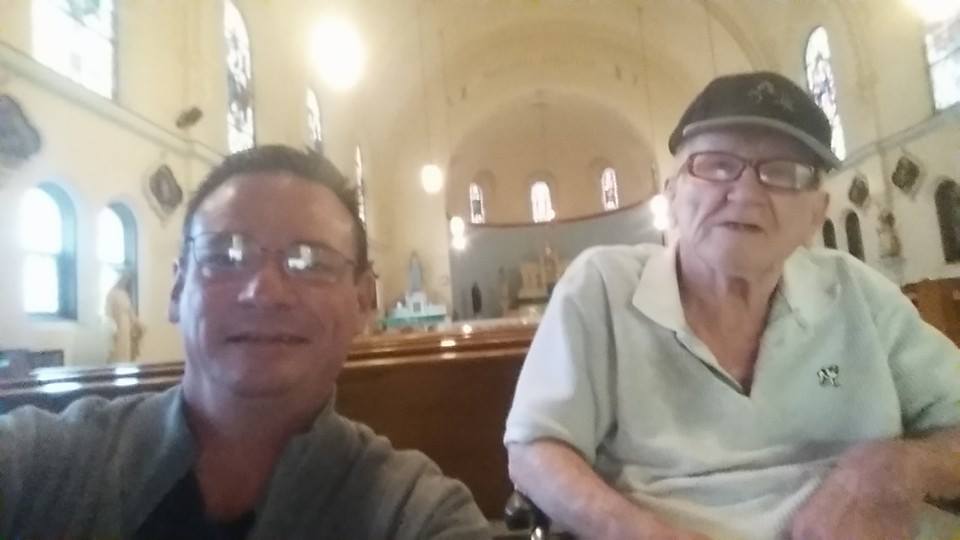 Praise God. I was reunited with my dad today after 108 days.
This photo is in the chapel of his new nursing home. He was born in this very building darned near close to 80 years ago, when it was a hospital.
Until a couple of hours ago, I never knew for sure if I ever would see my dad again.
Dad has frontotemporal dementia, and the last two plus years have been incredibly painful. I worked very hard to convince my brother to place my dad in the best-looking memory care facility I could find when it became painfully obvious that I could no longer properly care for him. Not only that, but the job of tending to him here and there over the course of 10 years, and then living with him full-time for one year, just about killed me. By the time dad went into memory care, I had quit my job, had a problem with alcohol that I could not shake, and wondered if life ever would get better for either one of us.
It did. I went to work as a health writer for Healthline.com two weeks after dad went into memory care. It has blossomed into a wonderful career in health reporting. Dad finally adjusted to the new place and actually did quite well there for a while. And I am now 15 months sober.
But when the facility changed hands several months ago, even shortly before then, actually, things really began to deteriorate. I was not satisfied with my dad's care. I complained a lot. When a new executive director was installed shortly before the change in ownership, it all went to hell in a handbasket. She and I never saw eye to eye.
And then the facility trespassed me. Me, the one who fought tooth and nail to get him in there in the first place. You can read what happened on that awful day here.
It's all water under the bridge now. Memory care is a social model; people who need regular medical attention or have special needs really have no business in such places. It was clear after six months that he did not belong there. But instead of moving him, we agreed to have him placed on hospice so that the facility could get extra help on Medicare's dime.
That turned out to be a bit of a nightmare. You can read what happened here.
So when I walked into dad's new nursing home today – where he has a beautiful, two-room suite – he looked up and said, "Oh yeah, I know you." He said to the nurse, "That's my friend."
He thought I was Sonny Coleman, an old friend of his. But then he remembered who I was.
💡
Do you need help caring for a loved one?
Our Resource section can help you find the information and tools that you need. We have courses, videos, checklists, guidebooks, cheat sheets, how-to guides and more.
You can get started by clicking on the link below. We know that taking care of a loved one is hard work, but with our help you can get the support that you need.
Click here to go to Resource Section now!
It marked the first time my dad, brother and I had been together in what would have been two years this Thanksgiving. Even with his FTD and sometimes outrageous behaviors, dad was doing pretty well today. He kept saying, "We're all a bunch of losers." He was trying to make a joke I think. The aphasia was pretty bad. He was stuttering a lot and was unable to come up with the words for a while. A couple of times he said to me, "Oh, there's the hallway. I'm confused." I said, "Yes, of course you're confused, you just moved in!" He agreed with me though that the nursing home was much quieter than the place where he had spent the past two years, and admitted that was a nice change.
After a couple of hours he was doing better. When the nurse tested his blood sugar and it was 298, she had to give him an insulin shot. At first he started yelling, but she had just the right touch with him. She spoke to him while she injected him, and he just smiled at her and didn't even flinch.
When it came time for dinner, they brought him tacos. He seemed content with that. He asked the CNA, "Is this a $5,000 taco?"
LOL.
After a couple of hours, I left. I told him I would see him tomorrow. He said, "I'm glad we're back to that again."
He has gone downhill a bit mentally since I last saw him, but physically he seemed more robust than I expected. I wasn't too happy to learn the memory care facility had lost his teeth…again. But I know that the nursing home where he's at is very much by the book, and they are going to make sure his needs are met to the letter of the law. I have no doubt whatsoever about that.
I'm at ease for the first time in nearly four months. I know it's not going to be a cakewalk…moving someone with dementia never is easy. But he seems to sort of know what is going on and seems OK with it.
Before I left, he said, "Hey, I went to the foreman the last time I saw you. I did."
A John Deere retiree, he makes lots of "shop" references. That was his way of telling me he wasn't happy with what went down that day back in early May.
Thank God it's behind us.
I can't wait to see dad again tomorrow. Praise God.
Meet David Heitz