video
Gifts for Seniors
Thinking of gifts for aging seniors can be difficult, but with a little planning and creativity, you can find the perfect present. From homemade coupons to safety devices, discover gift ideas that cater to the unique needs and interests of your senior family member.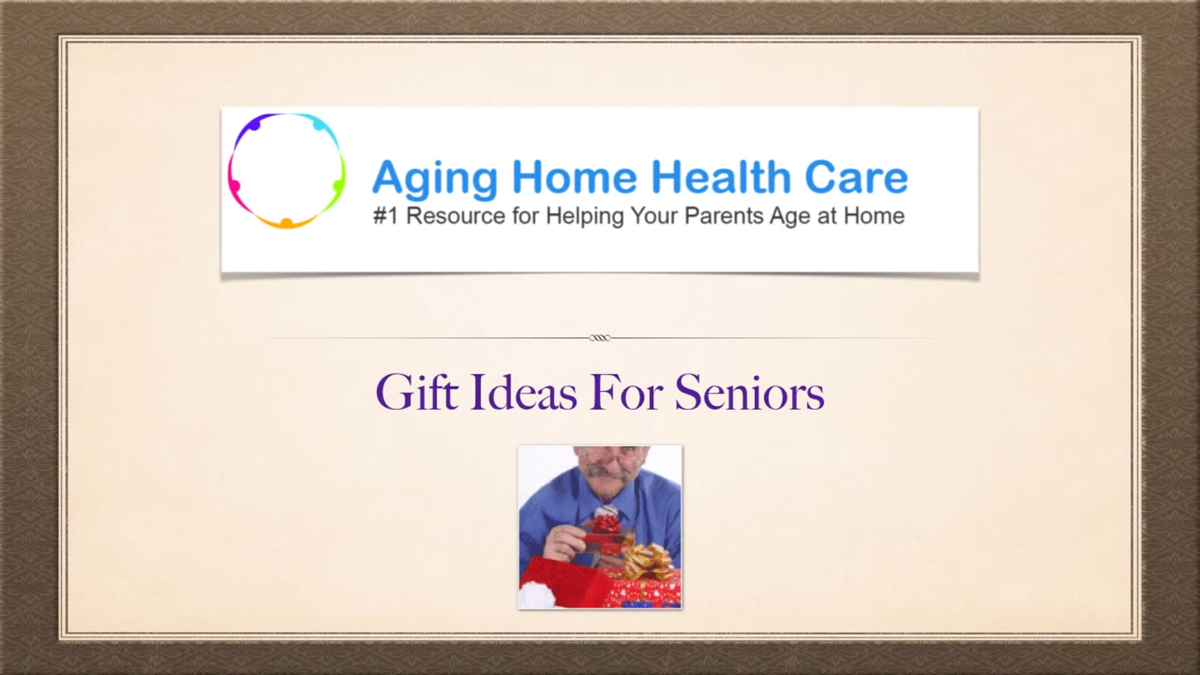 Welcome to aging home health care, and our course on gift ideas for seniors, thinking of gifts for the seniors in your life can be very perplexing.
Although it may appear difficult or even impossible to find the right gift for the aging senior, a little thought planning and creativity can assure you will find a gift. That's sure. Let's take time to discover a little bit about the senior in your life. Every senior is different. Some are very active and have multiple interest.
Others have physical or cognitive decline, some have, or many have fixed incomes and have financial concerns. Consider any special needs or limitations that your family member may be experiencing a gift that opera a solution to help them is a great gift idea. More considerations. It is also important to consider your own pocketbook when considering a gift.
If you feel that you are financially limited and discover the right gift, but it is beyond your budget. You may consider asking your other family members to pitch in and give a gift of significance. How about homemade gifts? As we age, spending time with our family becomes more important to us. Consider making a coupon book for fun activities or for doing things around the house, make plans to spend time and go to a concert of play or even a sports.
Does your family aging family member have a pet consider a gift coupon for the vet or the groomer to assist in paying for services needed for their loving companion. Create a family photo album. Take time to create a photo album with your family member and write down the stories to add to the photo.
This is great to start the personal care profile. Put photos in a digital frame so that they can watch them as they, during the day, discuss things about when life got in the way we all have hopes, dreams, and plans in our lives that we never are given the opportunity to fulfill because of life's responsibilities.
Do not hesitate to ask your family member about things they miss about life and their present situation. Or what they always wanted to do because they, or because they were unable to do so or something, they put on hold in their life and never got packed. Two, maybe very surprised at the answers
For a homebound family member. It may be a trip to their favorite restaurant, music, lessons, art lessons, cooking, and even dance lessons or things you may, they may feel is too late in life to do. Not. So you're never too old to learn. Consider gifts that promote safety seniors experience in changing physical abilities, changes in eyesight and hearing some have memory problems.
This makes seniors prone to balance issues and falls. And siddur such a gift such as the smart gate for fall prevention. The Tai Chi DVDs or lessons promote improved balance. As we age getting up and down on the toilet or in a chair can be challenging, purchasing a high toilet or a toilet extension is a very useful gift, or even a lift chair door handles for those, with arthritis are difficult to grasp, replace the door, handles in the house with lever type things.
He was entry systems helped the senior to get in and out of the house, easier and safer, making sure there is good lighting and even a place to put packages on before entering the house is another safety measure. Good lighting is always important.
As we age consider using motion, sensor, lights, and entrance. Or as used as nightlights to promote fall prevention for those with sight or hearing problems, there are multitude of products that encourage independence, consider hair handrails for the bathroom. And the bathtub. A medication reminder system comes in handy and it's in many different forms and price ranges.
This is a great gift to promote medication supply company. Consider a scald guard for the shower to prevent burns or a daily check-in service. Such as I am fine provides check-in calls to your family member it's to promote brain fitness. You're aging family member, mentally and physically fit can be challenging.
Many with multiple health conditions are not able to be as active as they should. There are activities and products that promote brain fitness to delay or prevent cognitive decline and brain fitness is not what you would expect it to be. If you are an expert at Soduko or crossword puzzles, then you need to get out of your comfort zone and learn something new and different.
Physical activity is great for brain fitness. What's good for the heart is good for the brain. Yes. The promoted challenge to the senior member of your family will not only entertain, but encourage brain fitness. There is a wide array of gift ideas for senior citizens, for every personality, lifestyle, and situation.
A little time, and exploration will allow you to give a gift that is really wanted and appreciated. This has been brought to you by caregiverrelief.com the number one resource for helping your parents age at home.
💡
Have a great gift idea for a senior member of the family ? Please here?
Help others realize that they are not alone.
Submit Your Caregiver Story
💡
Do you need help caring for a loved one?
Our Resources section can help you find the information and tools that you need. We have courses, videos, checklists, guidebooks, cheat sheets, how-to guides and more.
You can get started by clicking on the link below. We know that taking care of a loved one is hard work, but with our help you can get the support that you need.
Click here to go to Resources Section now!