Elder Care Facilities: Bermuda Triangles For Your Loved One's Teeth
Losing dentures in nursing homes and assisted living facilities is a common occurrence. Our elderly loved ones deserve better care. This blog post highlights the frustration and challenges of trying to track down missing teeth in a memory care facility, and what to do if it happens to you.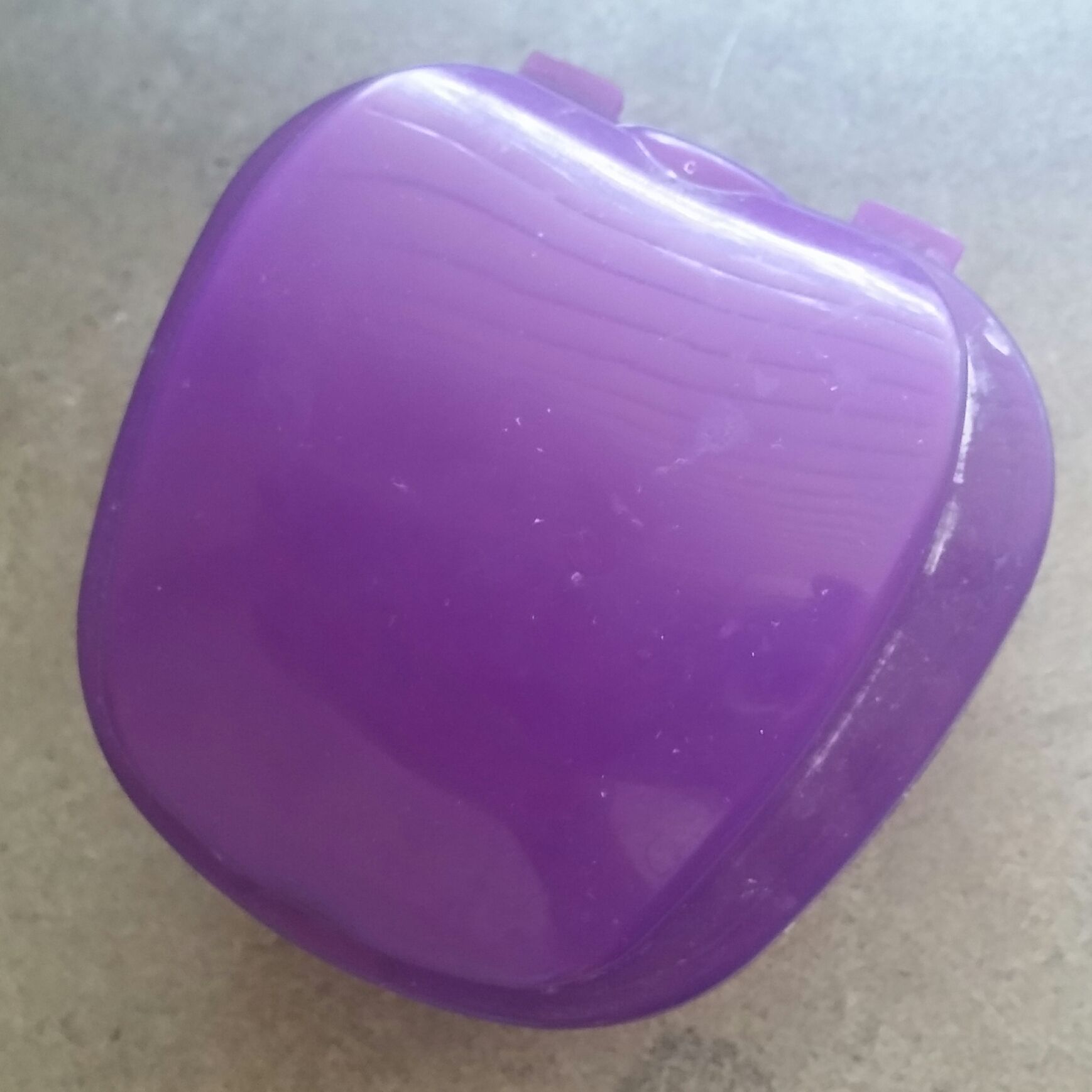 We learn at a young age about sock-eating dryers, one of the greatest mysteries of life.
There's another Bermuda Triangle out there. One that caregivers for loved ones with dementia know all too well. Nursing homes and assisted living facilities.
Things disappear daily at these places. While many are quick to blame the employees for theft, that usually is not the case.
With confused residents wandering from room to room, anything is possible. We have to do our parts to make it easier to track down missing items, and I'll get to that in a minute.
But I'm not going to be an apologist for these places when dentures get lost over and over and over again. This, unfortunately, has been the case with my dad.
Dad's brand-new set of uppers was lost six months after he went into a memory care facility in July 2013. They had been lost about half a dozen times prior to that too. But I always found them. Sometimes spending an hour or longer in his room. Conducting my own personal shakedown.
I ended up bringing dad's old set of false teeth to the facility more than a year ago, and dad began using those. But that was a bad idea. Dad got new teeth for a reason – the old ones didn't fit correctly.
Long story short, I learned the teeth had gone missing again. Time and again, the many workers who kept me in the loop explained that dad's teeth appeared to be gone for good.
Finding this wholly unacceptable, I complained to the local elder ombudsman. As well as the state,about the missing teeth (among other things) back in June. I've yet to receive a response from the state or see that any action has been taken by the ombudsman. I also told my brother, who is POA, the moment I learned the teeth were gone for more than a week.
More on Elder Care Facilities: Bermuda Triangles For Your Loved One's Teeth …
Cutting to the chase, when I was reunited with dad last week after 108 days, he still did not have any teeth. My brother and I are unable to have civil communications at the moment. The last text I got from him said he was "fighting" with the memory care facility about dads:
Missing teeth
Dad's missing hearing aids
And two weeks rent ($2,050) that apparently they don't want to refund for the second half of the month of August.
He said the director of the facility said not to lose hope, the teeth sill may be found.
Hope isn't going to have anything to do with it
Hope isn't going to have anything to with it.
Dad's original set of teeth that were lost the first time were on the inventory list upon admission. My brother can, today, call the dentist and have replacement teeth made. There is no reason dad should have to sit through impressions a second time. Something that of course, would be nearly impossible in his condition. A new set based on the two- or three-year-old impressions model for the last ones is better than nothing. I would certainly think, and should be able to fit his mouth pretty well. His weight loss in two years has not been that profound.
It's not OK to put dad's old set, possibly seven years old or older, back into his mouth. And the facility will need to cut a check for dad's replacement set immediately. As they have insurance for that very purpose. They're not going to offer you this information readily when this happens to your loved one. But it is fact, as I have been told, today by multiple elder care experts.
My dad has John Deere dental insurance and ample funds for a replacement set. A new set of teeth should be ordered today. I met the social worker the other day at dad's new facility, one of the first questions she asked was, "Where are his teeth?" It gave me immediate peace of mind to see she is on top of such things. I hope she monitors his care like a hawk.
But dad's teeth problems don't end there. He was found in a pool of blood on the lower level of the memory care facility on April 15 of this year. And landed in the emergency room, he suffered a chipped tooth. My dad winces and complains about his month incessantly, and has done so since that day.
To think he has continued to suffer since April 15, to me, is incomprehensible. 100 percent without excuses. In the five days we have been reunited, the few words he has spoken have been.. "I need the dentist," "my mouth hurts" and "I need a wrench for my mouth."
It makes me so incredibly upset. Again, dad has John Deere dental insurance and ample funds. He should be able to have a dentist look at his teeth even if we need to pay a dentist to come to the new nursing home. I have no idea whether that is even possible, however, or if any dentist even does that. But I never take no for an answer.
Most elderly people in facilities broke,  without dental coverage
The reality of the situation for most elderly people in long-term care facilities is this. They don't have either dental insurance or ample funds. In fact, great deals of them are completely broke. Realistically my dad may end up in that situation too before it's all over with. You can read all about that here. So what are these people to do?
It's a huge problem. The millions of Americans on Medicare don't have dental coverage. There are programs in place here and there. You can go to the U.S. Department of Health and Human Services Administration on Aging (AOA) website's dental page. It lists multiple resources on how to get your loved one dental care.
Good dental care is more than a luxury. To quote from the AOA site.. "According to the Centers for Disease Control and Prevention… one-fourth of persons ages 65 and older have no remaining teeth.
Nearly one-third of older adults have:
Untreated tooth decay
Severe gum disease, These are associated with chronic disease
and severe health conditions including diabetes, heart disease, stroke and respiratory disease."
I can tell you right now that my dad is embarrassed that he has no teeth. Especially, as he is trying to make friends in the new nursing home.
"Whether caring for natural teeth or dentures… daily oral hygiene can mean older adults will be free of oral pain. Can maintain a well-balanced diet. And will enjoy interpersonal relationships and a positive self-image," the AOA site states.
The poor guy has been sitting in the dining room by himself, which is why I've gone up there. I had at least one meal with him every day. When I'm not there, an employee has been sitting with him. When old ladies wheel past, my dad lifts his hand and feebly says, "Hi." Can you imagine what this is like for him? It's got to be like the first day of high school freshman year in the lunchroom. Not having his teeth adds insult to injury for the little Casanova.
What you can do to help, and when all else fails…
A member of one of my online caregiver support groups offered this very good advice… for avoiding the nightmare of lost teeth:
I recommend making sure dentures and hearing aids have names on them. Best place for hearing aids at night are locked in the nursing cart in a labeled container. Dentures should have a labeled container as well.
If your facility does not have a protocol for managing these items – ask them to create one. So that everyone follows the same steps.
Make sure when you bring items in that they are added to your loved one's personal belongings list. Make sure their name is on everything, even if you are doing the laundry. If you are doing the laundry make sure there is a neat visible sign saying so, either laminated or in plastic. Keep the belonging list updated. Take photos of clothing – it especially helps when trying to locate items.
If dentures repeatedly get lost… and you don't have the resources to replace them, and the facility is pushing back…raise hell.
"Find out who the local ombudsman reports to. File a written complaint. And file a written grievance with the state," suggested one caregiver in my support group. "They need to be aware of this kind of negligence. Be sure to give a copy of your written complaints to the facility. As neglect of patients can cause them to lose their license."
Adds another member, "Keep repeating your complaints with written copies to everyone. Find out if other families at the same facility also have complaints and form a group. Bring all the complaints to the administrator. If you continue to get no response, take your evidence to the local news media."
I don't mean to incite. But this journey has been an unbelievable nightmare. Negligence in elder care is everywhere you look. And yes, so is quality care, and I have written about that and will continue to do so when I see it.
There is whole world out there experiencing the same problems as myself. Advocating for a loved one… as I vowed to do after meeting journalist Joan Lunden in April.. Three days before dad's ER visit, ironically does not make you a troublemaker. Don't let anyone tell you different.
Have a Story That You Want to Share?
Have a Suggestion on How to Prevent Loss?
We Would Love to Hear From You
Sharing Helps Others
Comment with Image