Activities
The Benefits of Participating in Activities for Seniors
Staying active and social can have numerous benefits for seniors, including improved mood and mental health, increased concentration and focus, and better physical and spiritual well-being.
As an Activity Professional in an assisted living community, I have seen families either push to have their loved one participate in activities or take the stand that they "have been busy their entire life so let them take it easy now."   There are some good reasons why that person may benefit from becoming more involved in activities at their living establishment or home. I would like to share my perspective on those reasons.
Many of us have been busy our entire lives in one way or another. It may be through work, church, caring for our family, social groups, or getting together with friends. As we age, some of those choices are no longer available to us for one reason or another. We retire from our jobs, we no longer drive ourselves, and our friends move away or pass away. Life changes and suddenly we do not have as many ways to stay active and social.
Socialization has been proven to help us in many ways. Just being around other people can help us emotionally. Our moods are improved by laughing and interacting with our peers. Isolation can lead to mental illness such as depression so when we get out and talk and have fun with others, we are decreasing the chances of that happening.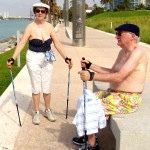 More on The Benefits of Participating in Activities for Seniors…
By participating in games and other activities, we keep our minds working and can help deter dementia. Even bingo has been shown to help keep us sharp mentally. It also helps with concentration and focus. Eye-hand coordination is improved while playing, also.
Having a group of friends with similar interests can lead to great socialization and fun. Crafts speak to our creative side and can bring satisfaction and enjoyment. A book club may be something that helps keep the intellectual side working well. A wine tasting club may be just what you need to relax and learn something new while sampling some new wines.
If it is possible to still get out and about, volunteering is a great way to attain some socialization. Choose a cause that is near and dear to your heart and watch the smiles of both you and those you help.
You can also sign up for classes through the recreation center in your city. Try something that you have always wanted to try or just pick a random class and explore it! Recreation centers also offer fitness classes for seniors. Keeping your body active will also benefit your mind and overall health.
Senior centers also offer many different activities that will appeal to your creative or intellectual side. You will be among others in your general age group and it will help you socialize and have fun.
If you cannot get out and are living in a facility, I encourage you to participate in as many of the planned activities that you can. The Activity Staff ideally plans activities that are for your mental, social, physical, and spiritual well-being. Although you are not expected to participate in every activity, it is to your benefit to be as engaged as possible in order to live a more meaningful and fulfilling life. Many times you will be asked to participate in trips outside of your facility to events such as movies, shopping, museums, restaurants, and special events in your area. Being a part of an activity that is outside of your typical living area can lift your spirits and help you to feel like you are once again back to a more "normal" life. Sharing a fun time with others can also help you mentally and emotionally.
If church had been part of your life in younger years, there are probably ways that you can still connect spiritually where you live. Visiting clergy may stop in or there may be transportation to a local church. If you are not aware of either of those options, talk with your activity staff and they will help you find the connection that you desire.
In conclusion, everyone has choices as to how they will spend each day when they wake up in the morning. It may just seem easier to stay home or in your room and not do anything that involves interacting with others. I hope you now realize that a little extra effort can lead to a better mental, physical, emotional, and social life. And also a lot more FUN!