Learn About Tele-health for Aging in Place
Experience the benefits of telehealth with Cardiocom, a proven leader in Integrated Clinical Tele-health Services since 1999. Our innovative home telemonitoring equipment and telehealth services help prevent unnecessary hospitalizations and improve patient outcomes. C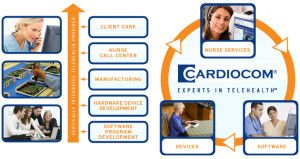 Learn About Tele-health for Aging in Place
Cardiocom®, Experts in Tele-healthSM, is a proven leader in Integrated Clinical Tele-health Services . Cardiocom has provided telehealth systems since 1999 and furnished over 750,000 patient months of telehealth services.  As a world-class developer, manufacturer and clinical telehealth solutions provider, Cardiocom's innovative home telemonitoring equipment and telehealth services enable health professionals to identify symptomatic patients and intervene early to prevent unnecessary hospitalizations. Cardiocom addresses Heart Failure, COPD, Asthma, Diabetes, Hypertension and Obesity.
Cardiocom has received numerous accolades; including the "Enabling Technology of the Year, Remote Patient Monitoring Award North America 2011 from Frost & Sullivan."
With strong investments in new tele-health technologies combined with an integrated nurse call center services, Cardiocom provides a unique value proposition. Its clients include some of the most respected home health groups, health plans, hospitals, physician groups, and coordinated care companies in the nation.
Helping clients achieve their goals is the key to Cardiocom's success. We value our customers' input and respond quickly to their needs. We stand behind our telehealth products and services with unparalleled support. All Cardiocom Telehealth Services and Products are 100% warrantied for the duration of our relationship. A live person will answer your call 24x7x365 and direct you quickly to the Cardiocom Client Care professional best suited to address your inquiry.
Through these established relationships, Cardiocom improves the lives of thousands of people each day. For more information on Cardiocom, call 888-243-8881 or visit http://www.cardiocom.com/
Cardiocom Contact:
Tracy Mitchell
Vice President
888-243-8881
[email protected]
Updated 2023 on Telehealth
Telehealth is here to stay. The benefits of telehealth  are becoming increasingly clear and more widely accepted, especially in light of the recent pandemic. Medicare is leading the way in embracing telehealth by expanding coverage options to include virtual visits with healthcare providers. This gives seniors the option of aging in place while still receiving quality medical care. Telehealth has made it possible for seniors to receive critical health services without having to leave their homes or travel long distances.
In addition to medicare, a number of private insurance plans are now offering coverage for telehealth visits as well. This means that access to quality medical care is becoming easier and more affordable than ever before. With telehealth, patients can now get treatments like physical therapy, mental health counseling, and even some diagnostic tests without leaving the comfort of their own home.
The future of healthcare is telehealth and it's quickly becoming the new normal. As more and more people come to appreciate the convenience, cost savings, and safety that comes with telehealth, we can expect its use to continue to grow for years to come.  So if you're looking for a better way to get quality medical care without having to leave your home or travel long distances, telehealth may be just what you need. It's definitely worth exploring!
💡
Have a story about your experience with telehealth? Please share here?
Help others realize that they are not alone.
Submit Your Caregiver Story
💡
Do you need help caring for a loved one?
Our Resources section can help you find the information and tools that you need. We have courses, videos, checklists, guidebooks, cheat sheets, how-to guides and more.
You can get started by clicking on the link below. We know that taking care of a loved one is hard work, but with our help you can get the support that you need.
Click here to go to Resources Section now!