Aging In Home
Need Gift Ideas for Senior Citizens? 10 Unique Ideas For You
Struggling to find the perfect gift for an aging senior in your life? Consider their interests, needs, and budget with these gift ideas for senior citizens. From medication reminder systems to personal time and pet care, there's a solution for every obstacle.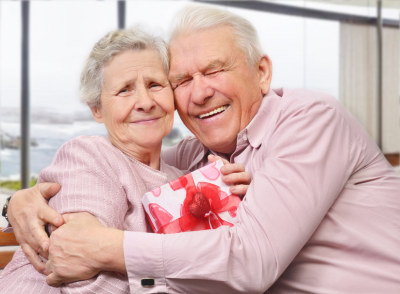 Thinking of gift ideas for senior citizens in your life can be perplexing. Although it may appear difficult or even impossible to find the right gift for the aging senior, a little thought, planning and creativity can assure you will find a gift sure to please!
First, take time to consider the aging senior that you want to give a gift. Everyone has different interests, lifestyles and needs. Your aging senior may be an active individual with lots of varied interests or they may be an individual that has experienced some physical or cognitive decline and set backs. Some may have no financial worries. Others may be on a fixed income or beginning to experience a financial crunch.
Take into consideration the special needs or limited abilities of your loved one. These special needs or limited abilities may have a solution that you could provide in the form of a gift.Some suggestions would may be a medication reminder system or therapeutic hand products or daily check in service such as Iamfine.
The next thing to consider is your pocket book. Once you take all these things into consideration, you will be prepared to start your gift idea brainstorming session!
Gift ideas for senior citizens and life scenarios
I am going to provide you with a variety of scenarios and situations that may assist you to making the "right" gift choice for your aging senior citizen. For every obstacle or concern you have, there is a solution to solve it.
Let's start with your pocketbook. If you feel that you are financially limited and discover the"right" gift, but it is beyond your budget, you may consider asking other family members to pitch in and give a gift of significance and usefulness to your aging senior citizen. Remember you are not the only one who may want to offer your special senior a gift, others are looking for gift ideas for senior citizens too.
Many family members are concerned about their aging family member and driving safely.
Consider SafeDriveSystems
I am an individual that has always made something homemade  or personal for my family members. As we age, nothing becomes more important to us, than having one on one personal time with our loved ones. This is where your creative energy can come into play It is also one of the best gift ideas for senior citizens. Take time and spend time going over family photos.
Learn the family history. This can be a very useful tool in the future, especially if your family member develops dementia. Creating a photo book, or a memory book is a great conversation starter for those taking care of your family member.  photo book  is a gift that will keep on giving.
Consider creating a coupon book for fun activities or help with things around the house. Buy tickets for your aging senior and yourself to a play, sports event or concert that would be of interest to your aging senior. If you don't live close, then make plans for making a special trip to take them to that event.
If the senior citizen in your life has a pet they love, it may be helpful to provide coupons to help with a visit to the vet or groomer. You may even get a gift certificate from the vet to assist in paying for care for the much loved companion of your senior. Is this a gift idea for senior citizens that never entered your mind before. Think of how happy being able to care for the pet they love will make them.
Consider creating a "remembering when" event. Get out all the old photos that have been collected over the years and spend time organizing them with your aging loved one. You can create a memory book or start / add information to the family tree. This activity can be beneficial to you as well as your loved one. It will give you and opportunity to get to know them on a new level.
You will be surprised at what you will learn and give some insight for future gifts. You will be giving the very special gift of your time as well. This is often the thing most appreciated by our loved ones.
We all have hopes, dreams and plans in our lives that we never are given the opportunity to fulfill because of life's responsibilities. As we grow older, we may look back on those unfulfilled dreams or plans with regret. Do not hesitate to ask your aging loved one about things they miss about life in their present situation, or what they always wanted to do, but were unable to do, or something they put "on hold" in their life and never got back to it.
You may be surprised at the answers. These answers are jewels for future and ongoing gift giving. For a home bound individual, it may be as simple as a Sunday drive or going to their favorite restaurant. For others, it may be a trip to a far away destination, dance or music lessons.
This gift idea is both thoughtful and important
Whatever the response, there is a solution to a gift. Do not hesitate to consider how important learning and experiencing new things is to maintaining brain fitness. Giving a gift that encourages something challenging can help keep your aging senior mentally active for years to come.
There is a wide array of gift ideas for senior citizens, for every personality, lifestyle and situation. A little time and exploration will allow you to give a gift that is really wanted and appreciated!
Purchasing a product that will encourage starting a new hobby may just be the way to go. At the bottom of this page you will find several articles on hobbies. People are never too old to learn so do something new.
More gift ideas for senior citizens
---
Read our series of articles on activities to find more gift ideas
Activities for Senior Citizen Centers
Growing Bonsai Trees
Art Lessons Plans and Learning Something New
Oil Painting Techniques Offer Mind and Body Connection Benefits
Retirement Advice and Being Active
Pastels Art Lesson Plans
Beginner Guitar Lessons
Beginner Guitar Lessons Part Two
Piano Lessons for Beginners
Tai Chi for Seniors
Brain Fitness and the Wii