Dementia and Moving: Preparing Your Loved
Moving can be a stressful time for anyone, but it can be particularly difficult for those with dementia. Learn how to prepare for a move and make the transition to a new environment as smooth as possible for your loved one with dementia and for yourself as a caregiver.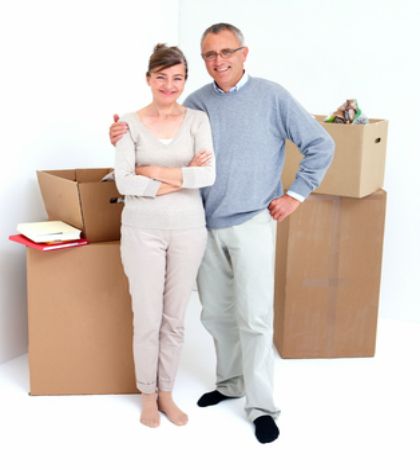 Dementia and moving can be difficult.
Making a move to a new environment is not easy for anyone, in the best of times. Moving is a major stressor in life. When a person has dementia, it is even more difficult. Change may cause an increase in confusion and negative behaviors to emerge.
This is also a difficult time for the primary caregiver. There may be feelings of guilt, apprehension over the change in roles. Many caregivers have a difficult time adjusting ... from providing hands on care, to the new role as advocate.  It is important to be aware that a move and change affects everyone. Emotions can be high at a time like this for all involved.
How to prepare for the move will depend on the stage of dementia the family member is in at the time of the move. In the early stages of dementia, it is important to include the family member, as much as possible.
It is so important to address the future care needs of a family member as early as possible in the disease process. Having conversations on the changes in the level of care needed and who will provide them can be helpful. Knowing the expectations of the family member with dementia is important. The limits and boundaries of the family caregiver... can ease the feelings of guilt and inadequacy of the caregiver.
Knowing the wishes and expectations of the family member with dementia ... as far as future care needs give everyone the ability to make plans for the future. This gives the family member with dementia and the family caregiver an opportunity to look at some facilities... and make decisions while they are still able to give input into their care.
Moving a Person with Dementia Having the Discussion
Of course, this is not an easy subject to address. Many family members find that they are now faced to make a change in level of care and feel anxious and guilty.
There are many situations when the family member with dementia no longer remembers anything that is explained to them. Telling them about a move to a new place may upset them on moment, only to have them forget what you told them.
Moving is not easy. There are things that can be done ahead of time to ... make the transition from home to a new environment less stressful.
If you are moving into a nursing home or assisted living... move some preliminary things into the room to make it familiar.
Placing... pictures of family members ... familiar bedding covers pillows and if possible, a familiar piece of furniture. This is also a good time to provide the facility staff with as much information as possible.
Giving the staff information on the:
• Likes
• Dislikes
• Hobbies
• Food interests
• And other preferences will help make the transition easier.
Schedule the move for the time of day when the family member with dementia is at their best. This could be in the morning or early afternoon.
Many family caregivers feel anxious about how to explain what is happening. Caregivers feel worried that there may be negative behaviors... or even agitation if they make the family member with dementia aware... that this is a permanent move.
This is a common feeling that most caregivers experience. Know that you are not alone.
Develop A Person Centered Profile
On the day of the move, make things a normal as possible. For some individuals, in the later stage of dementia, you may just want to suggest you are going for a drive. Suggest that you are looking at a new senior living place. The limited insight into things and poor short-term memory can make communication difficult. No matter what you say, your family member may not understand it.
Expect the family member with dementia to want to "go home". This is a common reaction and one that you will hear often. The home they are referring to is often the home in their long-term memory. To some, it is looking for a feeling of comfort. Not a physical place.
How to Respond to "I want to go home."
The facility staff may attempt to get your family member involved in an activity. This is to make them feel welcome, as well as a distraction. This may give the family caregiver a chance to leave.
When a family member with dementia reacts badly to the move, the facility may ask you to stay away. This may be for a few days to give your loved on a chance to adjust.
Feel free to stop in and check on them anyway. You may need to do this for your own peace of mind. This does not mean you have to be seen by your family member, but sometimes a familiar face is welcome.
Persons with dementia need consistency. In time, they will adjust to their new environment and begin to feel safe and secure. It is important for the family caregiver remember that safety and care is important... and can be provided in this new environment.