Activities
Dementia Activity Ideas
Discover practical tips and activity ideas to prevent caregiver burnout and ensure a safe home environment.
Communication Tips Continued
Successful Dementia Activity Ideas and Communication Tips begin with practicing mindfulness. Mindfulness... is a process that teaches an individual how to be fully present in the moment. It has been proven scientifically to be an effective tool to reduce stress.
When providing care for someone with dementia, the caregiver should consider... what it must be like for their family member. Try to understand what it must be like to not be able to do simple acts, like dressing or paying the bills. Add to that, the frustration that a person may feel. They may still have an awareness that they must struggle to do the smallest task.
Many primary caregivers, in time, get distressed and frustrated. Many begin to lose patience. Providing care begins to seem like an overwhelming chore, instead of an act of love.  If you begin to feel overwhelmed, it can be care partner burnout. Providing activities can help eliminate of avoid caregiver stress and burnout.

No matter what activities you choose, it's important to keep dementia patients engaged and connected with their environment – this will help slow the progression of dementia. With these dementia activity ideas in mind, you should be able to find something that suits your loved one's individual needs!

In the middle stages of dementia , dementia behaviors become more apparent. It is important to develop activities that are meaningful and manageable for the person living with dementia. This may include activities like sorting items by color or texture, counting beads, or using simple hand tools.
No matter how advanced dementia has become, it's possible to keep dementia patients connected and engaged. By tailoring activities to meet individual needs and interests, you can help your loved one feel valued and fulfilled. With these dementia activity ideas in mind, you should be able to find something that suits your unique situation!
Activities that will keep your family member with dementia busy are important for a positive dementia experience. Baby dolls or robotic pets can provide dementia patients with a sense of comfort and companionship while participating in activities. This can help to promote self-care and personal engagement, which are both essential in dementia care.
No matter what dementia activity ideas you choose, it is important to take into account the individual's needs and abilities. By providing meaningful activities that help dementia patients stay engaged and connected, you can make a world of difference in their quality of life!
By utilizing these dementia activity ideas for your loved one's unique situation, you can help them maintain as much independence as possible throughout the course of their dementia journey. With your love and support, they can continue living an enjoyable life despite the challenges dementia brings.
Early Stages of Dementia
It is important in the early stages of dementia to make the home as safe as possible, this is for your family member... as the disease progresses; the environment can be a challenge. It also makes life easier for you, the family caregiver, knowing that the environment is safe. So take time to "Baby Proof" the environment, while in the early stages of dementia.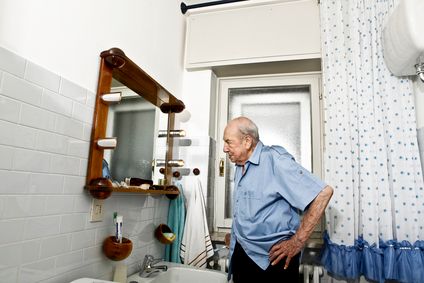 Lock up:
Medicines
Contaminants or cleaning items
Various other fluids or ingestible solids… As your family member with dementia could mistaken for food. And may eat. Products that appear to look like food or appear similar to something they may eat, might be unsafe. Someone with dementia that is acting out of routine or repeatedly putting things in their mouth... may eat something harmful to them.
In Early Stages of Dementia, Exercise can Delay Disease Progression
Home Safety For Dementia Care at Home  
Observe for mental status changes
It is vital, as a family caregiver, understands you too, are grieving the loss of your family member. It is vital for the family caregiver to be aware of any modifications in their own... mental, physical and emotional well being. As well as that of the dementia patient. Look for assistance and aid when you observe mental changes, on any level.
Realize that as a family caregiver... you should never depend totally on your own abilities... to provide everything your relative requires. No individual can "do it all" and nobody knows everything.
Do not be afraid to use outside resources to help with your dementia home care. That's why we're here for you! You could be encumbered with the bulk of the care and obligation, however you do have resources. Profit from them.
We hope these ideas... strategies... and approaches ... have served in your effort to help you offer dementia home care with self-confidence. Please take some time and enjoy the advantages www.caregiverrelief.com
To learn about activities of daily living and how to prevent or decrease negative behaviors click here.