Anticipatory grief and Life After Loss
Anticipatory grief, also known as pre-grieving, is a very real thing that can lead to feelings of depression, helplessness, and overwhelming sadness. Learn about how to cope and move forward after the loss of a loved one in this personal account.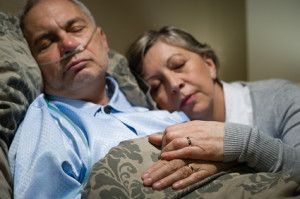 By Judy Morton
Anticipatory grief — "pre-grieving" — is a very real thing. It can lead you into depression,. Leave one feeling overwhelmed and helpless, where it's easier to do nothing and just coast. The upside is that in a way, it makes things a bit easier once the person you're grieving for has died. It's like the worst has happened, now you can go forward again.
There is always going to be a hole in your life, a void once filled by that someone you care for. But time does heal over the raw edges of that hole. And you learn to cope, to deal with the loss, and to actually live and love again.
When my dad was diagnosed with cancer, we as a family felt the usual emotions of shock, fear, grief, anger… outrage that life isn't "fair", worry about how we would cope with his illness, disbelief that it would really mean he was dying.
But as the days and weeks went by, and we learned more about how the cancer was affecting him, the idea of losing him became not just a feared possibility, but an actual reality. Most of the time when you anticipate something, say you're looking forward toward something, those phrases are associated with something good or happy: a birthday, a vacation, a holiday, a special occasion. For us, however – just as so many others have learned – anticipation can also mean looking toward a future that we fear, that we don't want to happen.
And so we grieved. We grieved for selfish reasons and for selfless ones. We grieved because he was in so much pain, because he was becoming so helpless and weak – and because it's scary and unthinkable to see your once-healthy and strong parent become so frail and needy.
We grieved because our mother was so sad, as she looked forward to a day when her beloved partner and spouse would no longer be there to share her life. We grieved because we were losing our father, an integral part of our family, someone who held the bonds of our family together, who taught us that family was important. We grieved because our daddy was dying.
My dad died just 3 months after his 63rd birthday – only 5 months after his diagnosis. For most of those 5 months, we faced his impending death every day, every hour, and we grieved. We cried, together and separately. We tried to be with him as much as we could, and to do as much as we could for him – and for our mother. We grieved so much during those 5 months that there were few tears at his funeral. We had already cried them out, and it was a relief that he was no longer in so much pain.
My mom was just a couple of months shy of her 62nd birthday at the time. They had been together over 40 years, and they meant everything to each other. But now she faced the future – the rest of her life, without him. She had to learn how to live again.
No one really expected my mom to wither away and die without my dad. But we didn't quite expect her last years to be so fulfilling and fun, either. She retired from her job. She started volunteering weekly at the local shared ministry food bank … she started acting as her church's liaison with them. she also joined the women's group at her church. And she spent one afternoon a week in the church's nursery… babysitting the little kids while their parents attended an ESL (English as a Second Language) class.
She traveled, to places my dad had never wanted to go, and to places they had wanted to see together. She became more active in her groups and clubs. She watched her grandchildren grow up. And became a much-loved "American Grandma" to several exchange students. She hosted small dinner parties for her neighbors and close friends.
She had a blast and lived her life as fully as she could. True, she told me once there was never a day during the 33 years after his death that she didn't miss my dad . But she also told me that he would have been the last person on earth to want her to mope and pine away her life. And that if she'd been that kind of person, he'd never have fallen in love with her in the first place.  I think she was right, too.
Mother's health started failing a few years before her death. I watched the changes, and I mourned as her body started failing her. The last 6 months of her life, after a massive stroke, were not fun, for her or for those who loved her. So many nights during that time I cried myself to sleep, grieving for my mom….  When she finally joined my father, it was a relief that she was no longer in pain, that they were together again. But there were no tears at her funeral, because we'd already done so much grieving for her.
Many caregivers experience this "anticipatory grief" – and wonder what is wrong with them. They wonder how they will get past it, whether they will ever be able to feel joy and happiness again. They wonder… wow, if I'm this sad now, while mom is still alive, am I going to fall totally apart when she's gone? Will I be able to cope? Am I even capable of feeling anything else?
I've learned the hard way that anticipatory grief is real. A person shouldn't try to fight it, shouldn't try to hide it from him- or herself, or hide from it. It's just another tunnel in the journey of life that we must go through. And when we come out on the other end, there will be light again.
After all, "Weeping may endure for a night, but joy cometh in the morning." (Psalm 30:5)
Compassion Burnout, a Harsh Reality for many