Aging In Home
Aging Baby Boomer Generation: and Family Caregiver Contracts
The aging baby boomer generation faces a dilemma as they navigate caring for aging parents while dealing with economic downturns and potential caregiver shortages. Learn about the benefits and drawbacks of a family caregiver contract and how it can help preserve assets and avoid financial loss.
Is There a Family Care Giver Contract in Your Future?
The aging baby boomer generation wants to remain in their homes as they age. We are living longer, but not healthier. Many aging seniors are finding they are providing care for their parents.
Seniors have been affected by an economic downturn and lay offs. They is a looming caregiver shortage. This has caused an interest in the development of a family caregiver contract or agreement.
Reasons for a Caregiver Contract
Some of us of the baby boomer generation are caring for aging parents, a growing family and working. Others are unable to retire as planned due to financial loss in their retirement funds. Some baby boomers are finding themselves unexpectedly out of work.
Studies show that family caregivers loose 75% of their earning potential. This is for every year that the caregiver provides care for the aging senior in their life. Over 50 million family members provide unpaid care to a family member. This equates to over $300 billion dollars we are saving the government. The children of boomers will face this situation as well.
The aging baby boomers have decided to get creative and develop a win-win solution. The family caregiver contract is not new.
Qualifying for Medicaid and new "spending down" regulations has affected those providing care. This has generated an increase interest in written agreements.
Stricter regulations to qualify for Medicaid include a "look back" period. This has been increased to five years. It is presently being proposed to go back 7 years.
This "look back" period investigates assets for a period of 5 (to 7years). The government evaluates to determine if in that 5 year period the home(s) were given to family members as a gift. This includes other financial assets.
These "gifts" are considered assets. These assets were available for to pay for care in a nursing home. The Medicaid system will take these factors into account. They then determine when the senior will be eligible to qualify for Medicaid…or any other public services.
How to Protect Family Assets
For example, an aging mother, presently living in her own home requires an increase in level of care. Her assets are her home (assessed at $300,000) and a small savings. This mother takes pride in the fact that she has this home. She has every intention of leaving her home to her children, as their inheritance. To preserve the home, her daughter and grandchildren have moved in to provide care for her mother.
💡
Have more questions? Check out the
Frequently Asked Question
section of the website. You will find a lot of different questions answered directly.
The following is important information for the baby boomer generation:
According to the "look back" system, the home would be considered an asset. This asset belonged to the mother and could pay for her care. Her home is valued at $300, 000. Care in the nursing home is $7,000 a month. It would be 42. 6 months until the aging mother would qualify for Medicaid.
In order to pay for the care in a nursing home, it would be expected that the family pay 42 months of private pay.  This means out of their own pocket. The finances from the sale of the house would be used to pay for care needed in an institutional setting.
The family caregiver contract can change that dynamic and is a solution for the family care giver. Many family members become upset and insulted at the thought of writing up a contract. Many find it offensive to get paid to care for a family member. For some, it makes perfect sense, as they feel the financial crunch of caring for an aging senior at home.
A family member receiving payment for services is not viewed by the system as receiving a gift. So, as part of a family care giver contract, the assets appear to be less and the aging mother will not be penalized.
There are many benefits, as well as a downside to the family caregiver contract.
I will address them here:
The major downside for services is the payment will be required to be claimed as income. It will be taxed. For some, this is enough to not want to provide services. Many family caregivers do not realize their caregiving journey can be as long as 20 years. Many experience severe financial loss. Many quit working to provide care. Statistics show that after caregiving, many are left living at below poverty level. Many have not contributed to Social Security. When the time comes, they find they are not able to afford to live on their social security benefits.
For others, to provide care may only be possible if there is some financial reimbursement.
Many aging seniors do not want to have care provided to them by strangers. Some family members find it difficult to find outside
caregivers to provide care. To meet family obligations, family caregivers make major sacrifices. They do this to make sure that the needs of the aging seniors in their life are taken care of properly.
The benefits of a family care giver contract are many. There is the satisfaction of helping a family member in need. Many aging seniors do not want and are uncomfortable with unfamiliar faces. It can be a time to get to know the aging senior on a different level. For the aging senior, being cared for by a trusted family member can be meaningful. Even if they are unable to express those feelings.
Some family members want to be acknowledged and reimbursed for the care they provide. It is not always easy to provide care to an aging senior that is demanding and unappreciative. The responsibilities of being a caregiver are stressful and unpredictable.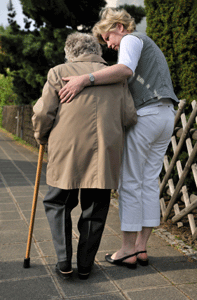 The family care giving contract can alleviate resentment and sibling rivalry. A major issue of most caregivers is lack of family support; whether from siblings or extended family. This causes resentment and frustration. Eventually anger develops for many caregivers.
A written contract alleviates that situation,. As individuals will get reimbursed for the care they provide.
It is also important that many caregivers have a formalized written contract. Many uninvolved family members pursue legal avenues after the family member passes. Many are seeking part of any inheritance.
It is not unusual for the uninvolved family members to want a share of an estate. Providing services with a written contract can protect the caregiver. After all you are the one that provided the majority of care.
💡
Have a story about uninvolved siblings or extended family members? Did you out a family caregiver contract in place? Please share here?
Help others realize that they are not alone.
Submit Your Caregiver Story
💡
Do you need help caring for a loved one?
Our Resources section can help you find the information and tools that you need. We have courses, videos, checklists, guidebooks, cheat sheets, how-to guides and more.
You can get started by clicking on the link below. We know that taking care of a loved one is hard work, but with our help you can get the support that you need.
Click here to go to Resources Section now!