Nine Reasons to Age in Place
As we age, the thought of leaving our familiar home can be daunting. Aging in place allows us to maintain our independence and continue living in our own comfortable surroundings.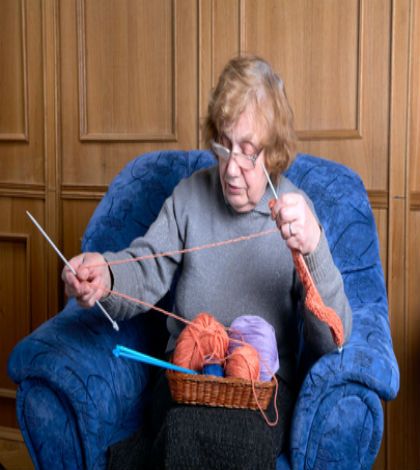 To age in place is a growing trend.
The well-known saying "There's No Place Like Home" becomes more meaningful as we age.   Surveys like the one done by the American Association of Retired Persons all seem to find that more than 85 present of Americans age 50 and older want to "stay in their own homes as long as possible."
Aging in place helps reduce the fear of loss of independence.  Additionally, a study done by Clarity and the EAR Foundation found that most people fear moving into a nursing home, more, than they fear death.
Our current aging in-place population is creating a new type of "retirement."  These retirees are working longer, starting a second career, doing volunteer work and even going back to school, just to learn something new.  They (currently referred to as the baby boomers, soon to be followed by the X-generationers) want to live financially secure, healthy, and comfortable, in familiar surroundings during their golden years.
Here are a few reasons and suggestions on how to begin to make the above possible:
Aging "at home" allows for a maximum amount of freedom for the individual.  These persons are more likely to be found in the gym, at a senior center learning line dancing, shopping, volunteering, traveling, or just busy "chatting away" on the Internet.  Maintaining their "home", as a secure home base allows them to engage in a daily routine, as their health permits, in a less restrictive environment.
Remaining at home can be wonderful. But you do not want to compromise your health or safety by doing so.  Thus, making changes to your environment that is appealing to the eye, while necessary for your safety is a must.
You can expect a decline in your memory (we all have senior moments).  Fine motors skills become more difficult.  Gait changes occur. Vision may decline. (Welcome to growing older.) As mentioned below, there is a whole industry designed to make adaptive changes, with or without adaptive equipment to your home to make all of us (friends, family, small children, and repairmen, safer when in your home) while the aging in place process evolves.
Start making these changes now (for example installing a hand rail) so that you can get used to this now, and will not have to adjust to too many changes at the same time.  Living in familiar surroundings and being around friends and loved ones helps heal the mind and spirit, not just the body.  Minimizing change helps to decrease confusion and hopefully, will help allow the dementia patient to be safe at home, as long as possible.
Aging In Place Requires Pre Planning
To aging in place allows for a holistic-like approach to our care, as our physical bodies and health decline.  For and older adult, there is no place like home for successful healing, living, and celebrating each New Year. Returning to your home after an illness that required hospitalization will decrease the risk of infection.  Preparing the home ahead of time can be done by having a health professional identify potential problem areas ahead of time.  An example would be, in assessing the environment for fall risk factors.
Or, another example would be planning for balance issues, weakness and dizziness, that would indicate a need for bathing assistance.  Make as many simple environmental changes now, so that you will be familiar with them when they are necessary. Plus making the changes ahead of time does two things: (1) it keeps the financial costs spread out and (2) it allows you, the customer, time to get used to these new environmental changes on a gradual basis.
We all need to be allowed to make choices, to have options and to participate in own care. This can be accomplished more easily in your own home.  Planning ahead and exploring all your options now will see that your needs are met more appropriately was they occur.
At some point, you may require assistance, in order to be able to remain in your home.  There are many various agencies that can help in this area.  Start looking at options now.  The introduction to potential future caregivers will make things simpler when and if the need arises.
Familiarity and comfort in being in an environment that you are used to, makes staying in that environment easier. It also makes it easier for friends and family to provide assistance and support on their own schedules not an institutions schedule.
There is a rapidly growing home modification business that can make modifications to your home now as your finances allow and as the individual needs arise.  An example might be installing an elevated toilet when your current one needs to be replaced. These include stove monitors that turn the stove off when you forget to and prevent fires, robot like vacuum cleaners and emergency alarms systems and medication reminder systems.
If you remain in your home, your entire community will benefit. Simply by your presence, you serve as a mentor to those you are in touch with, church members, senior center activities, and foster grandparent programs to name just a few.  All these give meaning to your life, often resulting in better health.  Plus, you set a good example for others to follow, should you so desire.
Go into action now.  If you start making these changes and make plans slowly, before a crisis your decisions will be made more appropriately.
Here's to happy, safe aging for all of us.