Well Kept Secret of How Activities for Senior Citizens Slows Aging
Staying active as we age is important for our overall health. Hobbies such as cabinet building, cake decorating, painting, crafting, and swimming can help seniors maintain independence, improve their physical and mental well-being, and even delay aging.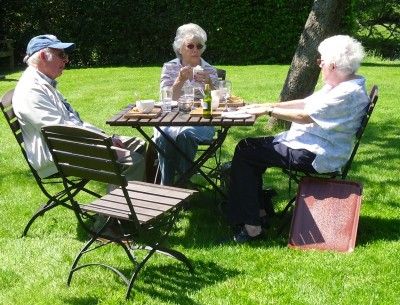 Activities for senior citizens can include hobbies like cabinet building, cake decorating, painting, crafting, swimming and a host of other things. Hobbies have a mind body connection that benefits active seniors aging in place by promoting their physical and mental well being. Who knew that having fun can help you delay aging, improves your mood and help fight age related illness?
Staying active as we age is important to our overall health. We have a body comprised of muscle and we are meant to be active and moving beings. It is important to understand that inactivity results in consequences such as poor health and chronic illness.
Participating in regular physical activity can help prevent or maintain control in some chronic illnesses such as: heart disease, diabetes, arthritis and some types of cancer. Regular physical activity can also improve our overall quality of life by delaying disability and affecting how long we live.
Hobbies promote socialization, physical activity as well as using our minds. Using all of our muscles, including our brain is important to avoiding dementia and Alzheimer's. It is also important to be aware of your emotions, your thoughts and your behaviors. Participating in hobbies helps us feel good about ourselves and have healthy relationships.
Activities for senior citizens help maintain independence
Having an active lifestyle contributes a healthy body and mind and helps to maintain independence. Hobbies can help an active senior to increase their ability to focus, improve their memory, reduce stress, enhance the immune system and improve their self esteem.
Active seniors that are aging in place are able to stay connected to family and friends. Having hobbies also gives them the ability to surround themselves with people whose company they enjoy. Many active seniors participate in their hobbies in the community that they live in.
Walking, gardening, dancing, and swimming are just a few hobbies that can help you stay active.
Activities for senior citizens and research
Several research studies show a direct correlation between leisure time physical activities, improved quality of life and living a longer life. High levels of leisure time physical activities are associated with reduced or delayed complications from chronic illness.
Hobbies such as painting, playing cards and computer games are important for brain fitness. Trying something new, different and challenging often can delay or prevent Alzheimer's or dementia. There are now senior clubs forming that use the Wii to promote physical activity, as well as a reason to socialize and have fun.
Hobbies for the active senior should involve a variety of activities. Being well rounded and enjoying a variety of different activities is just an added benefit of the mind body connection. Active seniors will benefit by experiencing better sleep, improved flexibility and balance, will build increased endurance and experience a better quality of life.
Hobbies are a way for active seniors to stay interested in life and enjoy physical and mental activity. Finding physical activities you enjoy and will continue to do are important for consistency and to experience the mind body connection. Many hobbies cost very little or have a minimal fee to participate. Do not let the cost of something you want to do keep you from being active.
Be active in a group
Doing an activity with a group is also beneficial. Participating in a hobby with a group can be motivating and, for some, a way to experience some good old fashioned competition. For others, participating with a group means having companionship and a feeling of safety or security.
Having others waiting for you can motivate you to participate in an activity even when you don't want to go. Many find that once they are involved in their hobby with their companions, they are glad that they participated.
Participating in a variety of hobbies during the week can keep you active, interested and mentally stimulated. A favorite hobby of many women I know is shopping with anything from basic wardrobe planning in mind to holiday gift giving and everything in between.
There are many hobbies that an individual can enjoy. The mind body connection is a benefit of being active, social and participating in life. Any hobby or activity that will get one moving is beneficial. To active seniors aging in place, hobbies are a way to enjoy physical, mental and social activity. The benefits are healthy aging and improved quality of life. Be on the lookout for new and fun activities for senior citizens, middle aged adults, young people, kids' (you get the picture.)
💡
What are you doing to stay active? What hobbies or activities do you enjoy? Please share here
Help others realize that they are not alone.
Submit Your Caregiver Story
💡
Do you need help caring for a loved one?
Our Resource section can help you find the information and tools that you need. We have courses, videos, checklists, guidebooks, cheat sheets, how-to guides and more.
You can get started by clicking on the link below. We know that taking care of a loved one is hard work, but with our help you can get the support that you need.
Click here to go to Resource Section now!